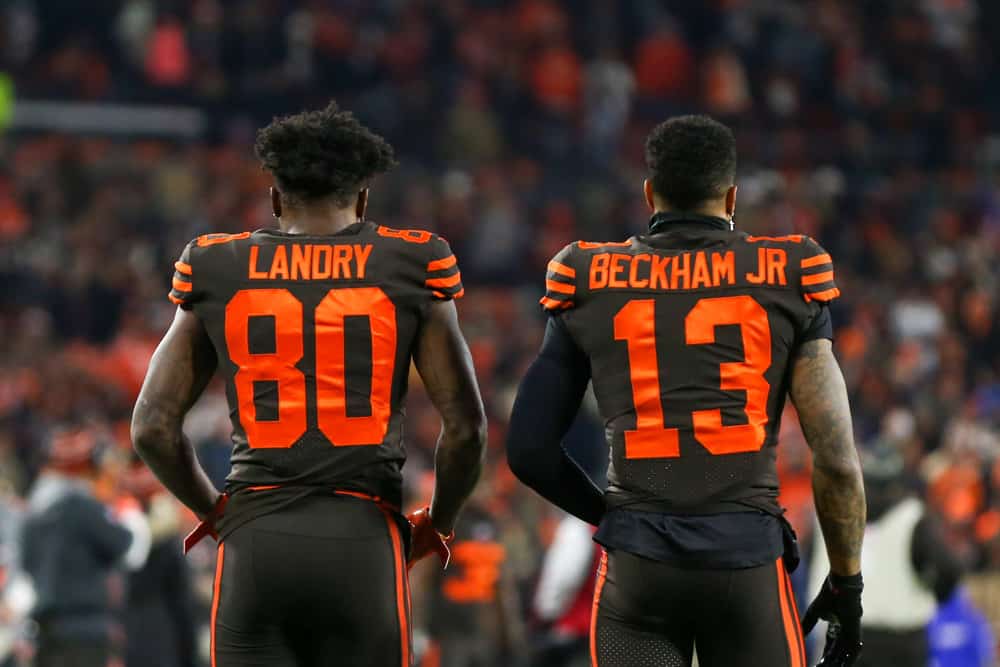 While the world is still recovering, at least these star receivers for the Cleveland Browns are making a strong recovery.
Head coach Kevin Stefanski provided an update with the rehabilitation from offseason surgeries for Jarvis Landry and Odell Beckham Jr.
Both receivers received surgery on respective injuries earlier this year.
The Update
In February, Landry received surgery to repair a broken sacrum.
The sacrum is a shield-shaped bony structure that is connected to the pelvis.
In terms of stabilization of the pelvis, the sacrum is important.
As for Beckham, he is recovering from a sports hernia injury.
Stefanski talked with Jeff Risdon of USA Today and provided a positive update.
"Both are exactly where they need to be in terms of rehab progression," Stefanski stated. "They were in the building quite a bit in January and February. They're doing everything they need to do and they're right where they need to be from a rehab standpoint."
Playing Through The Pain
Both Landry and Beckham played through their respective injuries in 2019.
Even with their pain, both topped the 1,000-yard receiving plateau.
#Browns WR Odell Beckham Jr. says he's been thru these things before, would not confirm whether he was diagnosed with "sports hernia" pic.twitter.com/keQk8z565r

— Keith Britton (@KeithBritton86) December 8, 2019

Browns quarterback Baker Mayfield was one member of the team that was not happy with the way Beckham's injury was handled.
Towards the end of the season, Mayfield addressed reporters and was critical of the team's training staff.
#Browns QB @bakermayfield critical of the training staff's handling of @obj's sports hernia injury that may need offseason surgery to correct #3Browns @wkyc pic.twitter.com/cEVpK3cP61

— Matt Florjancic (@MattFlorjancic) December 8, 2019
As for Landry, his injury was a development from when the Browns were at OTAs.
At the end of the 2019 season, Landry talked to Risdon and revealed this:
"Just talking to the doctors and the early scans from OTAs and things like that, I began with a fractured sacrum and then from there everything else just kinda started going bad."
Moving Forward
Landry and Beckham were both impressive in 2019.
Along with finishing over 1,000 yards receiving, both added at least 70 receptions and 14.0 yards per reception.
Landry was a member of the Pro Bowl and was joined by running back Nick Chubb, who finished with 1,494 rushing yards and eight touchdowns.
There's been a lot of turnover with the Browns franchise, mainly for the better, with the belief the team can snap a 17-year playoff drought.
Baker mayfield after leading the brown to a 9-7 record with OBJ, Jarvis Landry, Austin Hooper, David Njoku, Nick Chubb, and Kareem hunt as weapons pic.twitter.com/two1g2zEVG

— john (@iam_johnw) March 16, 2020
Final Thoughts
Knowing that both Landry and Beckham are healing from their surgeries is a huge win for this offseason.
Both players played through injuries and still shined during the season.
If the Browns can start the season with two, healthy, dynamic receivers, there is no telling what the Browns could do.