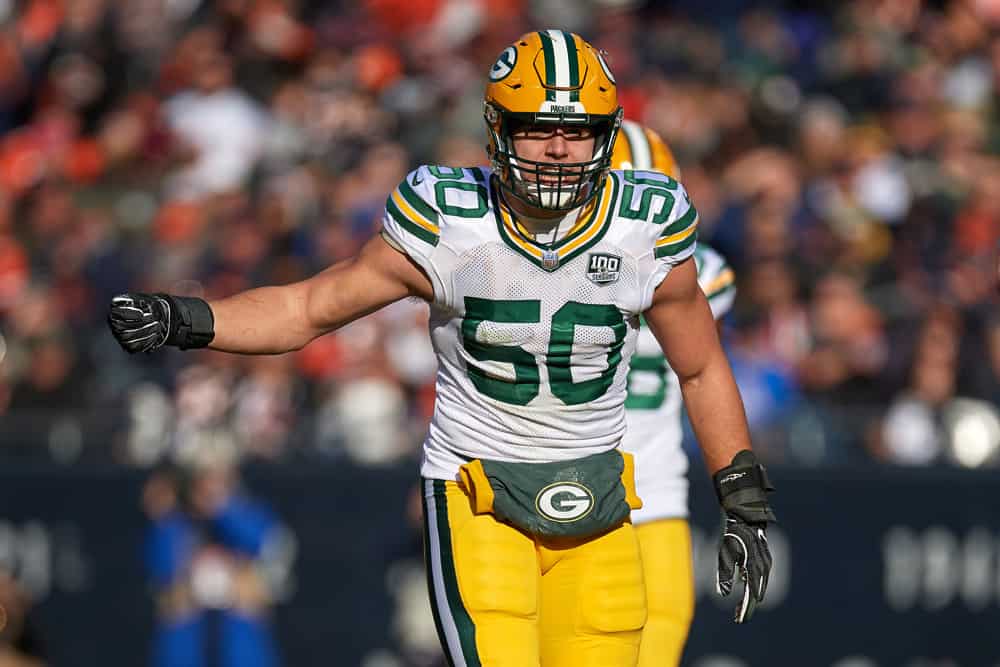 As expected, the Cleveland Browns will need to find a replacement for linebacker Joe Schobert.
The Browns should not have to look too far.
Out of all the possible replacements for Schobert, Green Bay Packers linebacker Blake Martinez should be the team's top priority.
Quality Needs To Replace Schobert
Martinez would not bring the caliber of play that Schobert did, but if we are looking at great value options, Martinez is in the conversation.
Sometimes you have to bring in a player that has a proven NFL resume.
That is where Martinez can come into play.
Free Agent Profile: Blake Martinez (LB)

Age: 26 H: 6′-2″ W: 237 Spd: 4.71
Exp: 4 Years – 4th Round (131) Pick, 2016

Career Stats:
61 Games, 512Tackles (Combined),
10 Sacks, 3 Int, 2 FF, 17 PDef

Excellent in coverage & solid against the run. One of the most sure-tacklers in NFL pic.twitter.com/truPv6F42P

— Offseason Champions (@HTTRChamps) February 27, 2020

At 26-years old, Martinez has the prime of his career ahead of him for a great value.
Since coming into the league in 2016, Martinez has been one of the league's best tacklers.
After his rookie season, Martinez has put together three straight seasons of at least 140 or more tackles.
In 2017 and 2018, Martinez finished with 144 tackles, while 2018 included five sacks.
Last year, Martinez finished with 155 tackles and three sacks.
For a linebacker that would save the team a few dollars, Martinez should be on the Browns' radar.
Most Combined Tackles (Since 2018)

Blake Martinez – 299
Bobby Wagner – 297
Darius Leonard – 284
Luke Kuechly – 274
Jaylon Smith – 263
Cory Littleton – 259
Budda Baker – 249
Zach Cunningham – 249
Todd Davis – 248
Lavonte David – 243
Fred Warner – 242
Jordan Hicks – 241

— NFL Stats (@NFL_Stats) February 21, 2020
The Cons Are Small
The cons are there when looking at his abilities.
Martinez is small for the position, measuring at 6-foot-2 and 238 pounds.
However, that is a small con, given that Schobert was 6-foot-1 and 229 pounds.
That leads to our pro that Martinez could play more in pass coverage opportunities.
That would allow the Browns to save money with contract extensions for players like Myles Garrett, Baker Mayfield, and Nick Chubb looming.
Officially On The Market
Martinez is not playing in Green Bay next season.
News broke that former Browns linebacker Christian Kirksey agreed to a two-year deal with the Packers on Monday morning.
That makes Martinez and easy target for the Browns.
Kirksey compiled 484 tackles, 11.5 sacks, two interceptions, four forced fumbles, and three fumble recoveries in his Browns' career.
From 2016-2017, Kirksey's 281 tackles were the second-most of any NFL player.
In a stretch from 2017-2018, Martinez finished with 288 tackles.
This seems like an easy substitution.
Here is how Blake Martinez controls the middle of the #Packers Defense. He makes plays when guys upfront slow everything down for him, otherwise he's just slow and overmatched. Sits on blocks, doesn't shoot gaps, no burst, no explosiveness or quickness. And this is just one drive pic.twitter.com/n5RYwYYYHO

— Salvatore Ioppolo (@saliopp) December 9, 2019
Final Thoughts
Martinez would be cheaper than Schobert, but more than what they would have paid Kirksey (around $8-$9 million).
According to Bleacher Report, Spotrac projected Martinez's salary around $10 million per year.
That would rank in the top eight in earnings at his position.
The Browns did not want to pay Schobert the projected $15 million he will see on the market.
It makes all the sense in the world for the Browns to sign Martinez to a contract.