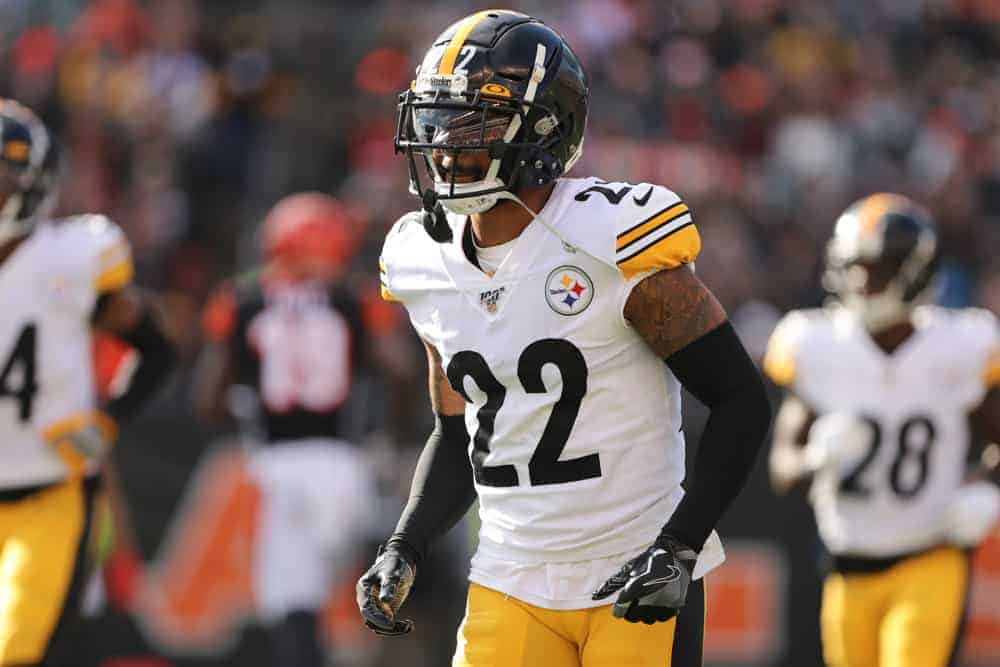 The Cleveland Browns are in search of help for their secondary this offseason, and on Tuesday, seventh-year cornerback Steven Nelson became available.
The Pittsburgh Steelers released Nelson and that news that could interest Browns fans:
After being unable to find a trade involving him, the Steelers have released CB Steven Nelson.

A solid coverage player now avaiable.

— Field Yates (@FieldYates) March 23, 2021
Nelson is on the list of strong cornerback names still on the market:
The recently released cornerback free agent pool is pretty strong: Steven Nelson (28), Casey Hayward (31), A.J. Bouye (29), Malcolm Butler (31). Some good value in the second wave.

— Jeremy Fowler (@JFowlerESPN) March 23, 2021
While Malcolm Butler went to the Arizona Cardinals on Thursday, Steven Nelson is one of the three cornerback free agents remaining in the "second wave."
A name not mentioned above is Richard Sherman, who remains a free agent and turns 33 years old on March 30.
When looking at the younger side of the cornerback position, Nelson is the youngest of the crop, as he turned 28 in January.
The former Kansas City Chief (2015-18) and Pittsburgh Steeler (2019-20) has played at least 15 games in each of his last three seasons.
The durable cornerback played more than 90 percent of the total defensive snaps for the Steelers during his time there.
Both of the 2019 and 2020 Pittsburgh defensive units finished in the top five in both points and yards allowed.
In addition, the defenses were top two in turnovers.
Nelson could be a strong addition to a Browns defense that is in need of improvement.
The Browns are in Need of Secondary Help
With free agency upon us, the Browns are in need of some help at defensive back, and the position is arguably their most sought-after position.
Both free safety Grant Delpit and cornerback Greedy Williams missed the 2020 season, and that caused some problems for the Browns defense.
Fortunately, Myles Garrett played 14 games and had a tremendous season last year.
Kevin Stefanski and Andrew Berry's first season with the Browns finished with an impressive 11-5 record to go along with a playoff victory over the Steelers.
Now that the Browns vanquished the Steelers last year, they can get Nelson from them.
Pittsburgh already lost 27-year-old cornerback Mike Hilton, who signed a four-year, $24 million deal with Cincinnati.
Maybe Cleveland can allow for another cornerback to jump to another AFC North squad.
How Would Nelson Fare with the 2021 Browns?
The Browns have gained former Los Angeles Rams Troy Hill (cornerback) and John Johnson (free safety), but they lost cornerback Terrence Mitchell to the Texans.
Denzel Ward, who made the Pro Bowl in 2018, played 12 games in 2020 but finished with 18 passes defended, which ranked second in the NFL.
There are a lot of reasons why adding Nelson to the secondary makes sense for the Browns:
Steelers release CB Steven Nelson.
– Just turned 28
– Top-10 graded cover CB last 3 seasons
– Top-10 in catch % allowed last 3 season
– Reliable, good cover CB
– Has not allowed passer rating >83 last 3 seasons

This is a good option.#Eagles pic.twitter.com/Lyzrdwl7OH

— Thomas R. Petersen 🦅 (@thomasrp93) March 23, 2021
Back in 2015, the Chiefs drafted Nelson with the No. 98 overall pick, and the Oregon State product had just eight tackles in his rookie season.
Since then, he has tabulated more than 40 tackles in each season.
The Browns would seem to be able to bring Nelson to Cleveland.
To put Nelson's potential Browns contract in perspective, the Browns brought in Hill for four years and $24 million.
The Hill contract has the same numbers as the aforementioned Bengals contract with former Steelers cornerback Mike Hilton.
It is possible that Nelson will have a lower-priced contract.
After Nelson requested a trade, the Steelers were unable to find a trade partner in the league.
If the Browns can get Nelson to FirstEnergy Stadium on a team-friendly deal, it could be an important move for Cleveland's improving defense.