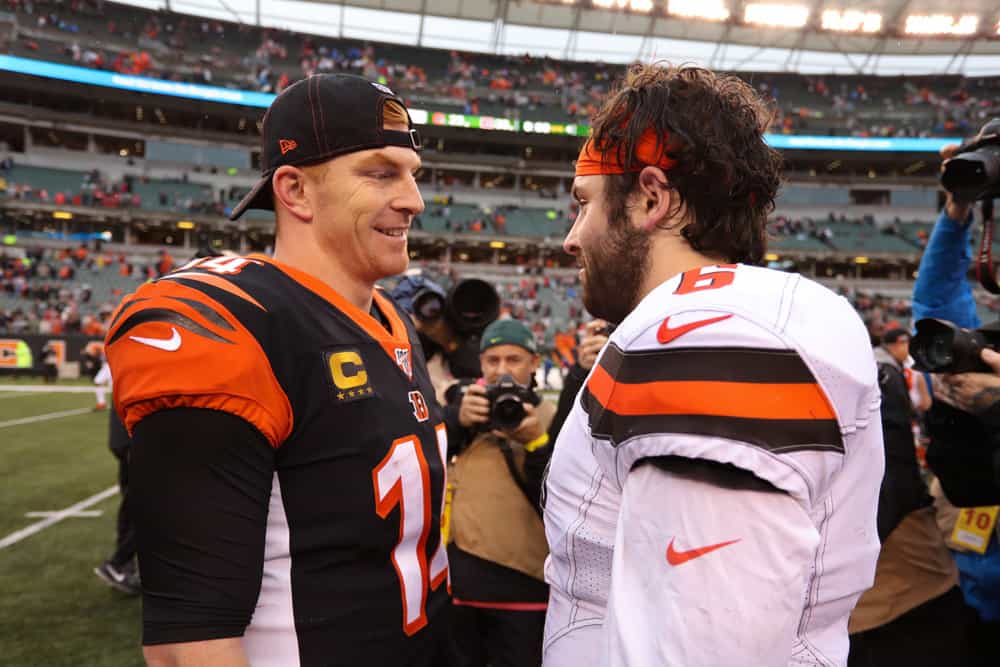 The Cleveland Browns ended their season with three consecutive losses after falling to the Cincinnati Bengals, 33-23.
Here are 10 thoughts on the game:
1. What will the Browns do with head coach Freddie Kitchens?
We'll see whether Sunday marked Freddie Kitchens last game coaching the Browns.
The Browns had a worse record this year (6-10) than last year (7-8-1), Baker Mayfield regressed in year two and the Browns couldn't capitalize despite the additions of Odell Beckham Jr. and Kareem Hunt.
Oddsmakers considered the Browns as the preseason favorite to win the AFC North.
FINAL: The @Bengals finish the 2019 season with a victory! #CLEvsCIN pic.twitter.com/HjOjYDxuwb

— NFL (@NFL) December 29, 2019
2. Cincinnati Bengals running back Joe Mixon went off.
Joe Mixon ran for a career-high 162 rushing yards on 26 carries and two touchdowns.
It made up the majority of the Bengals' 182 rushing yards as a team.
Mixon has now had back-to-back 1,000 yard seasons.
Certainly, injuries contributed to the Browns' inability to defend the run.
However, the Browns rushing defense was horrible this year.
They entered the game allowing 5.0 yards per carry (29th) and 142.4 rushing yards per game (30th).
3. The Browns had 10 players on the field on Mixon's first touchdown run 
Cleveland called a timeout a play before too.
Whether the responsibility falls on Kitchens or defensive coordinator Steve Wilks, add this to a long list of Browns coaching miscues this season.
NextGenStats showed the Browns had only 10 players on the field during Mixon's third-and-goal touchdown run.
Even with the win, the Bengals finish with the NFL's worst record at 2-14.
It matched the Bengals' worst record in their 52-year history.
The #Browns defense had TEN players on the field on this red zone play. This sums up this season pretty well. pic.twitter.com/EoThrZLuGo

— Everything Cleveland (@EverythingCLE_) December 29, 2019
Browns had 10 guys on the field for Bengals third-and-goal TD run (proof via @NextGenStats) pic.twitter.com/h3a8WzVsry

— Jake Trotter (@Jake_Trotter) December 29, 2019
4. Baker Mayfield struggled all game.
Baker Mayfield was 12-of-27 passing for 279 yards, throwing for three touchdowns and three interceptions.
Mayfield was sacked a season-high six times.
On Sunday, Mayfield became the first Cleveland Browns quarterback to start all 16 games in a season since Tim Couch in 2001.
In 2019, Mayfield threw 22 touchdown passes and 21 interceptions.
It's safe to say Mayfield won't be doing as many national commercials in the offseason.
After 18 years of searching for stability, the Cleveland Browns might have found it in Baker Mayfield. pic.twitter.com/46iIeB4DqB

— SNF on NBC (@SNFonNBC) December 29, 2019
5. Odell Beckham Jr. had an amazing touchdown catch and surpassed 1,000 receiving yards.
Odell Beckham Jr. made an incredible touchdown catch on 4th-and-goal from the 20.
The Browns were down 30-16 with 7:23 left in the fourth quarter.
After the PAT, it was a one-score game at 30-23.
Beckham had three receptions on six targets for 81 yards.
OBJ finished the season with 74 receptions, 1,010 receiving yards and four touchdown catches.
It's Beckham's fifth 1,000-yard season of his six-year career and his second in a row.
Beckham, who has played with a groin injury all season, played despite coming down with an illness on Friday.
Jarvis Landry finished with two receptions on six targets for 82 yards.
Landry played through a hip injury after he fractured his sacrum in the spring.
ODELL CAUGHT THAT.@OBJ | #Browns

📺: #CLEvsCIN on FOX
📱: NFL app // Yahoo Sports app
Watch free on mobile: https://t.co/HYJhHN7b2Y pic.twitter.com/vGqdABBoK2

— NFL (@NFL) December 29, 2019
For the first time in Browns history … two wide receivers and a running back have eclipsed 1,000 yards in a single season.@God_Son80 | @NickChubb21 | @obj pic.twitter.com/zfJQnHvMTw

— Cleveland Browns (@Browns) December 29, 2019
6. The Bengals held Nick Chubb in check.
Nick Chubb had 13 carries for 41 yards.
His longest run of the day was eight yards.
The Browns had 20 carries for only 74 rushing yards.
Entering Sunday's game, the Bengals allowed 4.8 yards per game (27th) and 153.9 rushing yards per game (32nd).
We'll see if Chubb finishes as the NFL's leading rusher.
7. Andy Dalton won in what could be his last start as a Bengal.
"The Red Rifle" was 16-of-28 passing for 190 yards for one touchdown and one interception.
He also had a rushing touchdown on a play he had no business scoring on.
Many people expect the Bengals to draft LSU quarterback Joe Burrow with the No. 1 overall pick of the 2020 NFL Draft.
However, Dalton is under contract with the Bengals through the 2020 season.
8. Two missed PATs.
Browns kicker Austin Seibert and Bengals kicker Randy Bullock each missed PATs on Sunday.
Seibert missed five PATs this season.
However, Bullock's 46-yard field with 1:55 in the fourth quarter put the Bengals up by 10 points and put the game out of reach.
9. Linebacker Joe Schobert's last game as a Brown?
Joe Schobert finished with eight tackles, including one tackle for a loss.
Sunday could be Schobert's last game as a member of the Browns.
Schobert is due to become an unrestricted free agent in the offseason.
10. Next season: Browns try to end playoff drought.
The Browns will try to end the NFL's longest active playoff drought — 17 consecutive seasons.