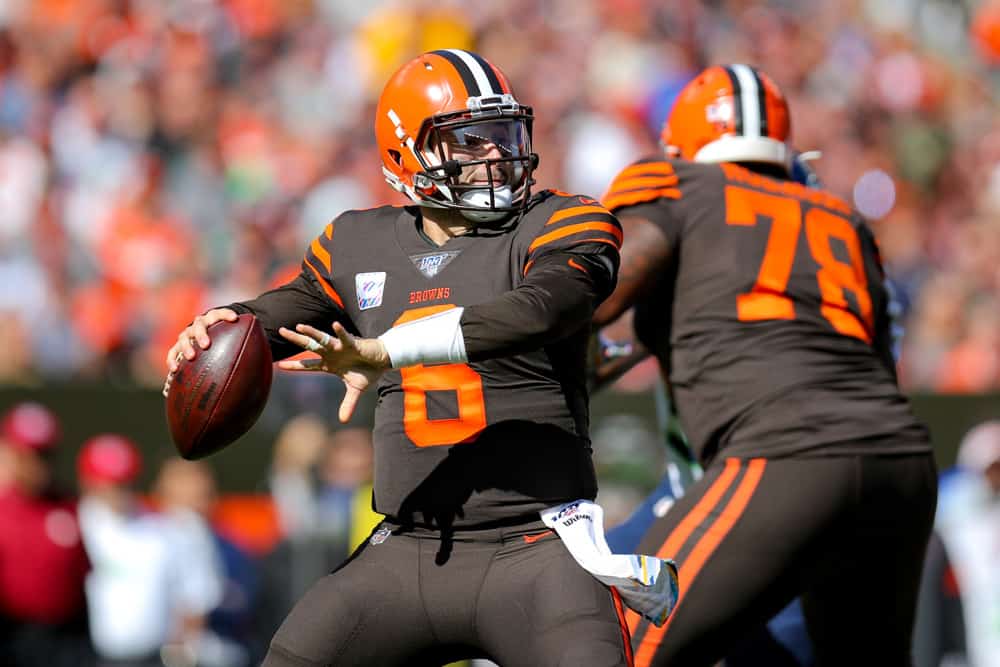 It may be the offseason for the NFL, but it's never too early to start looking ahead to next season.
That includes roster prediction, season record predictions, and of course, MVP odds.
A year ago, Cleveland Browns quarterback Baker Mayfield entered the season as high as sixth in regard to odds of winning the MVP award.
Patrick Mahomes (+600) and Andrew Luck (+900) top opening odds to win the 2019-20 🏈 #NFL Regular Season #MVP via @FDSportsbook pic.twitter.com/h6zmIRjJcf

— The Duel (@TheDuelSports) May 15, 2019
Mayfield was coming off a record-breaking rookie season that seemed to have him primed for a high-level second season.
Then, the 2019 campaign happened with Freddie Kitchens and Baker took a giant leap backwards, ranking towards the bottom portion of NFL quarterbacks.
Now, entering 2020, Mayfield opens at 16th on the list of MVP odds per Bet MGM. The book has him at +4000 odds, or 40 to 1.
2020 NFL MVP Odds via @BetMGM

Patrick Mahomes 4/1
Russell Wilson 5/1
Lamar Jackson 6/1
Deshaun Watson 12/1
Aaron Rodgers 16/1
Drew Brees 16/1
Kyler Murray 33/1
Baker Mayfield 40/1

— Gilbert Sam (@GSamSB) February 12, 2020
To no surprise, Patrick Mahomes is the leader on the list at +400, or 4 to 1.
The drop for Mayfield on the odds list should come as no surprise.
Again, Baker regressed a lot during his second season.
Per Pro Football Reference, Mayfield finished 31st in quarterback rating with a mark of 78.8, ahead of just Andy Dalton.
He also had a completion percentage of just 59.4%.
This was after finishing 19th after the 2018-2019 season with a 93.7 rating and a 63.8% completion percentage.
He was far from perfect as a rookie, but breaking the rookie passing touchdown record is no small feat.
Hopes were obviously high last season as Baker would have one year under his belt already as well as Odell Beckham Jr. lining up on offense with him.
One 6-10 season later and expectations for both the Browns and Mayfield have dwindled.
It's not like the opening MVP odds are a clear indication of what's to come, however.
Last year the FanDuel sportsbook had Jared Goff at 12th on their MVP odds list.
This season, Bet MGM has him at 24th following a disappointing season for the Rams.
Still, being a consistent name at the top of these lists is a clear indicator that you're doing something right.
Guys like Drew Brees, Russell Wilson, Tom Brady, and even Matt Ryan tend to be in the top-ten year after year.
The common theme here is that all of those guys are franchise quarterbacks.
Let's go back to Goff for a second.
A year ago, many fans were quick to throw him in the top-ten current quarterbacks in the league with some even saying top-five.
Now, Brandin Cooks is having to defend his quarterback and reassure the LA faithful that he is without a doubt the man of their future.
The odds book now reflects that change of confidence in Goff, and the same can certainly be said for Baker Mayfield.
Again, these odds should not be looked at as a guaranteed prediction of how the 2020 season will go.
But you know that by now.
What it does mean, however, is that the NFL community is starting to lose faith in Baker Mayfield a bit.
He needs to have an electric third year in Cleveland before the Browns lose that faith too.
Nick Chubb opens at 33rd on Bet MGM's list at +10000, or 100 to 1.
Odell Beckham Jr. opens at 46th at +15000, or 150 to 1.