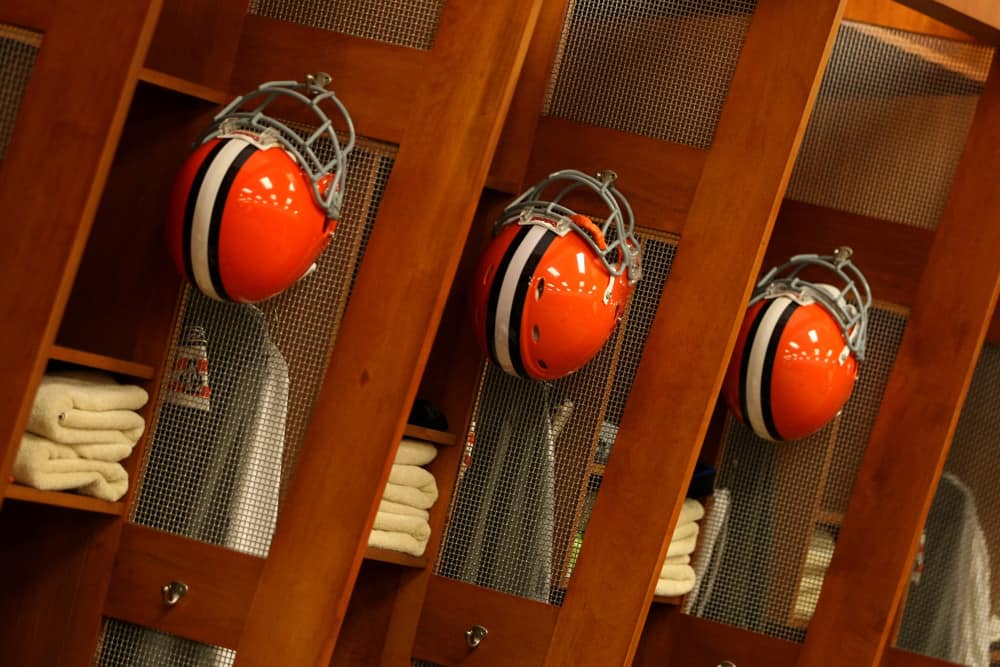 The Cleveland Browns are off to a hot start to begin the 2020 season.
They pulled off a big win against the Dallas Cowboys in Week 4.
That win put the Browns record to 3-1 on the year, which is something that hasn't happened in quite some time.
Cleveland is playing much better as a unit this season compared to the year prior.
The Browns roster is fairly stacked, but there has been a few surprises this season that fans likely weren't expecting coming into the year.
3. Offensive Line
Last season, the Browns offensive line was rough to watch throughout most of the year.
The lack of protection was a huge reason why the team failed to move the ball on offense.
Quarterback Baker Mayfield was sacked 40 times, which is something that can't happen if you want to win football games.
However, the Browns front office was committed to fixing the o-line this offseason.
They brought in Jack Conklin and Jedrick Wills to start at the tackle spots.
Both players have been upgrades over last season, but the o-line is playing much better as a whole.
There isn't a better Offensive Line in football than the unit that walks through the tunnel every week for the Cleveland #Browns. 4/5 starters grade Top 10 at their respective position, including Wyatt Teller currently pacing the field @ G, league wide. pic.twitter.com/5dFEIkNEsP

— CLEology (@_CLEology) October 6, 2020
Plenty of people probably expected the Browns offensive line to be better after adding Conklin and Wills.
However, it's unlikely that anyone thought the o-line would be one of the best in the league.
They've been elite through the first four weeks, so hopefully that continues going forward.
2. Baker Mayfield
Coming into the season, Mayfield had high expectations after a down year in 2019.
It seemed like this was going to be his last chance to impress the Browns front office.
Through four games, Mayfield has looked surprisingly strong.
He has 729 passing yards with seven touchdowns and two interceptions during the first four weeks.
It's not just the stats, Mayfield looks better in the pocket and his accuracy has improved.
Baker's accuracy was crazy on this throw 🎯 @bakermayfield @Browns pic.twitter.com/QfhM1JG4Wp

— The Checkdown (@thecheckdown) October 4, 2020
The improved offensive line has helped quite a bit, but plenty of credit does belong to Mayfield.
Maybe Mayfield won't be a superstar, but he's beginning to look like the franchise quarterback the Browns desperately need.
1. Wyatt Teller
This could very well be the biggest surprise around the NFL.
Right guard Wyatt Teller has been unbelievable through the first four weeks.
Highest grade for a guard after four weeks (since '06):

2020 Wyatt Teller – 94.1
2013 Evan Mathis – 93.9
2016 Zack Martin – 93.6
2016 Justin Pugh – 93.3 pic.twitter.com/DO8UC01nuX

— PFF (@PFF) October 5, 2020
The former fifth-round pick was below average during his time in Cleveland last year.
Cleveland gave up two late-round draft picks in order to acquire him from the Buffalo Bills.
At first glance, Teller appeared to be someone that was likely just a fill-in starter for one season.
However, he has quickly become an elite guard and hopefully it stays that way.
Wyatt Teller has been a straight up monster this season. Best RG in football through the first quarter of the year. pic.twitter.com/6e2w8DTaKk

— Brandon Thorn (@BrandonThornNFL) October 6, 2020
Teller worked hard during the offseason to improve his body and technique.
The Browns offensive line coach Bill Callahan does deserve credit for Teller's turnaround as well.
It has been truly special to watch how fast Teller has gone from average to star in less than one season.
Cleveland needs to seriously consider extending Teller long-term, assuming his play continues to be this stellar.