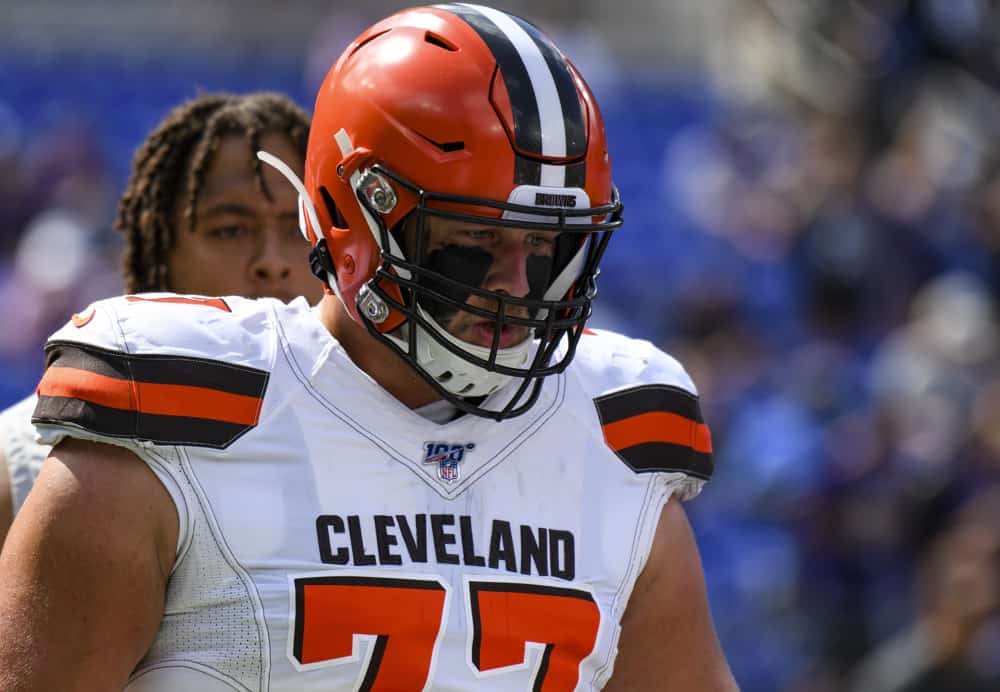 At the beginning of the regular season, there aren't too many people who would say Wyatt Teller would be the Cleveland Browns best player on the offensive line.
The Browns added both Jack Conklin and Jedrick Wills this offseason.
However, Teller has outshined them all through the first two weeks of the regular season.
In fact, Teller is ranked as the third best player on the o-line over the first two games, according to Pro Football Focus.
🚨 PFF's highest-graded OL through Week 2 🚨

1. Andrew Whitworth, Los Angeles Rams

3. Wyatt Teller, Cleveland Browns

6. Ali Marpet, Tampa Bay Buccaneershttps://t.co/v4nYkSF3eN

— PFF (@PFF) September 24, 2020
It's quite surprising that the former fifth-round pick is making this big of an impact.
At the moment, Teller is the top ranked offensive guard in the entire league.
— Tommy 👾 (@BakersDawgs) September 23, 2020
Teller has done plenty of work this offseason to prepare for the 2020 season.
He put himself in a position to succeed and it's paying off right now.
Wyatt Teller was balling in Week 2. Athletic ability, power, length, and competitive toughness are his calling cards. Weapon in the run game & hammer in pass protection. pic.twitter.com/PUi4793qtU

— Brandon Thorn (@BrandonThornNFL) September 22, 2020
Teller's Transformation
Heading into training camp Teller was actually competing for the starting right guard spot in Cleveland.
However, he basically won the job out of the fact his competition opted out.
The Browns had Drew Forbes, Colby Gossett, and Malcolm Pridgeon all opt out due to COVID-19 concerns.
After that, the Browns were thin at right guard, so Teller was basically given the starting job.
However, Teller took control of the position and has run away with the starting job.
PPF has Teller graded at 90.1 through the first two games of the regular season.
Head coach Kevin Stefanski singled out Teller for his excellent play versus the Cincinnati Bengals.
"I hesitate to single anyone out, but I would tell you, Wyatt Teller really was playing a very physical football game," Stefanski said.
He did commit two penalties against Cincinnati that set the offense back, but the teams was able to overcome those mistakes.
Stefanski mentioned that Teller's hard work this offseason is why he's succeeding this season.
"I think it is always a combination of all of those things," Stefanski said. "To Wyatt's credit, he works very hard in the weight room and on the practice field.
#Browns Kevin Stefanski on what he thinks the reason for Wyatt Teller's growth, coaching, system, personal growth pic.twitter.com/n3QQWdlnoU

— Fred Greetham (@FredGreetham) September 23, 2020
Stefanski isn't the only one praising Teller's hard work this offseason.
Quarterback Baker Mayfield had a few things to say as well.
"I think Wyatt took advantage of the long offseason and being able to get his body right, something I can relate to," Mayfield said. "He put on a ton of muscle mass."
Browns running back Nick Chubb had a few kind words to say about Teller's performance this season.
#Browns Nick Chubb on the improvement he's seen in Wyatt Teller pic.twitter.com/Xol8eICgeC

— Fred Greetham (@FredGreetham) September 23, 2020
Chubb also mentioned that he enjoys running behind the Browns offensive line.
The Browns have done a tremendous job of improving the offensive line this offseason and Teller is a big part of it.
Cleveland gave up two late round picks in order to acquire Teller from the Buffalo Bills last year.
He has now started 11 straight games at right guard for Cleveland.
This trade might end up being a steal for Cleveland if Teller continues this level of play.
Fans will get a chance to watch him versus the Washington Football Team in Week 3.