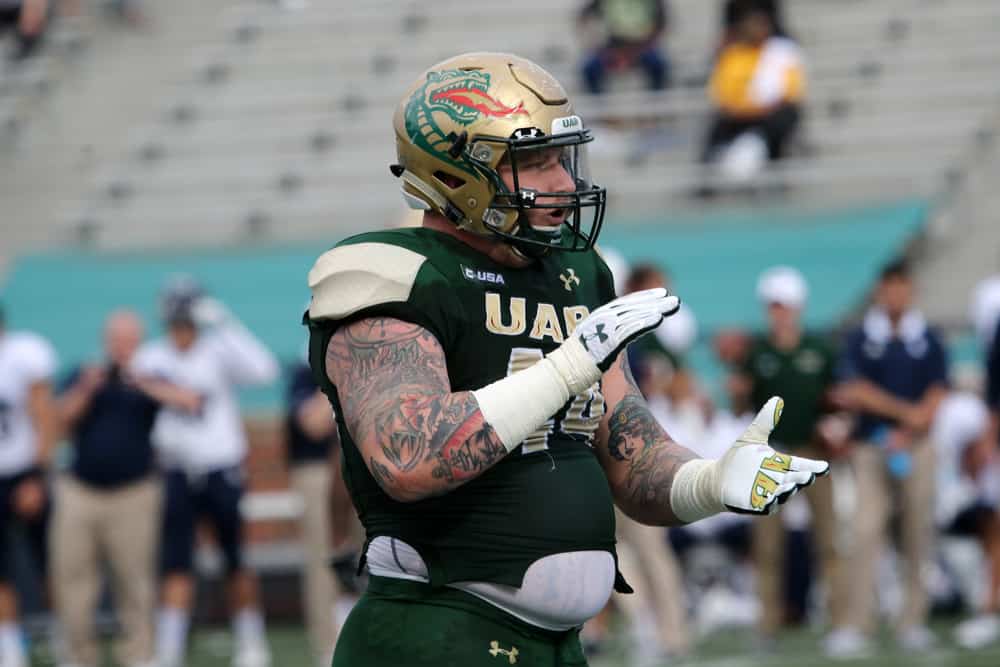 After a successful free agency, the Cleveland Browns front office must look forward to the upcoming NFL draft.
In the history of the draft, finding a gem in later rounds could be the difference between a team making the playoffs, and a team winning the Super Bowl.
Hall of Fame or eventual Hall of Famers like Tom Brady, Antonio Gates, Steve Largent, and Antonio Brown were all late-round gems that pushed their respective teams over the edge.
I have compiled a list of players that should be available for the Browns to acquire in the 5th round, 6th round, 7th round, or even undrafted.
If the team can pull off a solid draft, it could be enough for the team to finally make the deep playoff run that fans have been waiting years for.
1. Antoine Brooks Jr. – Safety
First, is Antoine Brooks Jr.
He is a very versatile defender.
In his freshman and sophomore years, he played linebacker.
However, in his last two years, he was switched to defensive back.
This could be extremely useful for the Browns as currently, they have a slight hole at the linebacker position.
He compiled 87 tackles with an interception and five passes defended as a senior.
"He has been a monster in run defense with grades of 85.7, 76.0, and 90.8 in his three years as a starter," according to Pro Football Focus. "He's also racked up a ridiculous 48 pressures over that span as well."
PFF also added that the could be used in the NFL more as an undersized linebacker as his pass coverage has been a challenge.
"His role has been almost exclusively an overhang/slot player over that span which is a difficult one to project to the NFL," according to PFF.
The Draft Network added, "Nickel linebacker? Yep, he can do that. Nickel slot? For sure. Special teams? He should be great there, given his effort, tackling skills, block deconstruction and his baseline athleticism. Every down defender? Maybe not."
As a result of the Browns having skilled defensive leaders like Denzel Ward and up and coming leader Mack Wilson, Brooks Jr. could easily be molded into one of the most versatile defenders in the league.
@TwanDoee was a MONSTER this season ‼️
Check out Antoine Brooks Jr's 2018 Highlights 🔥🐢💯https://t.co/JM6XKGvOjR

— GFilms (@GFilms2) January 31, 2019

He is projected as a 3rd or 4th round pick.
2. Garrett Marino – DT
Next is Garrett Marino.
He is a defensive lineman from UAB.
As shown by the last few games of the season for the Browns, especially after the Myles Garrett suspension, it was clear that they would need to improve the depth of their defensive line.
Marino could be a potential answer.
Marino didn't get an invite to the combine, so a workout was held for the prospect.
He did not disappoint.
👀Whew, what a workout for UAB DT Garrett Marino this morning. 6-0 1/5, 288, verified 4.89 in the 40, 41 reps on the bench (he hit 43, but he didn't lock out on 2) and opened some eyes with his power during d-line drills. Wasn't invited to combine but could be a late-round pick. https://t.co/WVanQ7KhlS

— Terez A. Paylor (@TerezPaylor) March 4, 2020
Marino showed his strength and speed in the workout.
He ran a 4.89 in the 40-yard dash and put up 41 official reps on the bench press.
He measured in at 6'0 1/5 and 288 pounds.
Impressively in his college career, he totaled 26.5 tackles for loss, 11 sacks, and 9 passes defended.
Seven of these passes came in his senior season.
Marino's ability to break through offensive lines to wreak havoc in the backfield, should make him someone that the Browns target.
Garrett Marino UAB Highlights https://t.co/ppb6svdEE3 via @YouTube

— Matt Anzio Director of Pro Scouting Elite Proday🏈 (@MAnzio77) July 30, 2019
He is projected to be a day 3 pick or go undrafted.
3. Dante Olson – LB
Lastly, is Dante Olson.
He is likely the least known out of the three players covered, however, Olson is built to be a freak in the NFL.
At the combine, Olson was listed at 6'2″ and had a spectacular 42″ vertical jump.
LB Dante Olson with a 42-INCH VERTICAL! ⬆️⬆️⬆️@MontanaGrizFB | #NFLCombine pic.twitter.com/9g9qB07Eak

— NFL (@NFL) March 1, 2020
Olson's height on the jump was the second-best overall at the Combine.
Only Michigan wide-receiver Donovan Peoples-Jones was better, who jumped 44.5 inches.
His leap was also the third-highest in the history of the combine for linebackers.
He also has incredible power and the ability to become a tackling machine.
"This kid is a search-and-destroy, make-every-tackle player," NFL Network analyst Charles Davis said. "He did it quite well at the University of Montana, and to see him jump like that, oh my goodness, I am beyond impressed. I really am."
In the 3-cone drill, Olsen tied for the 5th best time.
The best time among linebackers was 6.83 seconds.
In the 40-yard dash, he finished in 4.88 seconds.
Of all the linebackers who tested, he finished with the 3rd-slowest time.
The best time among linebackers as 4.39.
In the game against arguably the best competition he faced (the Oregon Ducks), Olson had 14 tackles.
A large downside of his game is his lack of speed.
This leads to him struggling to cover more athletic players, and difficult for him to be effective when blitzing.
Dante Olson with the hit of the century pic.twitter.com/s6Z3ASbamf

— Brint Wahlberg (@Bwahlberg) November 3, 2019
He is projected to be a day 3 pick.