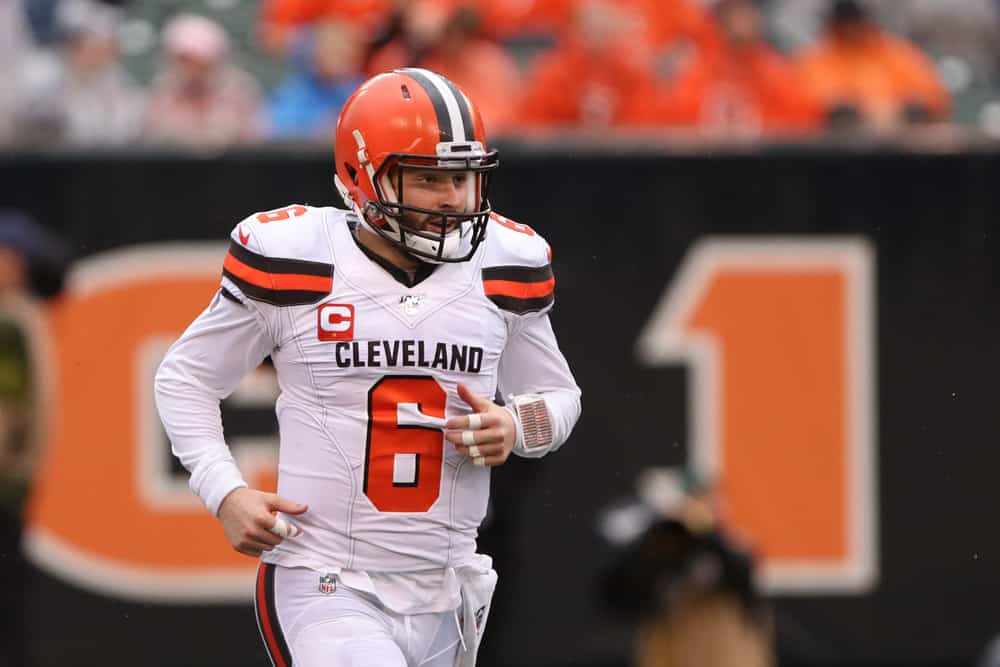 Baker Mayfield is who will make the 2021 Browns tick.
Entering his fourth NFL season, Mayfield will need to build off his tremendous 2020 season.
After posting records of 6-7 and 6-10 in his first two years, the 11-5 record last season was a treat for Browns fans.
Mayfield brought Cleveland to the playoffs for the first time in almost two decades.
Now, he is the best value bet for the AP NFL MVP award.
Bettors are taking note, and they have been backing him at an impressive rate:
#Browns QB Baker Mayfield has had the most money wagered on him to win NFL MVP via William Hill Sportsbook. pic.twitter.com/qj9Uh3mlRX

— MoreForYouCleveland (@MoreForYou_CLE) June 17, 2021
He is saying all the right things and enjoying his offseason:
TOO CLUTCH, @bakermayfield!! pic.twitter.com/cAeoxXp6aP

— Lake County Captains (@LCCaptains) June 12, 2021
Mayfield was one of the co-champions of the 2021 Jarvis Landry Celebrity Softball Game Home Run Derby.
Also, Mayfield is primed for another tremendous NFL season, as he is focused on 2021 rather than a contract extension:
#Browns QB Baker Mayfield reiterated he's focused on winning instead of contract extension, but he has believed for years he's meant to play here. He added Cleveland is a great town with a blue-collar mentality and that's why it's a great fit for him

— Nate Ulrich (@ByNateUlrich) June 16, 2021
Mayfield, one of the best deep passers in the league, did see a career-low in passing yards in 2020.
However, Mayfield should continue his upward trajectory in 2021.
Here are the three reasons why the Browns' 2021 success relies on Baker Mayfield:
1. Mayfield is the Face of the Browns 
When people think of the Browns, they first think of Mayfield.
When they ask who took down the Pittsburgh Steelers in the postseason last year, they think of Mayfield:
48-37 playoff victory
263 passing yards
3 touchdowns
0 interceptions
0 sacks
The 2018 first overall draft pick is the face of the Browns.
It is the hope of most Browns fans that this does not change for a while.
2. Mayfield Led the Browns to the Playoffs
Although the Browns could not defeat the eventual AFC champion Kansas City Chiefs in the divisional round, Cleveland fought hard.
The Browns outscored the Chiefs, 14-3, in the second half, but it was not enough.
Mayfield, Kevin Stefanski, and company will look to be a better threat to the Super Bowl LVI favorite Chiefs this upcoming season.
Chiefs tight end Travis Kelce believes the Browns are a legitimate threat.
The Chiefs beat the Buffalo Bills by 14 points in the AFC Championship Game the week after the Browns lost.
In theory, that made the Browns the biggest AFC threat to the Chiefs during 2020 as well.
Cleveland will get battle-tested again in Week 1 of the 2021 season, as the Chiefs host the Browns at Arrowhead Stadium for a rematch.
Cleveland has not defeated a Kansas City team since 2012 when the Browns had Brandon Weeden under center.
There are a lot of signs pointing to another strong season for Mayfield.
He thinks that this offseason has been a great one thus far because of the team chemistry:
#Browns QB Baker Mayfield says chemistry is "very, very far" ahead of where it was last year.

— Scott Petrak ct (@ScottPetrak) June 16, 2021
Team chemistry will be very important for 2021.
3. Mayfield's Future is Bright
Mayfield's passing yards per game in 2020 were the fewest of his three-year NFL career.
However, his passer rating and QBR were his highest.
According to Pro Football Reference, he also had his career-best adjusted yards gained per pass attempt.
He also bounced back with strong adjusted passing numbers in 2020.
In all three of Mayfield's seasons in the NFL, he has ranked in the top 10 in yards per completion.
Everyone also has to remember that one of the most important aspects of Mayfield's success in 2020 came from lowering his interception total:
2018: 14 games, 14 interceptions
2019: 16 games, 21 interceptions
2020: 16 games, 8 interceptions (18 games including the playoffs, 9 total interceptions)
The future is bright for Mayfield, especially if he keeps his interception totals down.
With Mayfield's future being bright, the Browns' future is also bright.