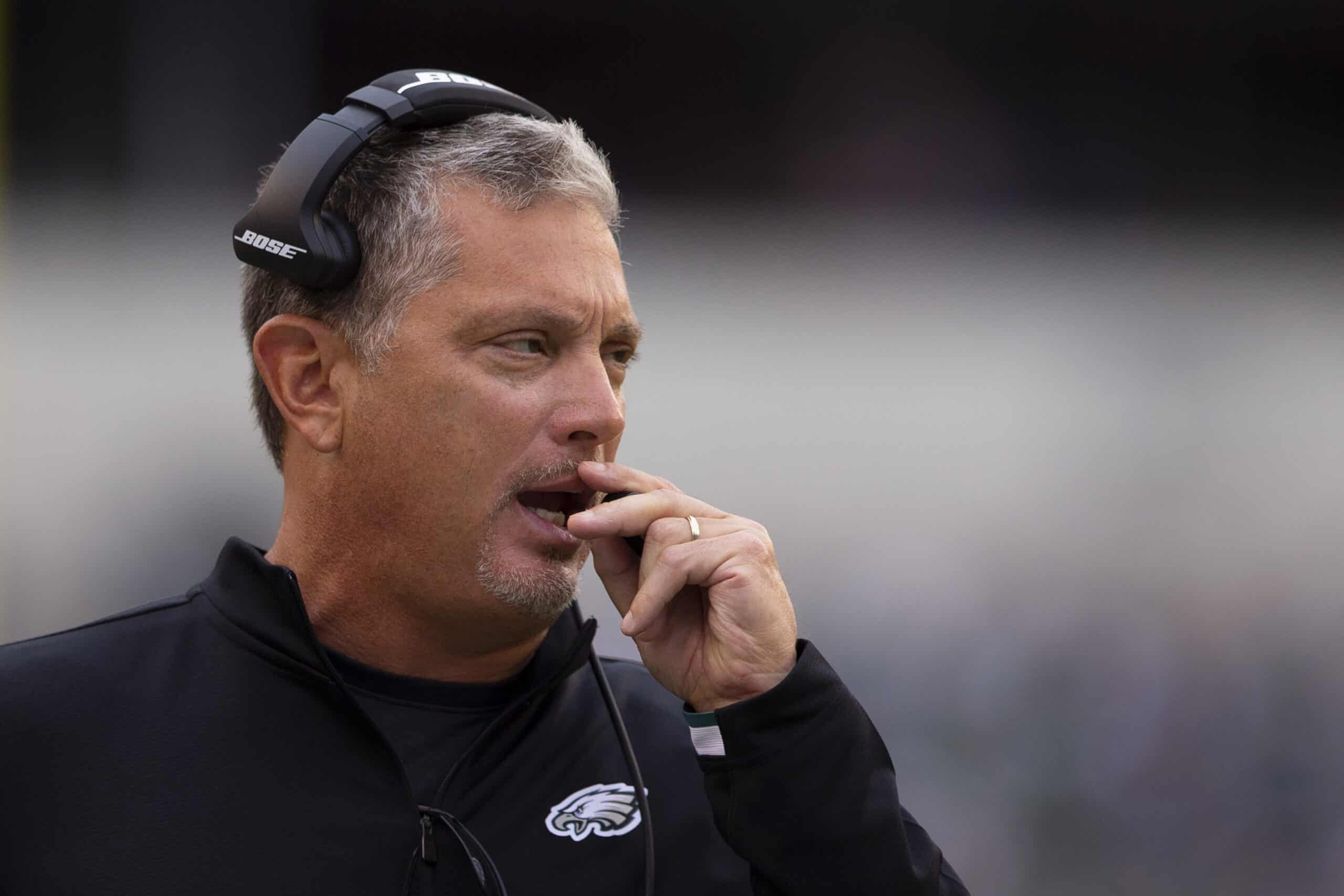 Joe Woods and Kevin Stefanski arrived in Cleveland in 2020 ready to turn around a franchise that was in need of a serious rebranding.
Stefanski had just been hired as head coach, and in turn, he hired Woods away from the San Francisco 49ers to become Cleveland's defensive coordinator.
The Browns then made the playoffs in 2020 for the first time since 2002.
However, Cleveland's defense went from a 20th overall ranking in 2019 to 21st in '20.
They improved to 13th in 2021, but dropped to 20th this past season.
Meanwhile, the Browns win total has decreased from 11 to eight to seven in the past three years.
In an attempt to try and right the ship, Stefanski fired Woods last week.
We have hired Jim Schwartz as our defensive coordinator.

Welcome back to Cleveland, Jim! pic.twitter.com/GjDqXmqjmF

— Cleveland Browns (@Browns) January 18, 2023
After several days of speculation, Cleveland officially hired Tennessee Titans assistant Jim Schwartz on Tuesday.
"Jim Schwartz has been an outstanding coach in this league for a very long time, and we are thrilled that he is joining our staff to lead our defense as the defensive coordinator," Stefanski said on Tuesday.
Here are three things to know about Schwartz.
History with Browns Organization 
Schwartz began his coaching career as a graduate assistant at the University of Maryland.
After four years at the collegiate level, he transitioned to the NFL where his first job was a scout with the Cleveland Browns under Bill Belichick.
Browns new DC Jim Schwartz on Bill Belichick's Browns staff in 1995 pic.twitter.com/0irSnEtw1q

— McNeil (@Reflog_18) January 17, 2023
From 1993 through 1995, Schwartz beat the bushes to find players for the Browns.
During that period, Cleveland drafted players such as Steve Everitt, Antonio Langham, and Derrick Alexander.
The Browns also appeared in the 1994 playoffs and beat New England in the Wild Card round before losing to Pittsburgh in the Divisional round.
Schwartz was still on Cleveland's staff until the team pulled up stakes and moved to Baltimore after the 1995 season.
Former Browns/Ravens general manager Ozzie Newsome recalled Schwartz's time in Cleveland during the mid 90s.
"Well, he could multitask," Newsome said. "He also was very, very good from a detail standpoint."
Former Detroit Head Coach
Schwartz became the Ravens' outside linebackers coach for three years before leaving for Tennessee, where he eventually became defensive coordinator from 2001-2008.
The 2008 Titans defense was ranked second in the NFL.
In 2009, Schwartz became the head coach of the Detroit Lions.
Detroit didn't win a lot during Schwartz's tenure, but the franchise itself does not have a great track record of winning seasons in the first place.
The Lions did see improvement during Schwartz's first three years, winning two, then six, then 10 games from 2009-2011.
In 2011, Detroit returned to the playoffs for the first time since 1999 with a 10-6 record but lost to New Orleans in the Wild Card round 45-28.
ESPN is reporting Jim Schwartz is out as head coach of the Detroit Lions http://t.co/TFiIeght6y pic.twitter.com/YWk7JUO4t3

— Local 4 Sports (@Local4Sports) December 30, 2013
Schwartz's Lions won 11 more games the next two years and he was fired after 2013.
He was 29-51 in five seasons as Detroit's head coach.
Super Bowl Winner with Philly
After a year in Buffalo following his removal from Detroit, Schwartz was hired as the defensive coordinator of the Philadelphia Eagles in 2016.
The same year he arrived in Philly, the Eagles drafted North Dakota State quarterback Carson Wentz.
Philly also rebuilt its defense and improved dramatically with Schwartz at the helm.
Welcome to Philadelphia Jim Schwartz. pic.twitter.com/9xHVRAkPfO

— Joe Martinelli (@JoeMartinelli24) January 21, 2016
In 2015, the year before Schwartz arrived, the defense was ranked 28th in the league in points against.
One year later, the unit was 12th.
Then, in 2017, Philly's D was the fourth best defense in the NFL as the franchise became the feel good story of the sports world.
Wentz was lost for the season due to an ACL tear in Week 14 and was replaced by backup Nick Foles.
Unexpectedly, Foles helped the Eagles beat Atlanta and Minnesota before becoming the MVP of Super Bowl LII when Philly defeated New England.
In 2018, Schwartz's defense dropped to 12th in the NFL and then 15th in 2019.
After the Eagles only won four games in 2020, head coach Doug Pederson was fired and so was Schwartz.
For the past two years, Schwartz has been listed as a senior defensive assistant with the Titans.