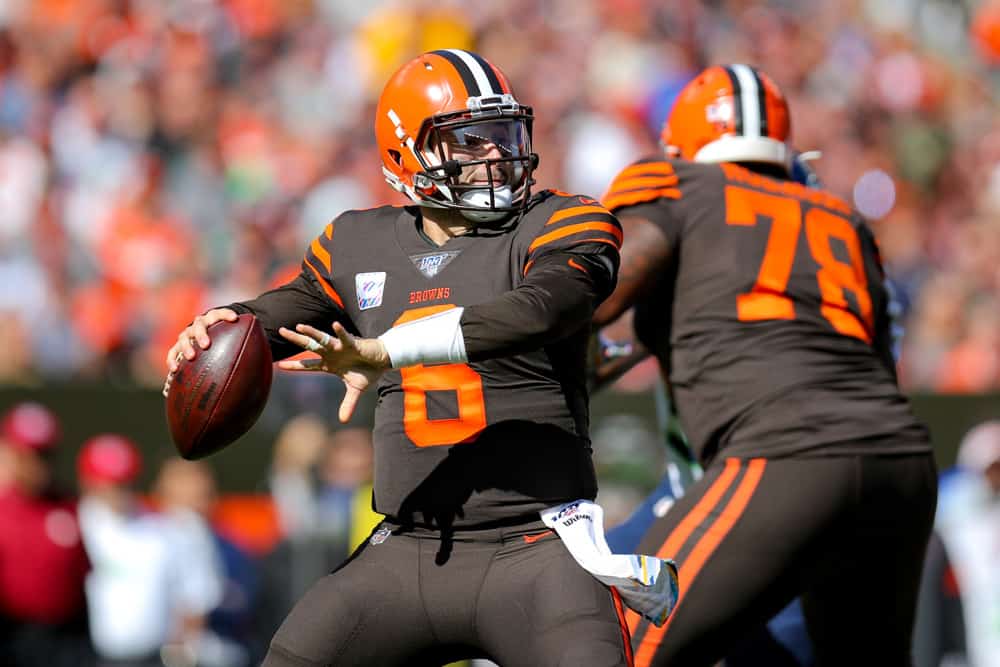 Baker Mayfield will be the first one to tell you that last season was not his best.
Actually, he has already done that.
Baker Mayfield says he will no longer respond to the outside noise.

"Let's be honest, I put my foot in my mouth a lot this last past year, and I'm gonna to internalize that and I think that's the way I need to handle it."

"Rest in peace, Kobe, but that's the way he did it." pic.twitter.com/8hrKzrdxy4

— Sooner Gridiron (@soonergridiron) January 31, 2020

After completing 63% of his passes for 3,725 yards passing, 27 touchdowns, and a passer rating of 93.7 in 2018, the numbers dipped last year.
Despite throwing for 3,827 yards, Mayfield completed just 59.4% of his passes for 22 touchdowns, 21 interceptions, and a passer rating of 78.8.
When all said and done, for these five reasons, Mayfield will rebound in 2020.
1. Confidence In OC Alex Van Pelt
Cleveland Browns new offensive coordinator Alex Van Pelt is ready to hit the ground running.
The new Cleveland Browns offensive coordinator revealed on Wednesday that he wants to "change the footwork" of quarterback Baker Mayfield this offseason
Alex Van Pelt wants Baker Mayfield's feet to be more "like Mozart and not like Metallica" as he looks to how to make the Browns offense better https://t.co/zcSMvHXL5S

— ProFootballTalk (@ProFootballTalk) February 19, 2020
Van Pelt loves Mayfield and is eager to work with him.
Their chemistry should transpire towards high-level results.
2. New Offensive Line Coach
Sports NFL Insider Ross Tucker called the hiring of Bill Callahan "gigantic."
"He is without any question a top-five offensive line coach in the NFL," Tucker said on 92.3 FM The Fan's "Bull & Fox Show" in January. "I would argue that after head coach and both coordinators, offensive line coach is the next most important position."
A newly constructed line could mean more protection for Mayfield.
That could lead to fewer turnovers and more big plays.
3. Full Season Of Nick Chubb And Kareem Hunt
Hunt has not officially resigned with the team but all indications that Hunt will be back.
Having a ground-and-pound running back in Chubb and a receiving threat in Hunt makes the offense more dynamic.
Mayfield will have ground options, plus 1,000-yard receivers Odell Beckham Jr. and Jarvis Landry.
Chubb and Hunt will open up the airwaves for Mayfield to sling it around.
Hopefully.
4. Weaker Schedule
Outside of playing the Steelers, Bengals, and Ravens twice, their non-division schedule looks enticing.
At home, the Browns play the Colts, Raiders, and Redskins, while the road schedule features matchups against the Jaguars, Giants, Jets, and Titans.
Having a favorable road schedule is great for the team's success, but also Baker Mayfield.
The Jaguars, Giants, and Jets were a combined 17-35 last season.
5. Aggressive Offseason
New GM Andrew Berry has told the media he wants to be "aggressive" this offseason.
As of recent, that includes the potential for trading for Pro Bowl cornerback Darius Slay of the Detroit Lions.
Andrew Berry said he was going to be aggressive. Trading for Darius Slay would fall under that description #NFL #Browns https://t.co/TKmKRDYqjQ

— This Is Believeland (@ItsBelieveland) February 19, 2020
If not for Slay, it could be multiple upgrades on the defense.
The Browns defense ranked 22nd in total yards allowed, and 30th in run-defense.
If the defense can keep the games close, Mayfield will not feel pressured, which once again means fewer turnovers.
Final Thoughts
Mayfield has all the tools on offense to turn things around.
Not to mention, he has a new head coach (Kevin Stefanski) and new OC (Van Pelt) who are great offensive minds.
If everything else pans out, a Pro Bowl could be in Mayfield's future.