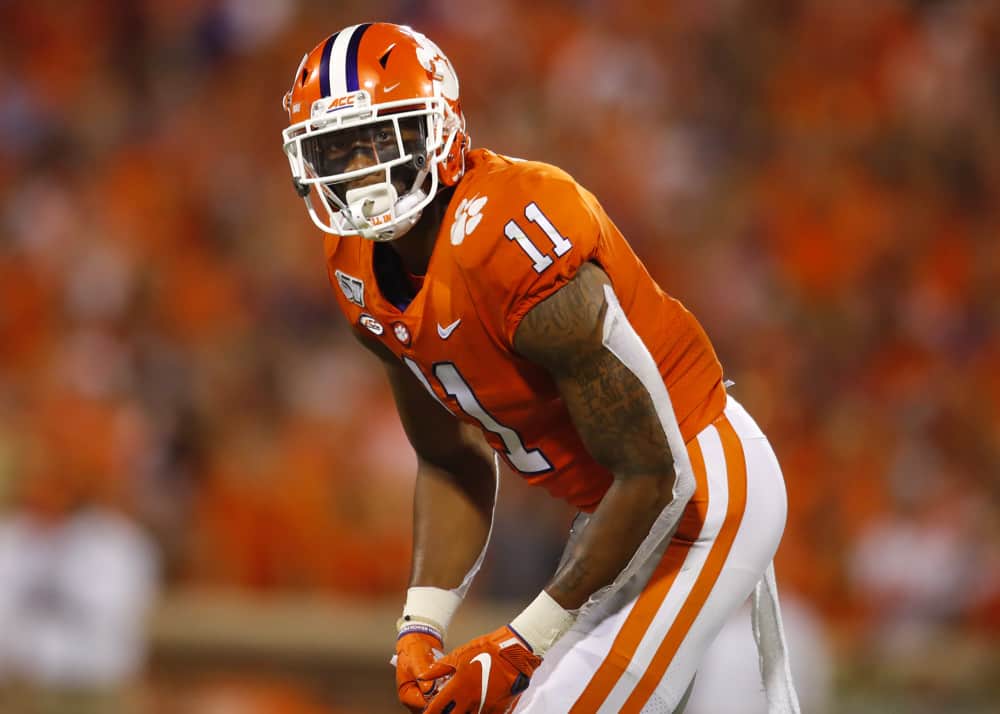 As the calendar gets closer to April, NFL teams are getting ready to play another game, chess.
As the NFL Combine begins next week, and free agency begins March 18, teams will begin jockeying for draft position.
The movement of free agents to other locales creates immediate needs that teams will fill in the draft.
The Combine, along with pro days for select prospects, allows teams to see who will best fit their missing pieces.
What might have been a luxury position only a month ago, may be a position of dire need come April.
This is when NFL clubs decide if they need to move up in the draft to get the best player possible.
Of course, they could always stay put to see if their desired player falls in their laps.
Or, teams that can afford it might trade their pick to acquire more picks.
As it stands now, the Cleveland Browns have the 10th pick of the draft.
With a number of positions to fill, is Cleveland one of the teams that should move up?
The Case for Moving Up
The Browns have a number of needs for the 2020 season.
The Cleveland Browns hold the 10th pick in the 2020 NFL Draft. What position should that pick be?#NFL #Browns #NFLDraft

— This is Believeland Browns (@ThisIsBrowns) February 9, 2020

For starters, the offensive left tackle position is a mess, especially with the imminent loss of Greg Robinson.
The team may also lose David Njoku during free agency, meaning they will need a tight end.
It has been rumored that Joe Schobert and Christian Kirksey may be too expensive to re-sign.
Therefore, the Browns need more linebackers.
The back end of the defense had a rough time in 2019.
So, safety is a position of need.
Both Odell Beckham Jr. and Jarvis Landry struggled with inconsistency and injuries in '19.
Should the Browns use one of their picks to grab a top-flight receiver?
With only nine other teams picking before the Browns, the team is already in a good position to get one of their needs.
However, as mentioned above, will the Combine and free agency suddenly leave the team desperate?
Will a player emerge that is so unbelievably talented that the Browns have to move up to get him?
Or, does another team trade up into the top nine to steal who Cleveland would have drafted at 10?
These are questions that will arise and that the team is most likely already analyzing.
If any of the above scenarios play out, who could the Browns deal with to move up?
In my opinion, I see two possible trade partners for the Browns.
Trade-Up to Miami's 5th Pick
First, Miami has the number five pick of the Draft.
They are rumored (in mock drafts) to want former Crimson Tide quarterback Tua Tagovailoa.
Only a year ago the Dolphins made some moves to bring in 2018 first-round pick Josh Rosen.
Rosen has yet to prove himself after two years in the league.
Does Miami really want to select another young quarterback and wait to see if he will pan out?
Added to this question, does Miami trust that Tua won't be an injury concern given his history at Alabama?
The Fins already have two other first-round picks at 18 and 26.
If they trade their fifth pick with Cleveland, they can use those additional picks to overhaul their roster.
After a 5-11 finish in 2019, Miami needs all the help they can get.
Trade-Up to Number 9
The other team that may do business with Cleveland is Jacksonville.
The Jags currently have the ninth and 20th picks of the first round.
A year ago, they brought in Nick Foles to help them get back to the playoffs.
Unfortunately, by the end of the season, Gardner Minshew was their quarterback.
Minshew played well enough that the team may stick with him long term.
Jacksonville has a number of needs for next season.
Their 6-10 finish in 2019 exposed weakness on the offensive line, nearly every position on defense, receiver and running back.
In other words, they need help if they want to make noise in 2020.
Similar to Miami, if they horse trade with the Browns, they would wind up with more picks.
With the 20th pick still in their possession and the additional Browns picks, the Jags could right their ship.
If either Miami or Jacksonville traded with the Browns, that gives Cleveland the opportunity to pick a player they really want.
They could get a left tackle, or LSU's Grant Delpit, or even fast-rising prospect Clemson linebacker Isaiah Simmons.
Isaiah Simmons played 100+ snaps at five different positions.

There is no NFL comparison. pic.twitter.com/4jNEBSorkJ

— PFF Draft (@PFF_College) February 13, 2020
Any of these picks addresses a team need immediately.
Cleveland wouldn't have to worry about their desired player being stolen before they have a chance to pick.
They may also ensure that their top pick is a cornerstone for years to come.
On the flip side, they would also lose capital later in the draft.
That loss of capital means less to work with and fewer team needs addressed.
The Case for Moving Down
It doesn't seem logical for the Browns to move up in the draft.
They are already in the top ten and some of the teams drafting 1-9 have different needs than Cleveland.
Case in point, quite a number of prognosticators have Cincinnati, Miami, and the Chargers drafting a quarterback.
These same experts have the Cardinals at eight and even Jacksonville at nine picking receivers.
These positions are currently not dire team needs for Cleveland.
That leaves only four picks for the Browns to contend with.
Given this information, does the team really need to trade up to get who they want?
My answer is no.
In fact, Cleveland could move down and get more picks to bring in more personnel for next season.
If that's the case, who would be willing to work with the Browns to move to the 10 spot?
I see three potential candidates.
Tampa Bay's Number 14 Position
Tampa Bay is in the number 14 position of the first round.
The Bucs perpetually appear close to making the next step to playoff contention.
Inevitably, they always seem to come up short.
In 2019, it was quarterback Jameis Winston who helped play the Bucs right out of relevancy.
Winston threw for over 5,000 yards, but he also threw 30 interceptions.
His inconsistency has plagued the team since he was drafted in 2015.
Tampa Bay also has issues with their offensive and defensive lines and running back.
They could stand pat at 14 and get their man.
However, there are frequent rumors that the team will part ways with Winston this offseason.
That would make Tampa Bay immediate buyers for a higher pick to select a new franchise quarterback.
Moving up four spots to Cleveland's position would ensure the Bucs get a quarterback before a competitor does.
This move would still leave Cleveland in a great position to get their desired pick.
They would also have more picks to work with during days two and three.
Trade with Atlanta?
Atlanta is also a team that seems ready to contend every year, yet constantly disappoints its fan base.
The Falcons were supposed to make the playoffs in 2019 only to finish 7-9.
While the team does have franchise players at quarterback and receiver, they need serious help at numerous other positions.
Specifically, the Falcons need: edge rushers, linebackers, defensive backs, defensive line, tight end, interior offensive line, and running back.
Atlanta has the 16th pick of the draft.
At that spot, the team may get who they want.
The more likely scenario is their desired pick will come off the board long before number 16.
The team may want to invest in help now.
How much longer will stars like quarterback Matt Ryan and receiver Julio Jones stick around with an under-performing team?
How about the Patriots?
Last, but not least, perhaps the New England Patriots would be willing to move up.
Yes, this scenario does seem unlikely given coach Bill Belichick's draft strategy.
However, the Pats have moved up in the draft before.
Also, this offseason is not like recent offseasons for New England.
The team did make the playoffs in 2019 but were taken out by the Titans.
It also appears that longtime quarterback Tom Brady may not be brought back.
The Pats already had team needs before Brady's possible departure.
If he does not return in 2020, that creates even more pressure for the team to draft well.
The team currently has the 23rd pick of the draft.
In that position, many of the players New England wants are most likely gone when their turn comes.
The team desperately needs help on defense and receiver.
They also haven't been the same at tight end since Rob Gronkowski retired.
Brady's departure means they need a quarterback.
Can the Pats really afford to stay put at 23 and hope their need is still on the board?
Can Belichick rely on his draft acumen to re-build the team for the future while picking this low?
New England may have to move now in order to stay at the top of their division next year.
In Conclusion…
After all the analysis and studying possible scenarios, I see the Browns doing one of two things during the draft.
One, they stay put at number 10.
This appears to be the most logical choice for the team.
As mentioned, they really only have to contend with four other teams before the 10th pick.
Even if another team trades to move up before the Browns, Cleveland doesn't need to sweat it.
The primary need for the team is left tackle.
There are a bevy of good prospects at that position in the draft.
If the team only has four other teams to consider, chances are great they will get their tackle for the future.
Staying put may mean the Browns don't get Simmons or Delpit.
However, both positions can be found in days two or three or free agency.
The second possible scenario for the Browns is trading down.
Cleveland could trade down and still get their left tackle while also stockpiling picks this year and next.
Having more draft capital means having the luxury of taking more players the team can plug in for 2020.
Selecting more personnel in days two or three also helps the team's bottom line.
Players selected in later rounds cost less yet still fill a need for the team.
Cleveland could also use future picks to make moves for 2021.
Interested parties could, theoretically, offer the Browns a first-round pick this year and next for the 10th spot.
That gives the team at least two possible first-round picks in 2021.
I, for one, am looking forward to watching this chess match play out over the next two months.