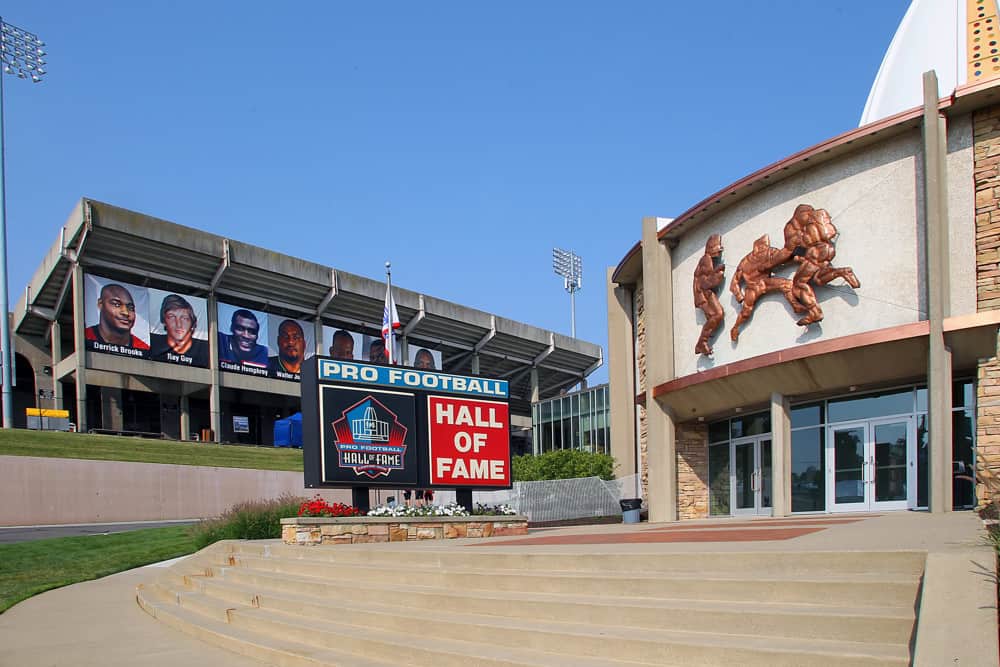 The Cleveland Browns have several former players among the nominees for the Pro Football Hall of Fame class of 2022.
On Wednesday, the Pro Football Hall of Fame announced Josh Cribbs, Eric Metcalf, Michael Dean Perry, Earnest Byner and Jamal Lewis are among the 122 players to make the first cut for the NFL's greatest individual honor.
Wednesday's announcement is the first in a four-step process that leads to next year's enshrinement, which is set for August 2022 in Canton.
In November, the list of modern-era nominees is reduced to 25 semifinalists.
In January 2022, the list dwindles to 15 finalists.
Voters then decide which players are enshrined in Canton.
Josh Cribbs, Eric Metcalf, and Michael Dean Perry are among the nominees for the Pro Football HOF class of 2022.

— Cleveland Browns (@Browns) September 22, 2021
Josh Cribbs
Cribbs' nomination is for special teams, specifically his ability as a kick and punter returner.
During Sunday's game against the Bears, the Browns will induct Cribbs and wide receiver Webster Slaughter into their Legends program.
The Browns' ceremony for Cribbs and Slaughter was supposed to happen in 2020, but it got postponed because of the COVID-19 pandemic.
The three-time Pro Bowler (2007, 2009 and 2012) played for the Browns from 2005-2012.
Cribbs was also named a first-team All-Pro in 2009 and a second-team All-Pro in 2007.
Cribbs' eight career kickoff return touchdowns are tied for the NFL record along with Leon Washington and Cordarrelle Patterson.
In his 10-year career, Cribbs also played for the New York Jets in 2013 and the Indianapolis Colts in 2014.
Cribbs finished his career tied for third in NFL history with 13,488 career return yards, third in kickoff return yards (11,113) and fifth in career return touchdowns (11).
Eric Metcalf
Metcalf spent the first six years of his 13-year career with the Browns from 1989 to 1994.
While Metcalf is listed as a running back, he was a key contributor catching passes out of the backfield during his career as well as a return man.
As a member of the Browns, Metcalf played in 88 games, rushing for 2,229 yards and 11 rushing touchdowns along with 297 receptions for 2,732 yards.
In Cleveland, Metcalf had a combined 26 touchdowns on offense and another seven touchdowns on kick and punt returns.
Metcalf was a three-time Pro Bowler (1993, 1994 and 1997) and a two-time first-team All-Pro (1993 and 1997).
Metcalf played for the Atlanta Falcons from 1995-1996, for the San Diego Chargers in 1997, the Arizona Cardinals in 1998, the Carolina Panthers in 1999, the Washington Redskins in 2001 and the Green Bay Packers in 2002.
In 2008, the Browns honored Metcalf in their Legends program.
Michael Dean Perry
Perry made six Pro Bowl appearances (1989-1991, 1993, 1994 and 1996) in his 10-year NFL career.
Perry played for the Browns from 1998-1994, the Denver Broncos from 1995-1997 and the Kansas City Chiefs in 1997.
In 90 games for the Browns, Perry had 51.5 sacks.
In 2001, Perry was one of five former Browns to be named to the team's Legends program.
Earnest Byner
Byner had two twists with the Browns, from 1984-1988 and again from 1994-1995.
In his 14-year NFL career, Byner also played for the Washington Redskins from 1989-1993 and the Baltimore Ravens from 1996-1997.
Byner is most remembered for the infamous play known as "The Fumble" in the 1987 AFC Championship game between the Browns and the Denver Broncos.
Byner took a handoff to the left and appeared like he was going to score the game-tying touchdown, but Broncos defensive back Jeremiah Castille stripped him at the 1-yard line.
The Broncos recovered the fumble.
"The Fumble" overshadowed what was an impressive performance by Byner, who finished the game with 67 rushing yards, seven receptions for 120 yards and two touchdowns.
Playing alongside fellow running back Kevin Mack, Byner had 2,713 rushing yards and 2,034 receiving yards for the Browns from 1984-88.
In 1985,  Byner and Mack became just the third running back duo in NFL history to each rush for 1,000 yards in the same season.
In Byner's career, he had 8,261 rushing yards, 4,605 receiving yards and 71 touchdowns.
In 2006, the Browns honored Byner in their Legends program.
Jamal Lewis
Lewis played most of his career for the Baltimore Ravens from 2000-2006, but finished his career with the Browns from 2007-2009.
As a member of the Browns, Lewis ran for 2,806 yards and 13 touchdowns.
Other players
A few other players who had brief stints with the Browns also made the Hall of Fame's list of 122 players.
It includes offensive lineman Lomas Brown, linebacker/defensive end Willie McGinest, quarterback Jeff Gacia, quarterback Jake Delhomme and wide receiver Andre Rison.
Clay Matthews Jr. was named a HOF finalist in 2021, but is no longer a modern-era candidate after exhausting his 20-year eligibility.
Matthews must now go through the coach/senior committee path if he is to be inducted into the HOF.
*Updated graphic pic.twitter.com/Uo7cf7d4dT

— Pro Football Hall of Fame (@ProFootballHOF) September 22, 2021