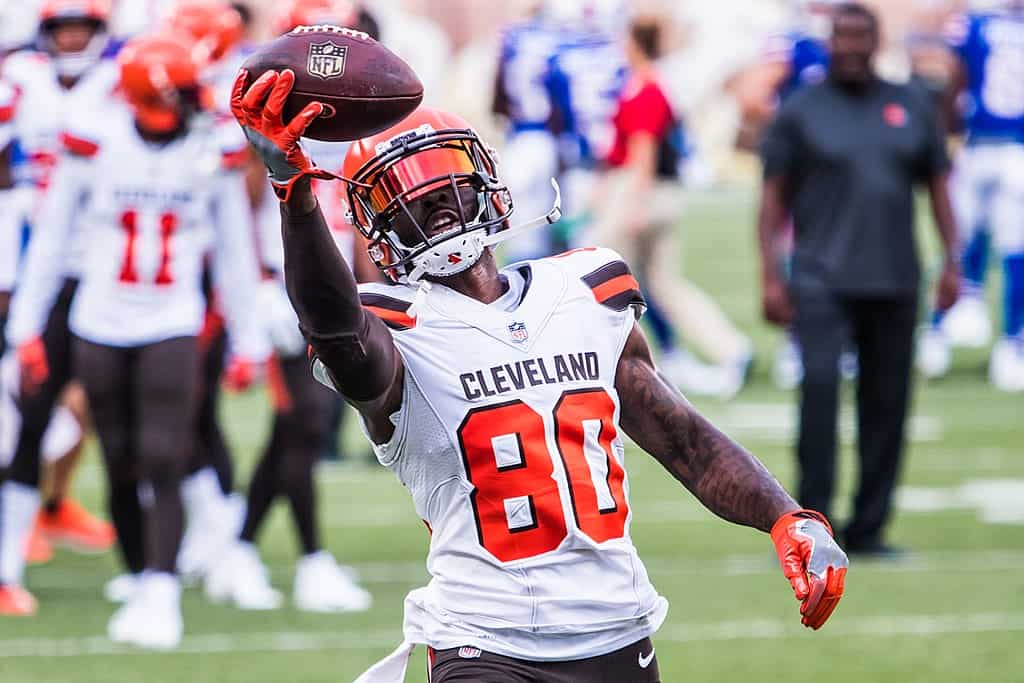 Wide receiver Jarvis Landry underwent hip surgery earlier this month, the Cleveland Browns announced Thursday.
Landry did not initially plan to have surgery because of the 6-to-8 month recovery period, but he changed his mind.
The 27-year-old receiver is expected to make a full recovery for the 2020 season.
Dr. Chris Larson performed the surgery Feb. 4 in Minnesota, the Browns said.
On Thursday, Landry posted videos on his Instagram account about the procedure with commentary from Larson.
"He started to get a little cartilage delimitation, but there was nothing like full thickness, no microfracture or anything like that, and in fact, all I do is shave it a little bit, and you kind of leave it there," Larson said. "You don't want to start removing too much, so that should just be stable. Otherwise, he had a really good looking hip joint.

"I was super happy with how things moved afterwards."
Larson showed the X-rays of Landry's hip in the video.
"You can just see how much better his hip's going to feel," Larson said.
The hip injury hampered Landry throughout the 2019 season, but he did not miss a game and represented the Browns on Jan. 26 at the Pro Bowl in Orlando, Florida.
It marked Landry's fifth consecutive Pro Bowl.
"I think going into [the] Pro Bowl — being that I was off three weeks — and thinking that I was going to feel better, and then playing in the game — which obviously wasn't even really a game, we were just jogging around out there, having fun — and I realized how much pain I was in even just doing that," Landry said. "I was kind of happy that I went to [the] Pro Bowl, that I did [the] Pro Bowl because that was more of an indication of why I needed this surgery."
Landry is shown in one of the videos walking on crutches, slowly pedaling on a stationary bike and doing hip-strengthening exercises at physical therapy.
"The hardest thing about his hip actually wasn't reshaping anything to make it fit better," Larson said. "It was these two pieces of bone that were like embedded in his labrum, and getting those out and making sure I can preserve and save the labrum, which I was able to and repair it back. That was probably the hardest part about it.

"So I think [there was] more going on getting in there than maybe anticipated first seeing him. The more I thought about it, it didn't surprise me, but the more you find, the better you feel, like how much better somebody is going to feel. So I really feel he's gonna feel like, mechanically, this just works better."
Earlier this month, Landry announced he planned to launch a podcast.
Fellow receiver Odell Beckham Jr. underwent core-muscle surgery last month.