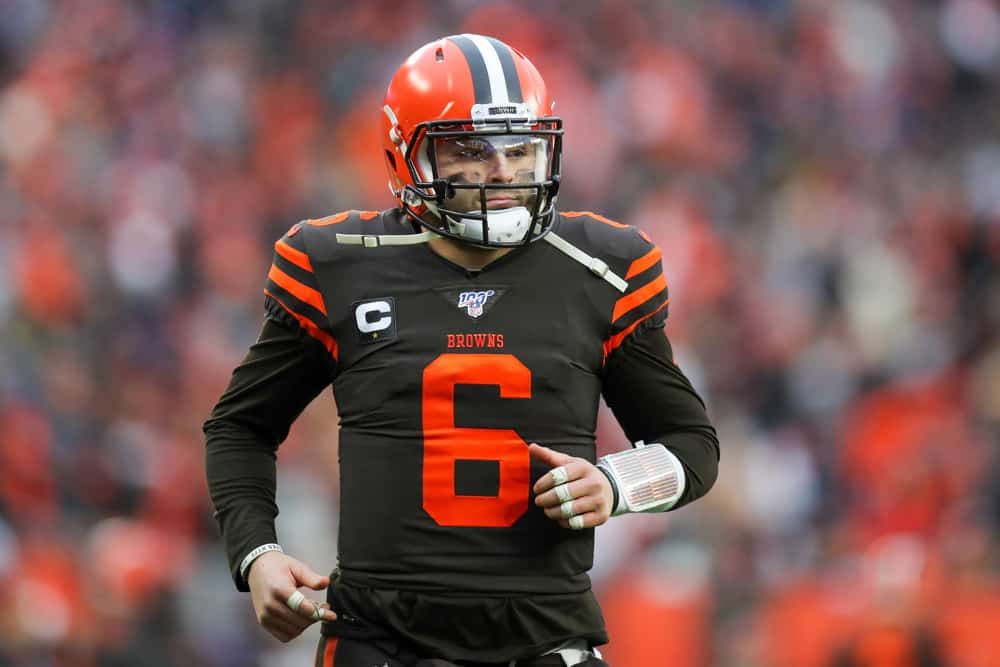 Baker Mayfield's 2019 season can be forgiven, but I am not sure about this.
The Cleveland Browns quarterback used quarantine time to join his teammates in the "Push-Up Challenge" on Instagram.
This video showed that critics' claim of Mayfield being out of shape and half an athlete might be true.
The Video
On Instagram, teammate Jarvis Landry tagged Mayfield in the challenge.
The challenge requires friends to drop and "give him 10."
Mayfield asked everyone to excuse him for his floppy hair, but his form could not be forgiven.
#Browns QB Baker Mayfield joins in on the push-up challenge pic.twitter.com/UsoHu59UN5

— BrownsWave \\: (@Brownswave) March 22, 2020

If we ask the imaginary judges to score this, they would have to give Mayfield a two out of ten.
It is definitely not a good look for the former No. 1 overall pick.
Case Keenum CONFIRMED starting QB of the Browns in 2020!https://t.co/aD2Oppbzts

— TPS (@TotalProSports) March 23, 2020
The Reaction
The reactions on Twitter have been highly critical.
Mayfield has been getting absolutely torched by fans.
All I've concluded from the push-up challenge on Instagram is that Baker Mayfield doesn't know how to do a push up @Reflog_18

— Mo (@Mo_AlRaie) March 22, 2020
Buddy challenged Mark Wahlberg who would Toss Baker across the room and Jamie Foxx 😂🤦🏻‍♂️

— TomFromMySpace 999 (@JrTheBarberr) March 22, 2020
However, Mayfield had at least one fan come to his defense.
I'm waiting to see what the perfect push up is supposed to look like for all the @bakermayfield haters …
It must of done push ups good enough to make to our QB @Browns 💪🏿💪🏿 #GoBrowns I challenge the spectators to the #pushupchallenge

— Kevin R. Chambers (@kevinchambers19) March 23, 2020
Moving Forward
Mayfield stated earlier in the offseason that he wants to be "slimmer" and "faster."
His pushup form definitely needs improving if he is going to accomplish that goal.
An important focus for the #Browns heading into 2020: QB Baker Mayfield's fitness and body makeup. From what I understand, he put on some weight last year to bulk up and lost some quickness. His plan is to be slimmer & faster this year, with an emphasis on being in better shape.

— Ian Rapoport (@RapSheet) February 26, 2020
Mayfield has a lot to prove in 2020 though.
After finishing as the Offensive Rookie of the Year in 2018, Mayfield's performance dipped significantly in 2019.
In 2018, Mayfield completed 63.8% of his passes for 3,725 yards and 27 touchdowns.
In 2019, Mayfield fell to a 59.4% completion percentage for 3,827 yards and 22 touchdowns to 21 interceptions.
His quarterback ranking of 78.8 was the second-worst in the league.
The Comparison
Losing weight is great and all, but losing a lot of weight may not be the right call for Mayfield.
When looking at some of the best quarterbacks in the league, those guys have about 10-pounds on Mayfield.
Mayfield is listed at 6'1.
Dak Prescott (listed as 6'2) and Aaron Rodgers (listed as 6'2) are both around 225 pounds.
Lamar Jackson (listed as 6'2) is around 212 pounds.
Mayfield may want to spend more time on his fundamentals than his diet.
We can probably include pushup form in the mix too.
He should probably hold off on posting another video until he works out the kinks.