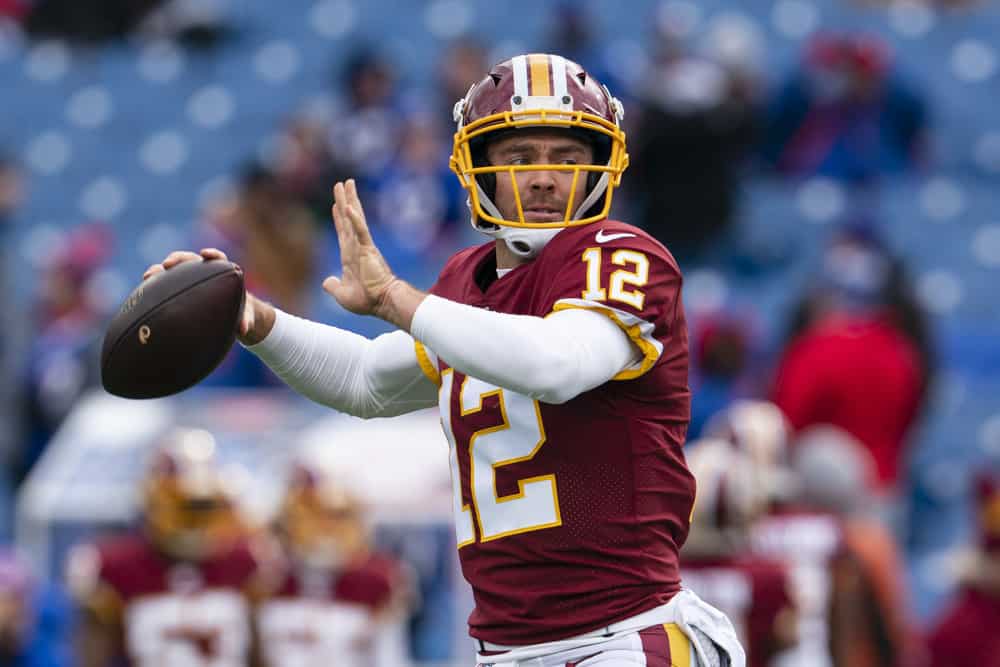 NFL free agency gets underway in two weeks.
The Cleveland Browns are expected to pursue a backup quarterback behind Baker Mayfield.
During Tuesday's edition of "Bull and Fox" on 92.3 The Fan, Sirius XM NFL Radio's Adam Caplan said the Browns are expected to pursue either Case Keenum or Colt McCoy.
"They're going to want to get a good veteran quarterback to back up Baker [and] whose a good influence and I think they'll do that," Caplan said.
Caplan said he heard about the Browns' interest in adding a veteran backup quarterback while at the NFL Combine.
During Tuesday's interview, Caplan said either Keenum or McCoy "make sense" for the Browns.
"They're going run to a West Coast [system], at least [the] terminology as I understand it," Caplan said. "Both guys have experience in the West Coast terminology. That's very important."

Caplan said he did not hear about the Browns possibly having an interest in free-agent quarterback Marcus Mariota, who has played the first five years of his NFL career with the Tennessee Titans.
"Marcus is a guy that needs to revive his career," Caplan said. "Marcus is a guy that needs to work on his mechanics, but he's got a lot of ability. There's no question about it."
Caplan said Mariota suffered from having four different offensive coordinators — Jason Michael, Terry Robiskie, Matt LaFleur and Arthur Smith — with the Titans.
"He needs to move on and go somewhere where he could be just redeveloped," Caplan said.
Caplan said the Browns are looking for a veteran quarterback more "accustomed being a backup" than Mariota.
Drew Stanton — Mayfield's backup the past two seasons — missed all of last season with a knee injury.
Stanton is due to become a free agent this month.
Garrett Gilbert, 28, is set to make $710,000 during the 2020 season.
Caplan said he expects Gilbert to serve as the Browns' third-string quarterback again.
Gilbert has attempted just six passes during his three-year NFL career.
During the 2019 season, Mayfield became the first Browns quarterback since Tim Couch in 2001 to start all 16 regular-season games.
"The quarterback position, I'm not too worried about," Caplan said. "It's the offensive line, which was a disaster last season. They've got to fix that."
McCoy, 33, has played for the Washington Redskins since 2014, for the San Francisco 49ers in 2013 and for the Browns from 2010-2012.
Since he left the Browns, McCoy has not been a full-time starter.
McCoy has a 7-21 record as a starting quarterback in the NFL, throwing for 6,080 yards with 29 touchdowns and 27 interceptions.
Keenum, 32, played with new Browns coach Kevin Stefanski in 2017 as a member of the Minnesota Vikings.
During his lone season in Minnesota, Keenum led the Vikings to an 11-3 record, beating the Saints in the Divisional round before losing to the Eagles in the NFC Championship Game.
Listed at 6'1″, 215 pounds, Keenum holds a 27-35 career record as a starter, throwing for 14,368 yards with 78 touchdowns and 47 interceptions.
CBS Sports NFL Insider Jason La Canfora said last week the Browns would pursue Keenum or Chase Daniel.
NFL free agency officially starts at 4 p.m. ET Wednesday, March 18.