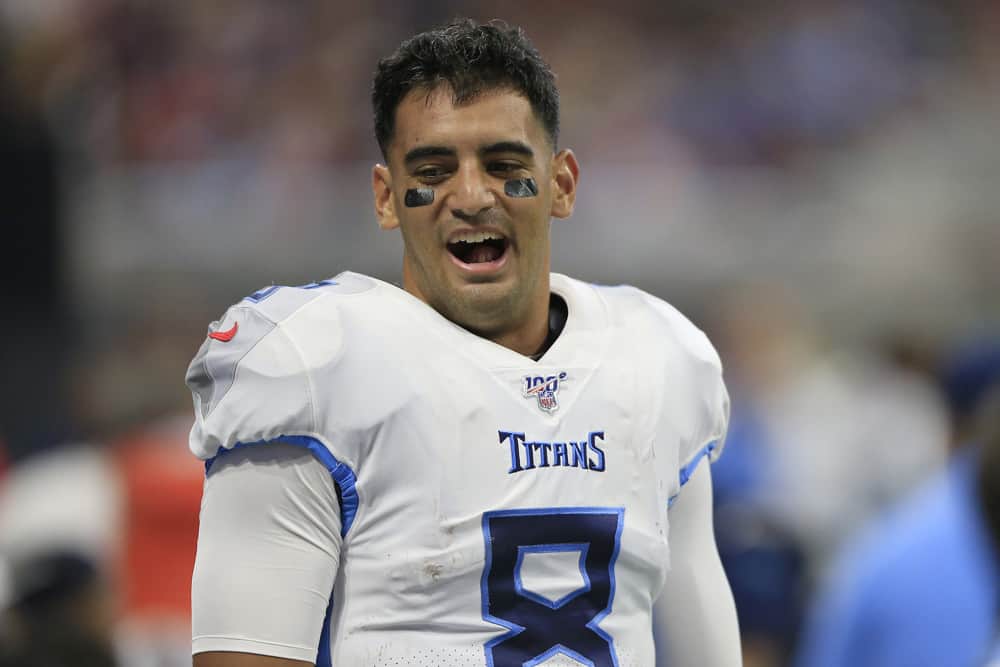 The Cleveland Browns had no competition in the quarterback room last season.
Baker Mayfield had Drew Stanton and Garrett Gilbert behind him on the depth chart.
Stanton was usually seen in sweatpants and Gilbert's claim to fame was success in the short-lived AAF and that he went to the same high school as Mayfield.
With the Browns signing Garrett Gilbert, 6 years of starting quarterback at Lake Travis High School in the suburbs of Austin, Texas, are now in Ohio: Gilbert (Lake Travis QB 2006, 2007, 2008), Baker Mayfield (LT QB 2011, 2012) and Ohio State's Matthew Baldwin (LT QB 2017).

— Doug Lesmerises (@DougLesmerises) April 5, 2019
Mayfield regressed and now the Browns need to have a legitimate option at backup quarterback in case the regression continues.
Stanton is also a free agent and may be gone regardless of who is signed.
One target available this offseason is Marcus Mariota.
Several teams have been connected to him as the rumor mill continues to churn.
Marcus Mariota's 2020 Season
Mariota's Tennessee Titans came into Cleveland in Week 1 and destroyed the Browns.
I know, I was there.
Breaking down Marcus Mariota's best throw from week 1 (sneak peak for my new article @TitansMCM ):
47 yard pass to AJ Brown pic.twitter.com/rnW2KElQbF

— Titans Tape (@TitansTape) September 11, 2019
Then the team began to falter and Mariota was benched in favor of Ryan Tannehill.
We know how the story goes from that point.
Tannehill got his team to the AFC Championship Game and looks to be the favorite to retain the job moving forward.
Being benched had to be a bit of a shock for the 2015 No. 2 overall pick.
Yet, he is only 26 years old and has a career record of 29-32, for what that is worth.
Mariota averaged right around 3,000 passing yards per year in his first four seasons and picked up a postseason win two years ago.
Mariota and the Browns
For some reason, this discussion, whether it be on a blog or on talk radio, brings up polarizing reactions.
Some fans are fine with signing Mariota, while others declare he is terrible and should not even be looked at.
To be clear he would be signed to be the backup.
If Mayfield were to go down the team would have an experienced starter to play in his place.
What is so bad about that?
It is better than the alternative of throwing Garrett Gilbert into the fire and essentially punting the season away.
No offense to Gilbert, but Mariota is obviously the better option.
Rank your top-five QBs from this free agent class:

– Tom Brady
– Taysom Hill
– Teddy Bridgewater
– Philip Rivers
– Jameis Winston
– Marcus Mariota
– Case Keenum
– Ryan Tannehill
– Dak Prescott

— B/R Gridiron (@brgridiron) February 24, 2020
The other options are Case Keenum and Andy Dalton.
Mariota is younger than both and also has the ability to run the ball.
He could come in on a two-year deal on a type of trial period.
The worst-case scenario is that Mayfield is not the franchise guy and the team has to start over yet again in two years.
The best-case scenario is that Mayfield thrives with the help of Mariota and that earns the backup another starting job elsewhere.
There is no clear downside to bringing in Mariota.
Mayfield will actually have to work hard this offseason to keep his job.
An important focus for the #Browns heading into 2020: QB Baker Mayfield's fitness and body makeup. From what I understand, he put on some weight last year to bulk up and lost some quickness. His plan is to be slimmer & faster this year, with an emphasis on being in better shape.

— Ian Rapoport (@RapSheet) February 26, 2020
That was absent last year and the result was a dysfunctional offense for a team that has postseason aspirations.
A real threat of being benched should push Mayfield to be better.
Adding Mariota is also a huge insurance policy and it would be nice for the Browns to join the rest of the NFL in having a competent backup who can step in at any time.
Anyone overly angry about the possibility of signing Mariota may just be too used to the wrong way the Browns have done things for so long.