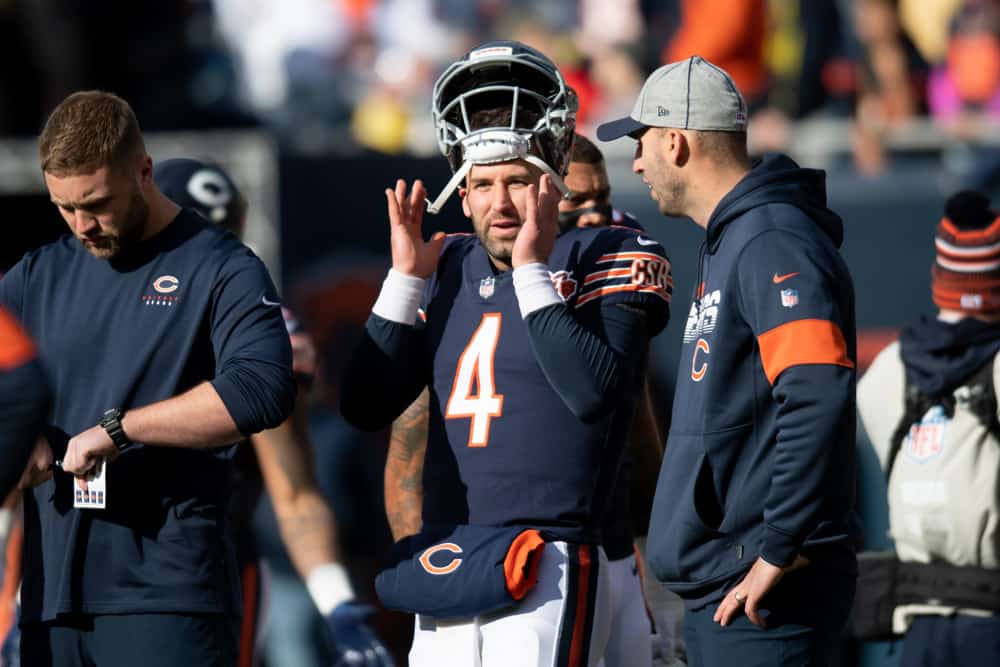 The Cleveland Browns are expected to pursue journeyman quarterback Chase Daniel when free agency beings next month, according to CBS Sports NFL Insider Jason La Canfora.
Veteran quarterback Case Keenum is also under consideration, an unnamed league source told cleveland.com reporter Mary Kay Cabot.
Either Daniel or Keenum could serve as the backup quarterback to Baker Mayfield, who enters his third NFL season in 2020.
Expect the Browns to pursue QB Chase Daniel when free agency begins. They will need a strong veteran backup to help Baker Mayfield next year. Makes a lot of sense

— Jason La Canfora (@JasonLaCanfora) February 26, 2020
#Browns expected to pursue QB Chase Daniel, per @JasonLaCanfora; Case Keenum also on the radar as a backup to Baker Mayfield https://t.co/E6byOR1WOc

— Mary Kay Cabot (@MaryKayCabot) February 26, 2020
Drew Stanton — Mayfield's backup the past two seasons — missed all of last season with a knee injury.
Stanton, Daniel, and Keenum are due to become unrestricted free agents in March.
Garrett Gilbert, 28, is set to make $710,000 during the 2020 season and could serve as the Browns' third-string quarterback again.
Gilbert has attempted just six passes during his three-year NFL career.
During the 2019 season, Mayfield became the first Browns quarterback since Tim Couch in 2001 to start all 16 regular-season games.
NFL Network reporter Ian Rapoport reported Wednesday that Mayfield wants to be "slimmer and faster" this upcoming season.
An important focus for the #Browns heading into 2020: QB Baker Mayfield's fitness and body makeup. From what I understand, he put on some weight last year to bulk up and lost some quickness. His plan is to be slimmer & faster this year, with an emphasis on being in better shape.

— Ian Rapoport (@RapSheet) February 26, 2020
Daniel, 33, has played for the Chicago Bears during the last two seasons.
At 6'0″, 218 pounds, Daniel has a similar stature as Mayfield.
Headed into his 11th NFL season, Daniel has appeared in 65 games, holds a 2-3 career record as a starter, and completed 68.3 percent of his passes for 1,480 yards, seven touchdowns and five interceptions.
Daniel has also played for the New Orleans Saints (2009-2012, 2017), Philadelphia Eagles (2016) and Kansas City Chiefs (2013-2015).
During the 2009 NFL Draft, Daniel went undrafted despite a standout career at the University of Missouri, where he won Big 12 Offensive Player of the Year in 2007.
Keenum, 32, played with new Browns coach Kevin Stefanski for one year as a member of the Minnesota Vikings.
In 2017, Keenum led the Vikings to an 11-3 record, beating the Saints in the Divisional round before losing to the Eagles in the NFC Championship Game.
Listed at 6'1″, 215 pounds, Keenum holds a 27-35 career record as a starter, throwing for 14,368 yards with 78 touchdowns and 47 interceptions.
Earlier this month, NFL Network analyst Akbar Gbaja-Biamila called Mayfield "a bum," and suggested the Browns should sign Keenum to replace the No. 1 overall pick of the 2018 NFL Draft.
🔥 HOT TAKE SEASON HAS ARRIVED 🔥

@Akbar_Gbaja believes the #Browns need a change at signal-caller 👀

If you have a problem with this, feel free to give Akbar a call (323) 405-9945 pic.twitter.com/cmNfFvE7D4

— NFL Total Access (@NFLTotalAccess) February 6, 2020
After his lone season in Minnesota, Keenum went 6-10 as the Denver Broncos' starter in 2018 and 1-7 as the Washington Redskins' starter in 2019.
Keenum has never stayed on one team for more than two years, having also played for the Houston Texans (2012-2013, 2014) and the St. Louis/ Los Angeles Rams Rams (2014, 2015-2016).
NFL free agency officially starts at 4 p.m. ET Wednesday, March 18.