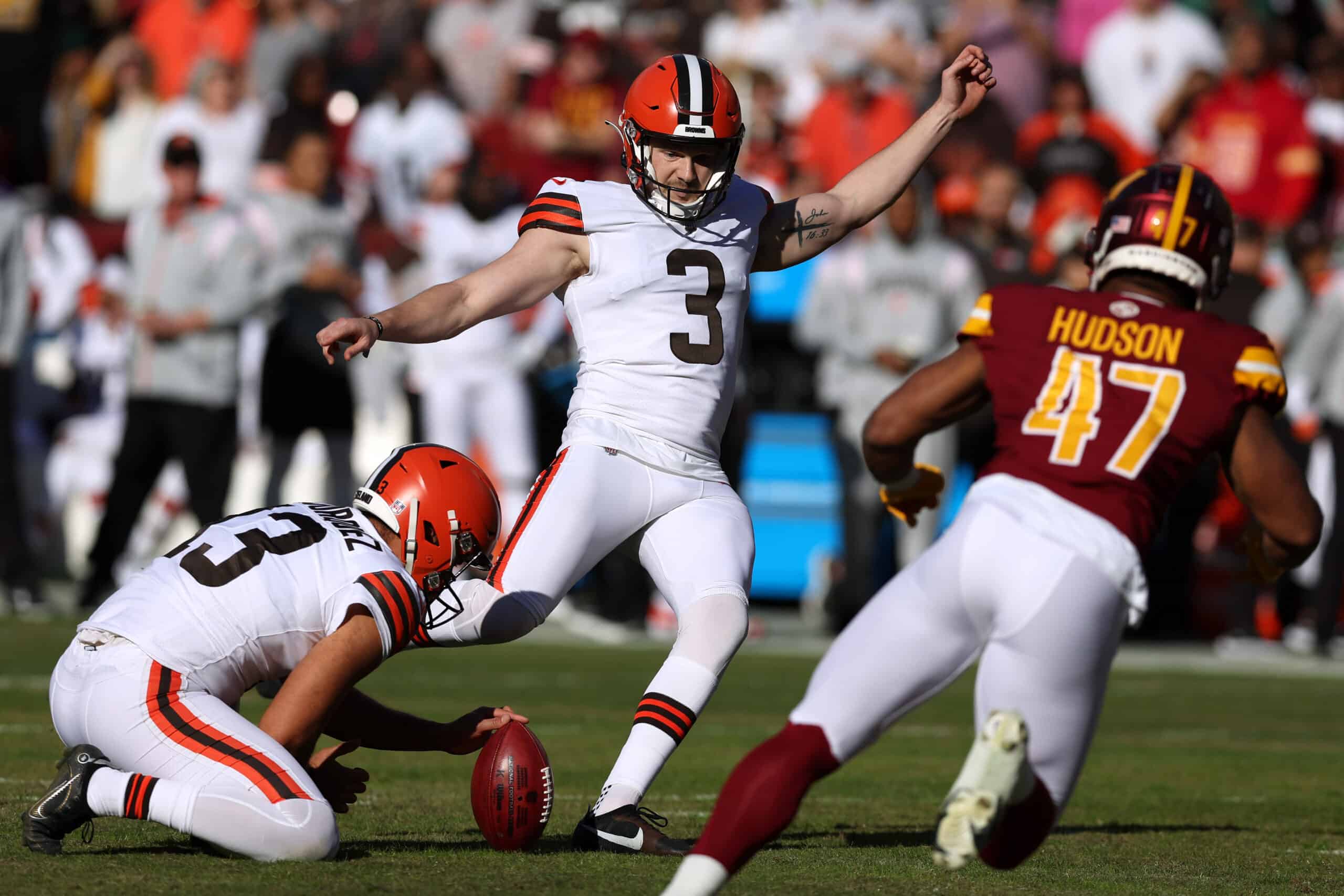 The struggle is real for the Cleveland Browns' second-year kicker Cade York.
Drafted in the fourth round last year out of LSU, York looked to be the second coming of Phil Dawson or even Lou Groza.
As a rookie in 2022, York missed eight of his kicks and ended the season 24 of 32 for a 75% success rate.
So far in the 2023 preseason, York has missed a 49-yard try against the New York Jets and a 46-yarder against Washington last week.
He was 6 of 8 from that range last season.
Although the wolves are at the door, head coach Kevin Stefanski isn't ready to bring in a replacement kicker.
"He's trying to show some patience, bring this guy along, and get over this mental hurdle," – @TonyGrossi on Stefanski's thinking about Cade York. pic.twitter.com/LvuNg1MVrE

— ESPN Cleveland (@ESPNCleveland) August 14, 2023
During his radio show on Monday, Tony Rizzo spoke with Tony Grossi about why Grossi thinks the coach is hesitant to bring in kicking competition.
"I think what's going through Stefanski's mind-he worked for Mike Zimmer, the Vikings coach, he hated kickers, absolutely hated kickers," said Grossi. "In the six years that Zimmer and Stefanski worked together in Minnesota, Zimmer went through four different kickers."
Grossi elaborated that the Vikings had Blair Walsh, who missed a chip shot, 27-yard field goal against the Seattle Seahawks in 2015 to lose in the playoffs.
Walsh was cut by the team in 2016 after ten weeks.
Then, Zimmer brought in Kai Forbath before cutting him after 2017.
Minnesota then drafted Daniel Carlson in the fifth round in 2018 only to cut him after a few games.
Carlson signed with the Raiders weeks later and has since led the NFL twice in scoring and signed a four-year extension in 2021 for $18.4 million.
Kevin Stefanski on Cade York:

"It's part of being a player in the NFL. It's part of being a kicker in the NFL. You've got to bounce back from a miss and I think Cade showed that later in the game." pic.twitter.com/OYrdOzMy3y

— Nick Karns (@karnsies817) August 14, 2023
Based on that history, Grossi believes Stefanski doesn't want to repeat the same mistakes as his former boss.
"I think Stefanski saw that and doesn't want to replicate what Zimmer did, so he's trying to show some patience and bring this guy along and get over this mental hurdle."
Stefanski appeared to agree in his recent assessment of York.
"It's a small sample size," Stefanski said. "Cade's working very hard just like the rest of our team is. It's preseason football for all of us. None of us are ready to play or coach any in that first game just yet. So we're working through it."