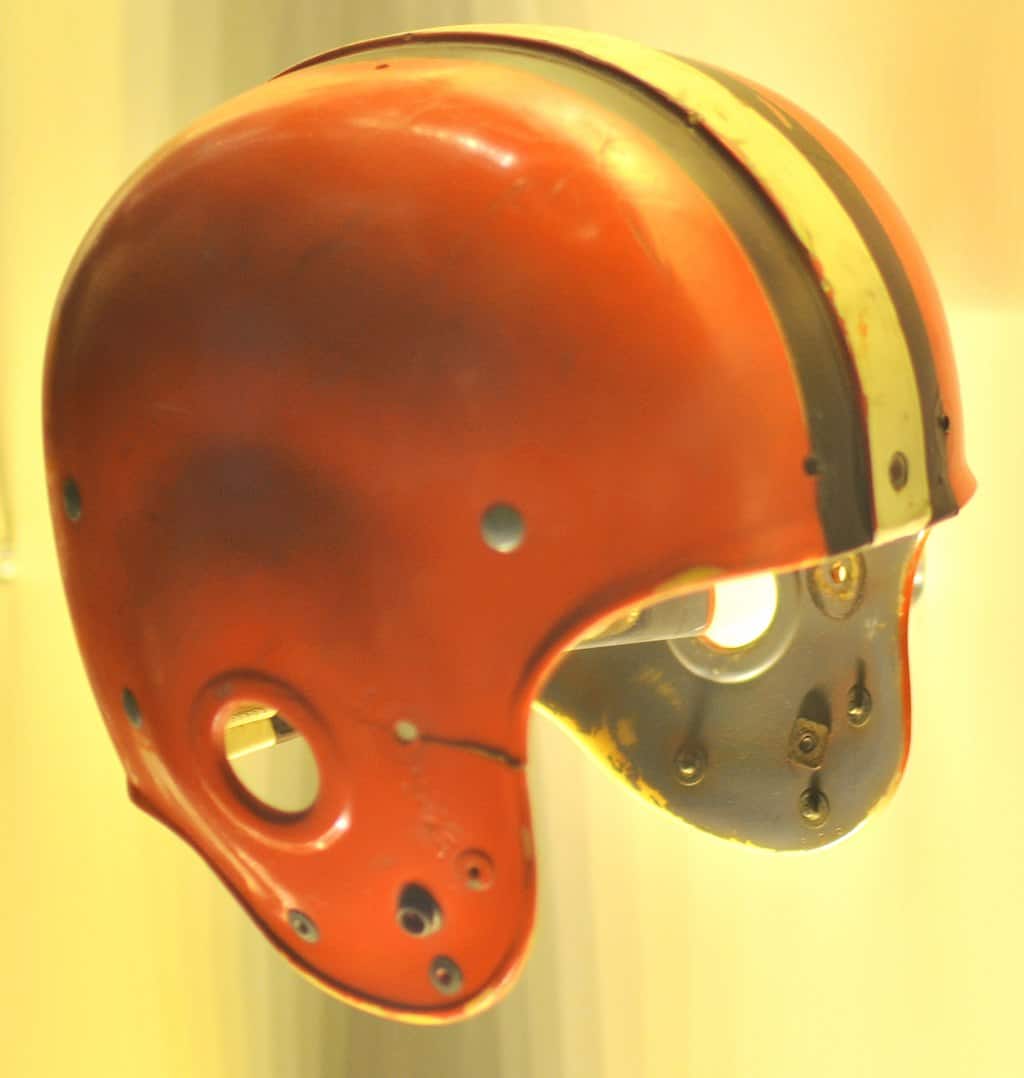 In 1944, Arthur "Mickey" McBride bought the rights for the Cleveland franchise of the new All-American Football League.
The purchase was the culmination of his attempt to become an owner of a professional football team.
Not long after the transaction was complete, McBride made his wisest decision as an owner.
After his original choice for was turned down, McBride hired former Ohio State head coach Paul Brown.
Brown would become the most successful coach in team history, which made McBride look like the smartest owner in pro sports at the time.
.Browns have had one good owner in their entire history…Arthur McBride..and he sold the team over 50 years ago..That's what the problem is

— Newman (@newman_44) February 5, 2015

McBride wasn't only known for his pro football ownership.
He was also a businessman who dabbled in real estate and ran a taxi company in Cleveland.
McBride also had a wire service that provided horse racing results to bookies.
This particular venture put him in the company of organized crime figures who did not always operate within the confines of the law.
McBride's involvement in the shady side of business made him a public figure even before he bought the Cleveland franchise.
Although he downplayed his role with organized crime, the connection brought McBride both wanted and unwanted notoriety.
This is the fascinating story of former Browns owner Arthur McBride.

Early Life
Arthur B. "Mickey" McBride was born on March 20, 1888 in Chicago.
His business acumen began at an early age when he sold newspapers on street corners.
McBride would have to hustle to sell his papers because he had serious competition from other kids.
Newsies back then could be found brawling with other newspaper sellers in an effort to make money.
At one point, McBride was accused of the illegal sale of streetcar transfers (tickets to ride in streetcars).
However, famed lawyer Clarence Darrow took McBride's case and persuaded the court to find him not guilty.
McBride became so adept at selling his papers that he was given charge over other newsboys.
The position involved flexing a little muscle, which McBride was adept at.
"You couldn't be a weakling," he would say years later about his early employment.
When McBride was in his 20s, he became the circulation director of The Cleveland News.
He received a hefty $10,000 salary (over $250,000 in today's dollars) to increase the sales of the paper.
The newspaper circulation business was still extremely competitive then and strong arm tactics were the norm.
So, McBride assembled a crew of newsboys that would assist him in driving up circulation for the News.
"This meant choosing strong young men comfortable fighting with fists, clubs, knives, chains and, when they could get them, handguns," author Ted Schwarz wrote about McBride's early newspaper days. "They were the business equivalent of the street gang, and McBride's salary depended on how well he organized his newsboys to avoid losing their corners to one or more violent rivals."
McBride's methods worked immediately as the paper's circulation increased to 70,000 customers his first year and then to more than 100,000 his second year.

McBride gets into Real Estate
McBride was doing so well in the newspaper industry that he decided to branch out into different revenue streams.
While in his 30s, McBride purchased various apartment buildings around the Cleveland area.
He eventually built up enough wealth from his real estate holdings that he quit the newspaper business.
"Nobody ever got rich on a salary," he said in an interview.
McBride's next venture was purchasing Zone Cab Company, based in Cleveland.
He later merged that company with Yellow Cab Company, which made him the largest taxi operator in the city.
The company would eventually expand into Akron and Canton.
The success of his taxi and real estate businesses emboldened McBride to expand his business empire.
Up next was real estate investments in the Chicago area and in Florida.
His portfolio soon included an orange grove in Florida, a radio station, and a printing company.

Connection to "Made" Men
Although he was out of the newspaper business, McBride still had plenty of connections from his time hawking papers.
He parlayed those connections by forming a wire service that provided bookmakers with the results of horse races.
Those bookies worked closely with shady characters, made men with ties to the mob.
In addition to putting a little coin in their pockets from the venture, the gangsters "encouraged" people to pay their debts on time.
McBride's involvement in horse racing numbers put him in the company of known mobsters Morris "Mushy" Wexler and Sam "Gameboy" Miller.
James Ragen, a friend of McBride's who was also in the wire business, was later killed in a Chicago gang related feud.
However, McBride himself was never found guilty of anything illegal related to his wire business.
"He wasn't out doing illegal things himself," said Cleveland mob historian Allan May in a 2017 interview. "He just knew the guys who were — many from his days at the News."
McBride's association with the industry did get him into trouble, however.
In 1940, a federal grand jury indicted 18 people, including McBride and Wexler, for supplying gambling information.
Prosecutors stated that McBride and his associates were guilty of breaking a federal law that prevented the interstate transmission of lottery results.
The prosecutors viewed race results the same as lottery lists.
However, there wasn't enough to convict, or even try, McBride's role in the business and he was cleared of any wrongdoing.

McBride Purchases the Browns
Despite an impressive knowledge of business, McBride knew little about the game of football.
That changed when his son, Arthur Jr., was a student at Notre Dame.
McBride tagged along with his son to a number of Fighting Irish football games and was entranced by the spectacle.
Surveying his surroundings, McBride thought owning his own pro team would be a way to tap into the excitement of the sport and make him some money.
"A football team was cheaper to buy than a baseball team," said John Grabowski, editor of the Encyclopedia of Cleveland History in a 2017 interview. "I think he sensed it was an up-and-coming sport and a money making opportunity."
In 1942, McBride had a meeting with supermarket maven Dan Reeves.
At the time, Reeves owned the Cleveland Rams, an NFL team.
McBride offered to buy the team from Reeves but he was turned down.
Two years later, Chicago Tribune sports editor Arch Ward started a new football league called the All-American Football Conference.
Not surprising, McBride already knew Ward from his newspaper days.
Using the connection, McBride bought the rights for a Cleveland franchise in the new eight-team league.
"Cleveland has been good to me," he said at the time. "I've made a great deal of money here. In return, I would like nothing more than to give the fans a team they can be proud of. I've made a great deal of money here. If I was looking for a get-rich-quick investment, the last thing I'd do is buy a pro football club. It's a risky business. Too much depends on ideal weather conditions, and this is no climate to risk a buck on a raindrop."
Harkening back to his experience at Notre Dame games, McBride offered Irish coach Frank Leahy the opportunity to be his head coach and general manager.
Leahy accepted the job.
However, Notre Dame's president balked at the overture to the point where McBride withdrew his offer.
In a conversation with area sports writer John Dietrich a short time later, McBride asked Dietrich who he should try and sign as his coach.
Dietrich didn't hesitate and suggested interviewing Paul Brown, the former Ohio State coach.
At the time, Brown was coaching the football team at Great Lakes Naval Academy in Chicago.
McBride traveled to the Academy and spoke to Brown about the position.
Impressed with Brown's stature, McBride offered him a set of terms that he couldn't refuse.
A homage to the greatest owner the Cleveland Browns ever had, Arthur B. "Mickey" McBride. When he created a team for Cleveland in 1944, he gave the keys to Ohio State coach Paul Brown, who would become the teams namesake by popular demand. 4 AAFC & 3 NFL championships… pic.twitter.com/O1QmkJcsgI

— Spike Perry (@DawgPoundPerry) June 10, 2020
The offer included a $17,500 contract (over $270,000 in today's dollars), an ownership stake in the team, a stipend while he served the rest of his military commitment, and full control of the team.
Brown quickly accepted.
With a coach on board, the next step was naming the team.
McBride held an open contest for the public to give the franchise a catchy moniker.
At first, "Panthers" was strongly considered.
Brown passed on the notion because Cleveland formerly had a football team by that name that failed.
Unable to secure a name that stuck, McBride sided with the wishes of the populace and named the team after Brown.
The coach did not like the idea, but he was overruled.
By the summer of 1945, the Cleveland Browns were born.

McBride is "Hands-off" as an Owner
In 1945 and 1946, Brown went all-in with his general manager role.
Tapping into the talent he already coached (or coached against), Brown brought in a haul of future all-stars. Otto Graham, Lou Groza, Mac Speedie, Dante Lavelli, Marion Motley, and Bill Willis were just some of the names that joined the inaugural team.
For his part, McBride wanted to show Brown that he did not want to meddle in his coach's affairs.
McBride was so hands-off that he would sometimes pay to attend games, sitting in the stands to watch his team.
Meanwhile, Brown had so much talent acquired that he didn't know what to do with his excess players.
McBride came up with an idea to employ the players in his taxi company.
That way, those extra players could still practice with the team and could fill a roster spot when needed.
As a bonus, the players didn't even have to drive one of McBride's cabs.
This innovation led to the term "taxi squad" that is still used today (also called the "reserve" list).
Did you know the term taxi squad was coined by Cleveland Browns Coach Paul Brown in the 1940's?…He didn't want to lose a group of promising players that didn't make the roster so Browns owner Arthur McBride put them on the payroll of a local taxi company he owned…Pretty cool

— John Farrell (@JJFarrell451) August 8, 2020
McBride struck gold with his team and his coach.
The Browns won the AAFC Championship every year it was in existence.
When the team moved to the NFL in 1950, Cleveland kept on winning, taking home the league championship in '50.

More Trouble with the Law and Sale of the Browns
In 1951, McBride was back in court to testify to his role in the horse racing wire service.
Appearing in the Senate before the Kefauver Committee, McBride was asked about his business as well as his ties to organized crime.
Yellow Cab Co owner Arthur McBride testifying before the Kefauver Committee in 1951. He also owned the #CLE Browns https://t.co/k0ZjIOqK5h pic.twitter.com/C71Sb3LNt9

— Michael Baron (@baronadv1) May 25, 2017
During the hearings, it was revealed that McBride had worked with former Cleveland police captain John Fleming in various real estate deals.
Fleming had also been employed in McBride's cab company for a number of years.
McBride denied any wrongdoing, including his involvement with the mafia or any improprieties with Fleming.
Eventually, the committee cleared him of any charges.
However, Congress later passed legislation that banned wire services.
Two years later, McBride sold the Browns to a group of owners for $600,000 (over $5.7 million in today's dollars).
The amount was more than double what had been paid in the past for a professional football team.
After learning about the sale, there were many who speculated that McBride had sold the team due to his court troubles.
However, McBride denied the rumor, stating that he "had his fling" with football and wanted to pursue other business interests.
"Well, I came out clean after all," he said at the time. "Considering what happened to some of the other fellows who started the old All-America Conference with me, this isn't so bad. I never made anything, but I didn't lose anything either, except maybe a few thousand dollars."
Once the sale was complete, the new ownership group offered McBride a lifetime pass to all Browns games.
However, McBride declined saying he would most likely buy tickets and sit, "…up in the bleachers with the kids."

Death and Legacy
The years following his sale of the Browns were good ones for McBride.
He continued to run his taxi company and real estate empire and was more than happy to stay out of the public eye.
In 1972, McBride had a heart attack and passed away a short time later.
He was 84.
Today, McBride is not remembered for his alleged ties to the mafia.
Instead, he is remembered as someone who made his way to the top after starting off in the streets.
Over 70 years after its founding, Cleveland Browns fans are forever grateful for the opportunity to cheer on McBride's greatest business venture.