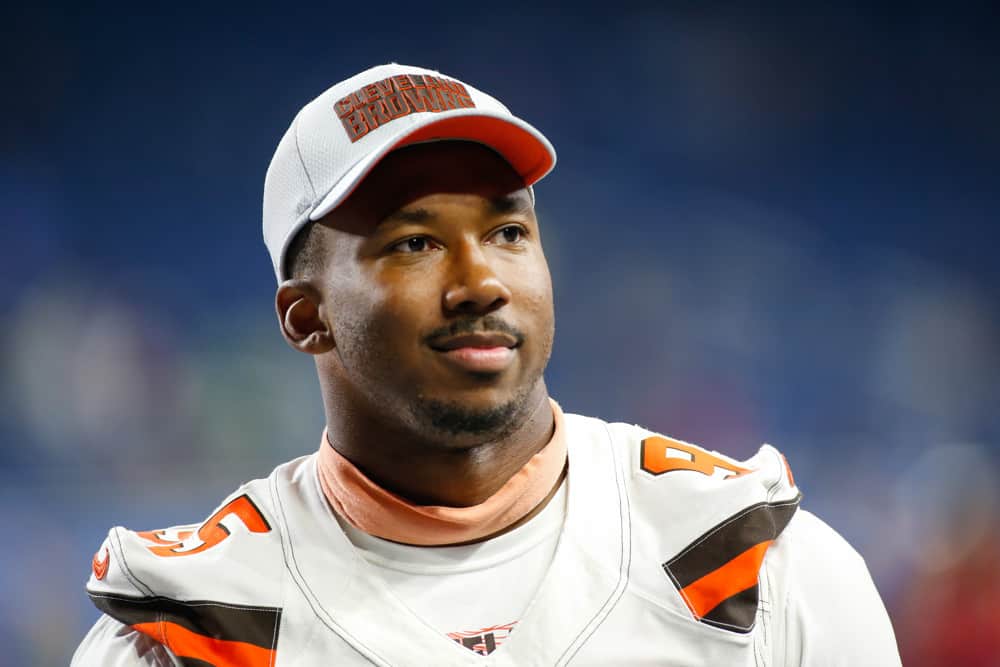 (Photo by Scott W. Grau/Icon Sportswire)
Myles Garrett worked through some self-induced challenges after his nationally-televised meltdown last season.
But he knows he'll never face the challenges many Africans face when it comes to finding drinking water.
Thanks for shedding light on the strictly player driven initiative that Myles has been a part of since his rookie year. @WaterboysORG is lucky to have him, and I know he's excited to get back to work!! https://t.co/ru5le72uOy

— Chris Long (@JOEL9ONE) February 12, 2020
As far back as high school, Garrett talked about bringing clean drinking water to poor communities as a life goal.
Soon after the Cleveland Browns drafted him, Garrett learned about Chris Long's Waterboys initiative.
Part of Long's foundation works, Waterboys finances clean water wells in Tanzania.
When Long retired from the NFL, he tapped Garrett to take over as NFL player captain of Waterboys.
.@MylesLGarrett to take over as player captain for Chris Long Foundation's @WaterboysORG

Details » https://t.co/4HrddQ3jEv@JOEL9ONE pic.twitter.com/PlkaGOeeq7

— Cleveland Browns (@Browns) September 3, 2019
This week, Garrett is in Tanzania with other Waterboys members and supporters.
To bring awareness to their well-digging efforts, the group hikes Mount Kilimanjaro every year.
At 19,380 feet, Kilimanjaro is Africa's tallest mountain and happens to be in Tanzania.
Garrett posted a tweet Sunday calling his trip "an absolute blessing."
First Tanzania trip with my @waterboysorg team has been an absolute blessing. I finally got a glimpse of the impact our organization has made on the communities of this region, and I can't wait to show you guys how much of a difference we can make. pic.twitter.com/Bkw19OaXz9

— Myles "Flash" Garrett ⚡️ (@MylesLGarrett) February 23, 2020
Besides the annual hike, Garrett's group visited some well sites and took in a quick safari in the Serengeti.
But Garrett's job is not all fun and games.
Garrett's Role as Waterboys' NFL Captain
Garrett was named captain of the NFL's Waterboys just prior to the 2019 season.
Several other NFL players also take part in the effort to raise money for the wells.
Our team of #ConqueringKili players, vets, and supporters have touched down in #Tanzania and are prepping for the climb. But not before making some time for a safari in the Serengeti and stopping for a visit in the Simanjiro village to check in on one of our Waterboys wells. pic.twitter.com/OjqJqXUJxL

— Waterboys.org (@WaterboysORG) February 20, 2020
Kyle Long, Beau Allen, Johnny Hekker, Brett Hundley, Taylor Lewan, and Zack Martin joined Garrett on the team.
Chris Long's original goal was to dig 32 wells, one for each NFL team, in East Africa.
They surpassed that goal in February of 2018.
With 83 wells now in the ground, Garrett hopes to lead the group toward its new goal of 1 million people served.
Supporters like you demonstrate what it means to be generous with others. Thanks to you, we've helped over 360,000 people obtain the gift of clean water. Together, we will bring water to one million people! pic.twitter.com/O1OsKISDLk

— Waterboys.org (@WaterboysORG) February 9, 2020
They have quite a ways to go, but Garrett is passionate about increasing the pace of the effort.
Garrett already works with Hoops2O, the NBA's version of Waterboys.
He also extended invitations to figures from soccer, golf, and other sports.
Closer to home, Garrett asked Browns fans to follow @waterboys.org.
Fans who tagged three friends with the hashtag #dawgsdigdeep last season were entered into a drawing for free game tickets.
How Important Are These Wells?
Garrett's job is to prompt financial commitments for new wells.
But he also wants to induce people to visit Tanzania.
All smiles on day two of #Waterboys On Safari. #ConquerKili pic.twitter.com/hd9MbHYYyB

— Waterboys.org (@WaterboysORG) February 21, 2020
That is the best way to realize how each new well impacts community life.
Millions of women walk miles each day to find water for cooking, drinking and even bathing.
To assure that enough water is retrieved, most young girls accompany their mother on the hours-long hike.
This means they are not attending school.
By putting wells in the immediate community, the girls have time to go to class.
Mothers have time to hone new skills and partake in income-producing activities.
Wells allow for irrigation of local land, providing bigger and more diverse crops.
In the villages surrounding Kilimanjaro, lack of clean water access means waterborne illnesses are rampant. Your generosity is changing that, and lives, for the better. pic.twitter.com/3pywa2Yp7o

— Waterboys.org (@WaterboysORG) February 6, 2020
That is on top of reducing the 20-percent death rate of children under five years old due to water-related illnesses.
How Do They Work?
Waterboys pays local workers to dig the bore-holed wells in each community.
Most are solar-powered and require regular maintenance.
Water creates life. Not all people have access to clean and reliable water sources. These people face overwhelming obstacles. Give the gift of water and give the gift of a viable future for those in need. Visit our website to give the gift of water today! #waterwednesdays pic.twitter.com/NMuNvLVXxG

— Waterboys.org (@WaterboysORG) February 12, 2020
Men and women from each community are trained to provide that work for their own well.
Tanzania's Ministry of Water helps identify communities that benefit from the wells.
Each well costs about $45,000 to get it up and running.
Waterboys is one of several organizations working with the Water and Development Alliance (WADA).
WADA is a USAID and Coca Cola Company partnership aimed at developing communities, economies, and strong environments around the world.
Waterboys also kicked off HometownH2O, a program aimed at providing water in US-based communities.
Thank you to everyone who supported our first #HometownH2o water project in Suffolk, VA. Because of your generosity and our partners @XylemInc @GouldsWaterTech @waterwelltrust we were able to provide water to the Crawford family, allowing them to move back home. #Water2OneMillion pic.twitter.com/DwE4Wji0tp

— Waterboys.org (@WaterboysORG) February 6, 2020
Myles Garrett has a personal fund-raising page accessible here on the Waterboys' website.
You can connect with other pages or go directly to Waterboys.org for more information on Myles Garrett's new passion.