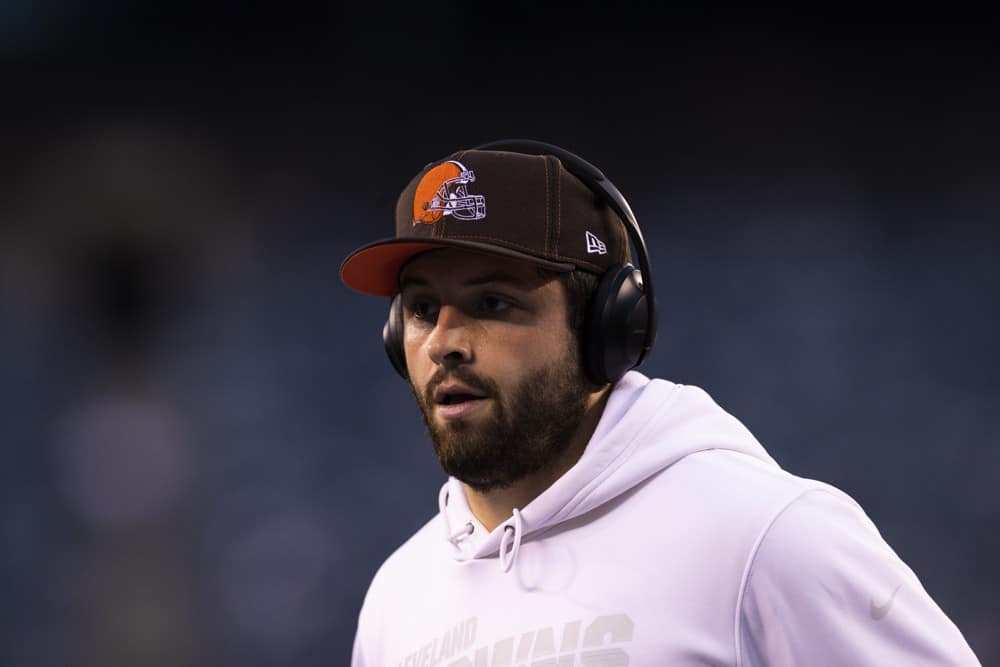 The quarantine is not going to keep Baker Mayfield from having a good time.
On Saturday, the former Oklahoma quarterback and current Cleveland Browns star posted a birthday message for his wife Emily.
It could not have gone any better.
The Message
Mayfield loaded a picture of him and his wife on Instagram.
Both were taking one knee and drinking what appears to be a Smirnoff Ice alcoholic beverage.
Here posted the message along with the picture:
"Happy Birthday Em!!! This quarantine can't keep us from enjoying your day! Here's to getting iced by 40's and you being one year closer to your 30's… (I might be in trouble for this caption) #thebig29 Love you," said Mayfield in the post.

When someone gets "iced," a person has found a Smirnoff Ice that someone else has hidden somewhere.
If found, the person has to take one knee and finish the whole drink.
From what it looks like, someone, or maybe Mayfield himself, iced the couple for her birthday present.
Not The First Headline
Roughly two weeks ago, Mayfield and his wife announced a $50,000 donation towards relief for the pandemic.
The couple released a video of their intentions.
Coasting Through The Offseason
In 2019, Mayfield took a step backward.
After being selected with the No. 1 overall pick in 2018, Mayfield set an NFL record for touchdown passes by a rookie.
His sophomore season led to 23 touchdowns, 20 interceptions, and the second-lowest passer rating in the entire NFL.
He struggled to make plays and completed less than 60% of his passes.
The Browns signed former Washington Redskins quarterback Case Keenum to a three-year deal and it has resulted in speculation for Mayfield's starting spot.
The Criticism
Former Cleveland Browns quarterback Jake Delhomme commented on the situation.
Delhomme discussed that if Mayfield produces the way he did last season, Keenum could take his job rather quickly.
However, he also sees Mayfield fitting in new head coach Kevin Stefanski's offensive system.
Former NFL/#Browns QB Jake Delhomme tells @BullandFox, "I want Baker to succeed, he needs to play better"; in Stefanski's offense, just needs to be accurate and get the ball into the playmakers' hands https://t.co/S4o1L1U42E pic.twitter.com/dpvIRx4JSf

— 92.3 The Fan (@923TheFan) March 31, 2020
Final Thoughts
Mayfield's offseason has been well overall.
The Browns added tight end Austin Hooper to the offensive arsenal, who should fit in with Odell Beckham Jr. and Jarvis Landry.
A new head coach and offensive coordinator with quarterback coaching experience were added.
Once the quarantine ends, it should be a fun ride.
For now, he is just going to settle partying it up with his wife at home.