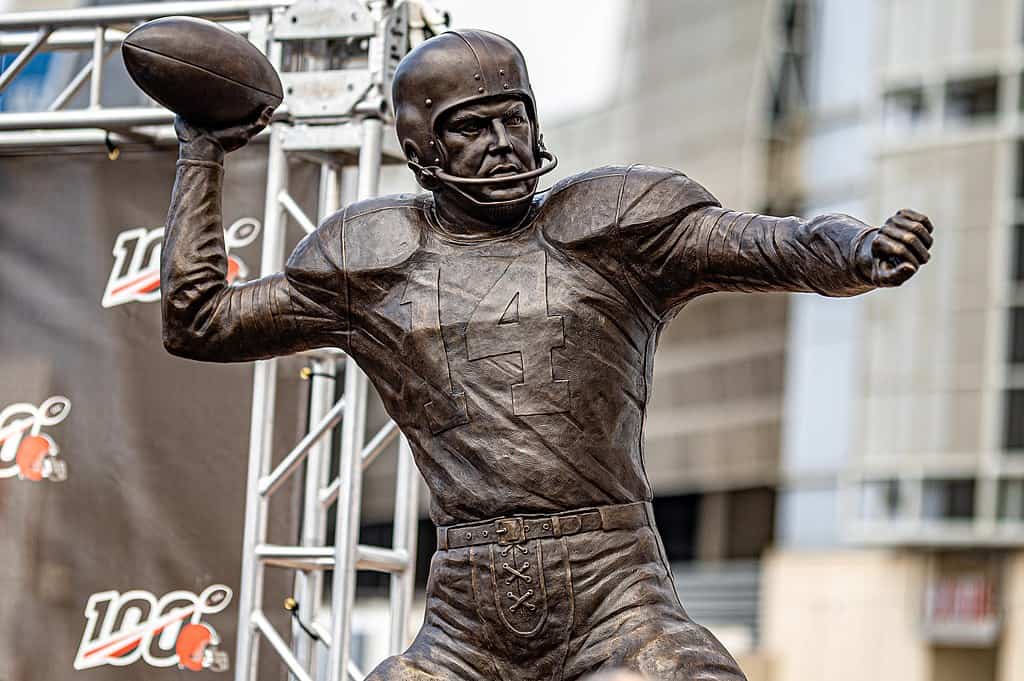 There is no one position that is more important in professional sports than the quarterback.
Just look at the list of Super Bowl winners over the past 30 years.
How many of those teams were led by a quarterback that was not in the top ten in the league at their position?
Not many.
The Browns are no exception to that.
When they have had a great quarterback, the team has been great.
When they have had a bad quarterback, the team has been bad.
We're here to talk about those great men though.
We take a look at the top 10 quarterbacks in Cleveland Browns history.
You know their names, you've seen them play. Now read their stories.
Our rankings may shake some of you up.
Feel free to let us know what you think about the order in the comments section.
Top 10 Quarterbacks In Cleveland Browns History
10. Baker Mayfield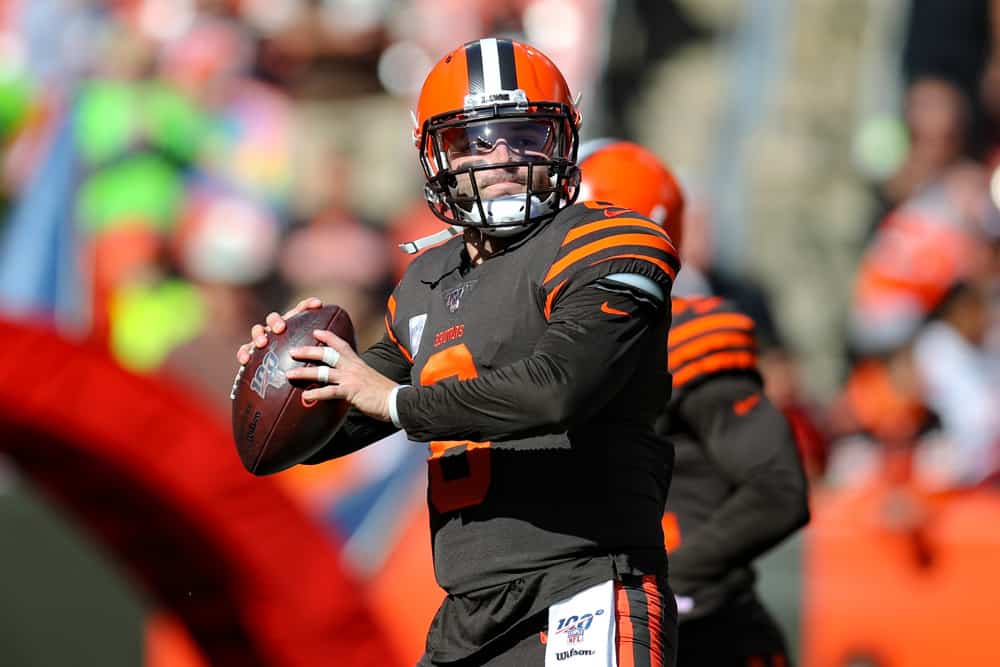 Browns fans have seen it time and time again.
A quarterback, taken early in the draft, who management tells us will change the course of the franchise.
Baker Mayfield entered Cleveland with the first pick in the 2018 draft.
Like so many picks before him, Mayfield came to Cleveland fresh off of a prolific college career.
It was seen as a risk to take Mayfield in such a quarterback heavy draft, but the front office was sure Mayfield was their man.
The Browns were coming off a winless 0-16 season but began the season with veteran quarterback Tyrod Taylor under center.
Under Taylor, the Browns' season got off to a decent start.
A tie with the Steelers followed by a last-second loss to the Saints showed fans there was something to build on in Cleveland.
But Week 3, a Thursday Night Football matchup with the Jets changed everything.
Tyrod Taylor left the game injured and in came Mayfield.
201 passing yards and a 21-17 win later, Mayfield had taken Cleveland by storm.
The winless streak had ended, and the city had hope.
Mayfield would go on to lead the Browns to a 7-8-1 record, their best since 2007.
Mayfield threw for a rookie record 27 touchdowns.
#ClevelandCleveland! #BakerMayfield

🏈 #LALATE 🏈 LIVE!#Jets vs #Browns 17-14 .. 8 ' left
LIVE! ▶️▶️ https://t.co/YwNDfEy8u4
"Baker Mayfield"
"Baker" "Tyrod" "Crowell"
"Cleveland Cleveland"pic.twitter.com/9iyl7U3r4R
"Baker Special" #BakerSpecial

— LALATE (@LALATE) September 21, 2018
There was incredible hype around Mayfield's second season.
With a full season ahead of him, and Odell Beckham Jr. added to the offense, Mayfield was destined to build on his promising rookie season.
While his passing yards increased, so did his interceptions.
There's no denying it, Mayfield regressed in his second season.
There are many ways to attribute blame, but needless to say, Mayfield will be looking to rebound in his third season.
The most valuable #Browns since 2017 according to PFF WAR:

Baker Mayfield
Jarvis Landry
Denzel Ward
Joel Bitonio
Damarious Randall
Myles Garrett pic.twitter.com/ez2uaWte7g

— PFF CLE Browns (@PFF_Browns) July 16, 2020
While he's only spent two full seasons in Cleveland, his impact has been far greater.
The Browns appear to have something they've lacked since the franchise's return in '99, a franchise quarterback.
9. Bill Nelsen
RIP #BROWNS QB Bill Nelsen. Great competitor. Big arm. Unfortunately, really bad knees. @TonyGrossi @Browns pic.twitter.com/CXvurjglDj

— CLEVELAND CHAMPIONS (@1964CHAMPS) April 17, 2019
Bill Nelsen arrived in Cleveland in an unusual way.
He became a Brown in 1968 via a rare trade between the Browns and Steelers.
Nelson had a near-immediate impact.
After taking over the starting job from Frank Ryan, Nelson led the team to the playoffs winning, 9 of his 11 starts.
Nelsen's second season in Cleveland was even better.
He led the Browns to a 10-3-1 record and again to the playoffs.
Nelsen earned a Pro Bowl trip for his efforts.
50 years ago (5/14/68): #Steelers trade Bill Nelsen, Jim Bradshaw to #Browns for Dick Shiner, Frank Parker. #HereWeGo pic.twitter.com/viUUphYR0r

— PGH Sports History (@PGH_Sports_Date) May 14, 2018
The 1970 season was a struggle for Nelsen, and in turn, the Browns.
During the Browns' second game of the season, Nelsen took a brutal hit to the knees which forced him out of the game.
He missed a few games after the hit as well.
He returned later in the season but was benched for rookie Mike Phipps for a game for poor play.
The Browns dropped to 7-7 on the season and missed the playoffs.
1971 started off great for Nelsen.
The Browns won four games out of their first five.
However, a mid-season slump once again saw Nelsen dropped to the bench.
Nelsen took the week off to rest and prepare, and in his return, he won five straight games and once again took the Browns to the playoffs.
1972 was Nelsen's final season in the NFL.
He started the season as the starter but lost his job midway through the first game of the year.
At the end of the season, Nelsen underwent his 5th knee operation.
As a result, Nelsen called time on his career and retired.
He finished his Browns career with 9,725 yards passing and 71 touchdowns.
8. Derek Anderson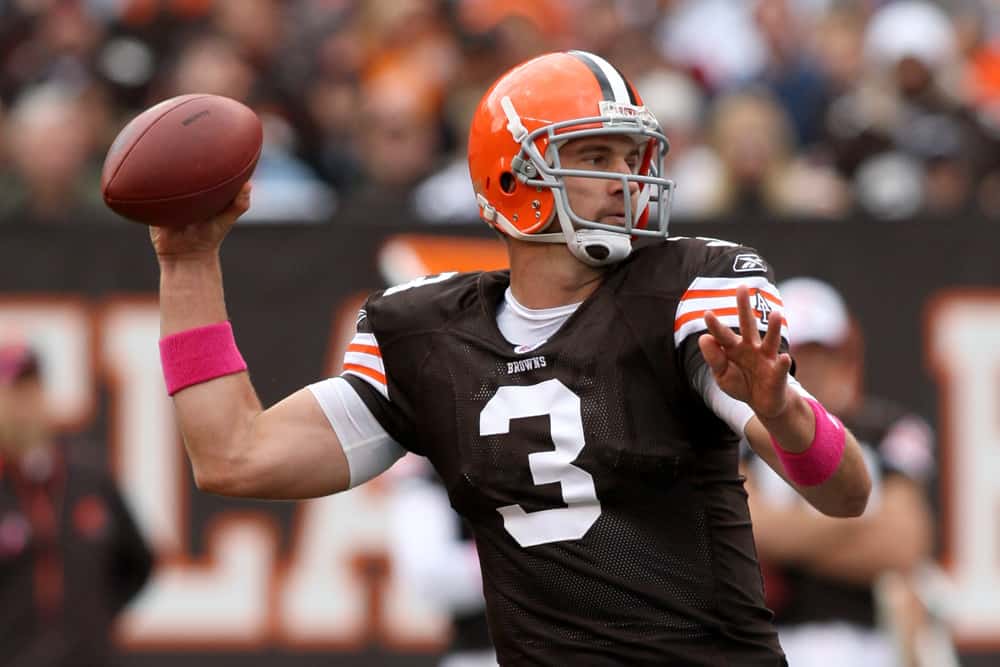 Sure, Derek Anderson was drafted by the Ravens but he was with them for such a short amount fo time we won't hold it against him.
Anderson was drafted in the 6th round of the 2005 NFL Draft but was waived on September 20, having never played in a game for the Ravens.
The Browns picked him up and placed him on the depth chart behind Trent Dilfer and Charlie Frye.
He did not see any action for the Browns in 2005.
He finally saw the field in 2006 after starter Charlie Frye injured his wrist.
He appeared in five games and threw for nearly 800 yards.
By Week 2 of the 2007 season, Anderson had played his way into the starting job.
During that campaign he was able to exact revenge on the team that kicked him to the curb, sweeping the season series for the first time since 2001.
Anderson was stellar throughout the season, leading the Browns to within one game of making the playoffs.
The team finished with a 10-6 record.
Anderson finished the season with 3787 yards and 29 touchdowns.
He was named to the Pro Bowl after Tom Brady dropped out due to injury.
Despite his breakout season, Anderson went into free agency uncertain about whether the team would resign him.
With homegrown first-round pick Brady Quinn waiting in the wings there were rumors the front office was ready to turn the keys over to Quinn and cut Anderson free.
Despite these rumors, the Browns resigned Anderson.
He was never the same in a Browns uniform though.
He suffered a concussion early in the preseason and by November 2008 Anderson would be benched for Quinn.
Anderson would return in 2009 to compete with Quinn, essentially in a job share.
Anderson played in 8 games, throwing 3 touchdowns and 10 interceptions.
The Browns slumped to a 5-11 record.
Following that season, he signed a free-agent deal with Arizona.
Anderson had one of the best seasons a quarterback has had in Cleveland since the return in 1999, but like so many players in that time he was a one-hit-wonder.
7. Vinny Testaverde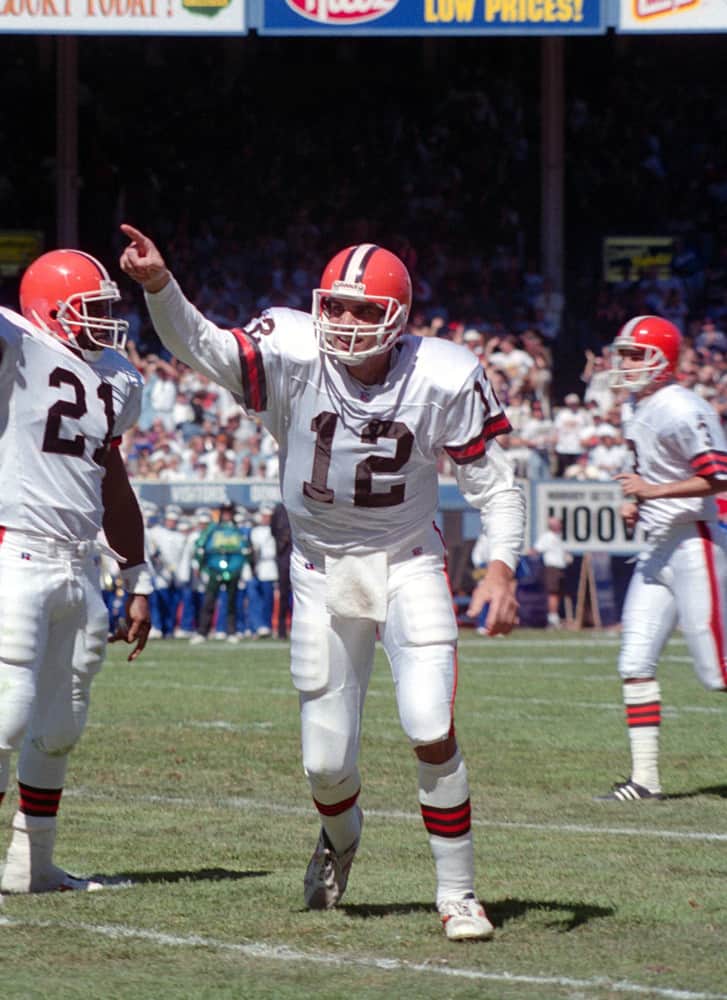 The career of Vinny Testaverde is an interesting one.
Testaverde was the number one overall pick out of the University of Miami in 1987, where he was a National Champion and Heisman Trophy winner.
Despite finishing his career in the top 10 in NFL history in most passing statistics, he was never considered a great quarterback.
Those inflated statistics are due mostly to his longevity, having spent an unthinkable 21 seasons in the league.
It could be said, however, that his best seasons came with the Cleveland Browns franchise.
Well, sort of.
Testaverde signed with Browns in 1993 and spent half of his first season as the backup to his former Hurricane teammate, Bernie Kosar.
After Kosar was released by Bill Belichick, Testaverde took over the starting job, where he lasted for three seasons.
During that time, Testaverde led the team to the playoffs in 1994, where they won the AFC Wildcard game against the New England Patriots and then lost to the Steelers in the Divisional round.
Dec 18, 1994: Vinny Testaverde had a bad day with 2 INT as the @Browns lost 17-7 to the @steelers who clinched the AFC Central with the victory. pic.twitter.com/HlgUpv3MPy

— Sad CLE Sports (@SadCleveland) December 18, 2017
In three seasons in Cleveland, Testaverde threw for 7,255 yards and 47 touchdowns.
Testaverde's best statistical season in Cleveland came in 1995 when he threw for nearly 3,000 yards, 17 touchdowns, and just 10 interceptions.
The team was then shipped off to Baltimore.
We said his best seasons came with the Browns franchise.
They came with the same team, just in a different city.
He made the Pro Bowl in 1996 and 1998 with the Ravens.
Just further proof that Art Modell is the worst person in Cleveland sports history.
6. Milt Plum
It's like you don't even think about Milt Plum anymore. The guy had the record for the best single season QB rating and he held the record for almost 40 years. Milt Plum was so good that he kept Len Dawson on the bench for two seasons. #Browns pic.twitter.com/Ctk340ly3l

— Vintage Browns (@VintageBrowns) June 14, 2020

Milt Plum was the second Browns draft pick in the 1957 NFL.
The Browns' first pick that year?
Together, Plum, Brown, and Bobby Mitchell led a Browns offense that was one of the best in the league.
As you can imagine, they were fairly successful.
Plum split the starting job with Tommy O'Connell for much of the 1957 season in which the Browns went 9-2-1 and won the Eastern Conference.
From the 1957 season on though, the job was Plum's.
Milt Plum set an NFL record in 1960 with a season passer rating of 110.4.
That mark was a league record until 1989.
For his 5 seasons in Cleveland, Plum had a passer rating of 89.9 which ranks first among all Browns quarterbacks.
Plum was selected to the Pro Bowl in the 1960 and 1961 seasons, his final years in Cleveland.
Before the 1962 season, Plum was traded to the Lions in a six-player deal.
Plum would play 8 more seasons in the NFL with the Lions, Rams, and Giants before retiring.
His career never reached the heights it did in those early years with Cleveland.
Without the power running game of Brown and Mitchell as the focal point, Plum's lack of arm strength was exposed.
In 5 seasons in Cleveland, Plum threw for 8914 yards and 66 touchdowns.
He retired with the record for the longest pass ever completed to himself, a pass of 20 yards.
5. Tim Couch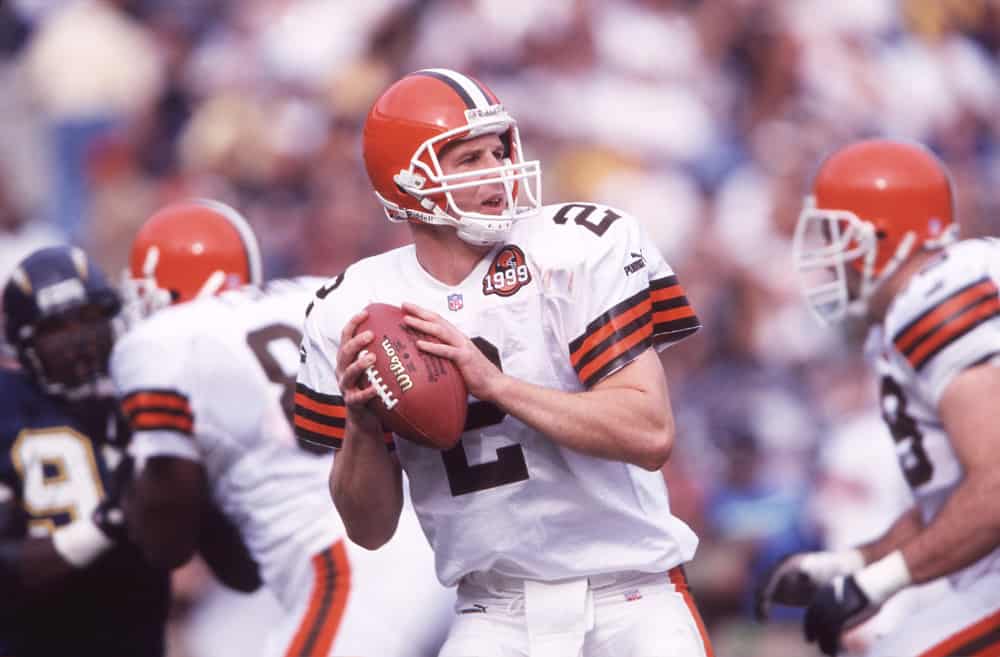 The Browns were returning to Cleveland after a three-year absence.
The expansion franchise would need a full roster, but most importantly they would need a quarterback to build the franchise around.
That man would be Tim Couch.
Couch had been a record-setting All-American quarterback at the University of Kentucky and the decision was made that the Browns would make him the number 1 overall pick in their first draft back in the league.
Couch began his rookie season as the backup to veteran Ty Detmer, in a move designed to protect the young gunslinger from what would prove to be a very difficult season.
That didn't last long though, as Couch replaced Detmer as the starter in the second game of the season.
The season was a disaster.
The team was bad and the results were worse.
Couch threw for 2,447 yards and 15 touchdowns to 13 interceptions.
He did produce one brilliant moment of magic, however.
Sometimes you have to throw it up and 🙏. Tim Couch did 20 years ago today to end the @Browns losing streak. pic.twitter.com/obZoseW6qr

— HOMAGE (@HOMAGE) October 31, 2019
In the dying moments of yet another would-be Browns loss against the Saints, Couch heaved a Hail Mary pass to Kevin Johnson for a game-winning touchdown.
It would be the Browns first and only win in their return to the shores of Lake Erie.
Injuries would plague Couch's second season, limiting him to just 7 games.
Ravens week, October 2001 Tim Couch throws 2 TD's(Kevin Johnson, Quincy Morgan) to lead the Browns to a 24-14 victory at Cleveland #Browns⁠ ⁠ pic.twitter.com/EcWjd1vrsp

— CleWest (@erjmanlasvegas) October 3, 2018
The 2002 season would be the high point of Couch's career.
He threw for 2,842 yards and 18 touchdowns, but more importantly, he led the Browns to a 9-7 record and the playoffs.
In what would prove to be a pattern, Couch broke his leg in the season finale and was unable to play in the team's playoff game.
The playoff game turned out to be Kelly Holcomb's greatest outing and would jeopardize Couch's future with the team.
Couch would last just one more season in Cleveland, as he split time with Holcomb behind a hapless offensive line.
Couch is considered by many to be a draft bust due to his lack of long-term success after his first overall selection, but to judge him as such is unfair.
The early Browns teams were terrible, and Couch was hardly protected.
This resulted in Couch playing all 16 games in just 1 of his 5 professional seasons.
Despite this, Couch still ranks as the franchise's all-time leader in passing completion percentage, 7th all-time in touchdown passes, 6th in QBR, and 5th in passing yards.
4. Frank Ryan
Frank Ryan leading the Cleveland Browns vs. the New York Giants. @Browns @Giants @NFL_Journal @NFLAlumni @CBSSports @Super70sSports @NFLFilms pic.twitter.com/X0jMzuuqsp

— NFL Classic! (@79_nfl) December 6, 2019

Frank Ryan joins this list as the Browns quarterback who most recently won an NFL Championship.
Unfortunately, that was in 1964.
Dr. Frank Ryan leads the charge for the Cleveland @Browns in the 60s pic.twitter.com/AQaFE8MEyC

— Sports Days Past (@SportsDaysPast) July 17, 2018
Ryan joined the Browns in 1962 after spending four seasons with the Los Angeles Rams.
He was initially brought in to back-up the starter, Jim Ninowski, but after Ninowski broke his collarbone in a game against the Steelers Ryan took over.
Ryan remained in the job until the 1969 season when he moved on to the Washington Redskins.
During those years in Cleveland, Ryan established himself as one of the league's best passers.
In 1964, Ryan threw for 2,404 yards and 25 touchdowns.
That season he led the league in touchdowns as the Browns won the NFL Championship.
Browns QB Frank Ryan, who had a doctorate in mathematics, was also the last Browns Starting QB to win a championship. pic.twitter.com/8BXOAgDHkO

— 𝙃𝙚𝙡𝙢𝙚𝙩 𝘼𝙙𝙙𝙞𝙘𝙩 (@HelmetAddict) May 24, 2020
Ryan would be named to the Pro Bowl that season and the next two seasons.
After an injury-plagued 1965 season, Ryan would come back to dominate the league.
Ryan threw for 2,976 yards and 29 touchdowns, which was a Brown's record at the time.
These numbers helped to offset the loss of Jim Brown, who had retired before the start of training camp.
Ryan's career in Cleveland would end on the bench.
The once-great quarterback was benched after a poor start to the 1968 season.
The team released Ryan midway through the season.
Incredibly, Ryan earned a Pd.D. in physics from Rice University while playing for the Browns.
Even more incredibly, Ryan began teaching at Case Institute of Technology, now Case Western Reserve University, during 1967.
Ryan ranks fourth all-time in Browns history with 13,499 yards passing and second with 134 touchdowns.
3. Bernie Kosar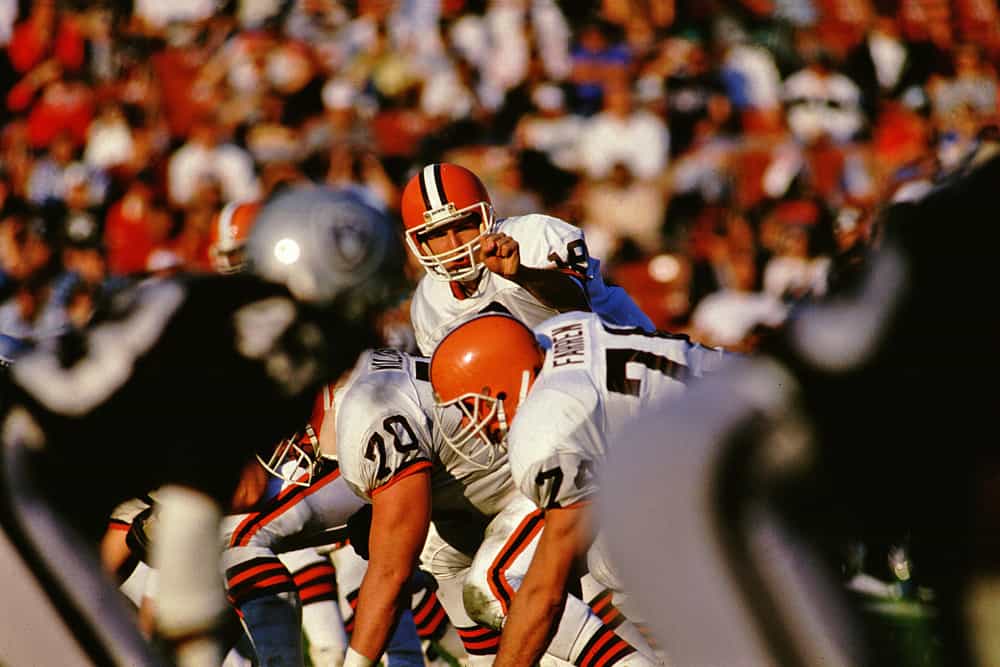 Yes, Bernie Kosar played his college ball in Miami, but he's a Northeast Ohio boy through and through.
Born and raised in Youngstown, Kosar announced ahead of the 1985 draft that he wanted to play for the Browns.
Eventually, Kosar got his way through the 1985 Supplemental Draft.
Kosar would spend the next 9 seasons in Cleveland and would become one of the Browns greatest ever players.
🐶OTD in 1985: Bernie Kosar made his NFL debut in the Browns 24-20 win over the Pats! Coming into replace an injured Gary Danielson, Bernie completed his 1st 7 passes & finished 9/15 for 104 yards & 1 INT. Kevin Mack had 5 RECs for 85 yards & rushed for 115 yards & 1 TD. #Browns pic.twitter.com/KbWgAO8ibL

— 80s Football Cards (@80sFootballCard) October 6, 2019
Kosar established himself as the Browns starter in his second season as he led the team to a 12-4 record and the top seed in the AFC. "The Drive" ended that playoff run.
Kosar had his best statistical season in the strike-shortened 1987 season when he threw for over 3,000 yards and 22 touchdowns.
He led the AFC in quarterback rating.
Once again, the John Elway-led Broncos ended the Browns playoff run.
#Browns fans, here's something that will cheer you up. On this day 30 years ago, the Oilers came into Cleveland and promptly ran into a buzz saw in the form of Bernie Kosar and the Browns offense. pic.twitter.com/u8ODMJz1QX

— Zach Bush (@BushtheEnvelope) October 29, 2019
The Browns 1989 season was the 3rd time in four years that the Browns were eliminated from the playoffs by the Denver Broncos.
Kosar set an NFL record in 1990 and 1991 when he threw 308 consecutive passes without an interception.
That record would stand for nearly 20 years.
Kosar's career in Cleveland came to an end when newly hired coach Bill Belichick benched Kosar in favor of Vinny Testaverde.
After the Browns released Kosar in 1992, Kosar spent three years in Dallas and Miami, earning a Super Bowl ring with the Cowboys.
Kosar threw for 21,904 yards and 116 touchdowns in 108 games for the Browns.
That ranks him 3rd all-time in Browns passing yardage behind only Brian Sipe and Otto Graham.
2. Brian Sipe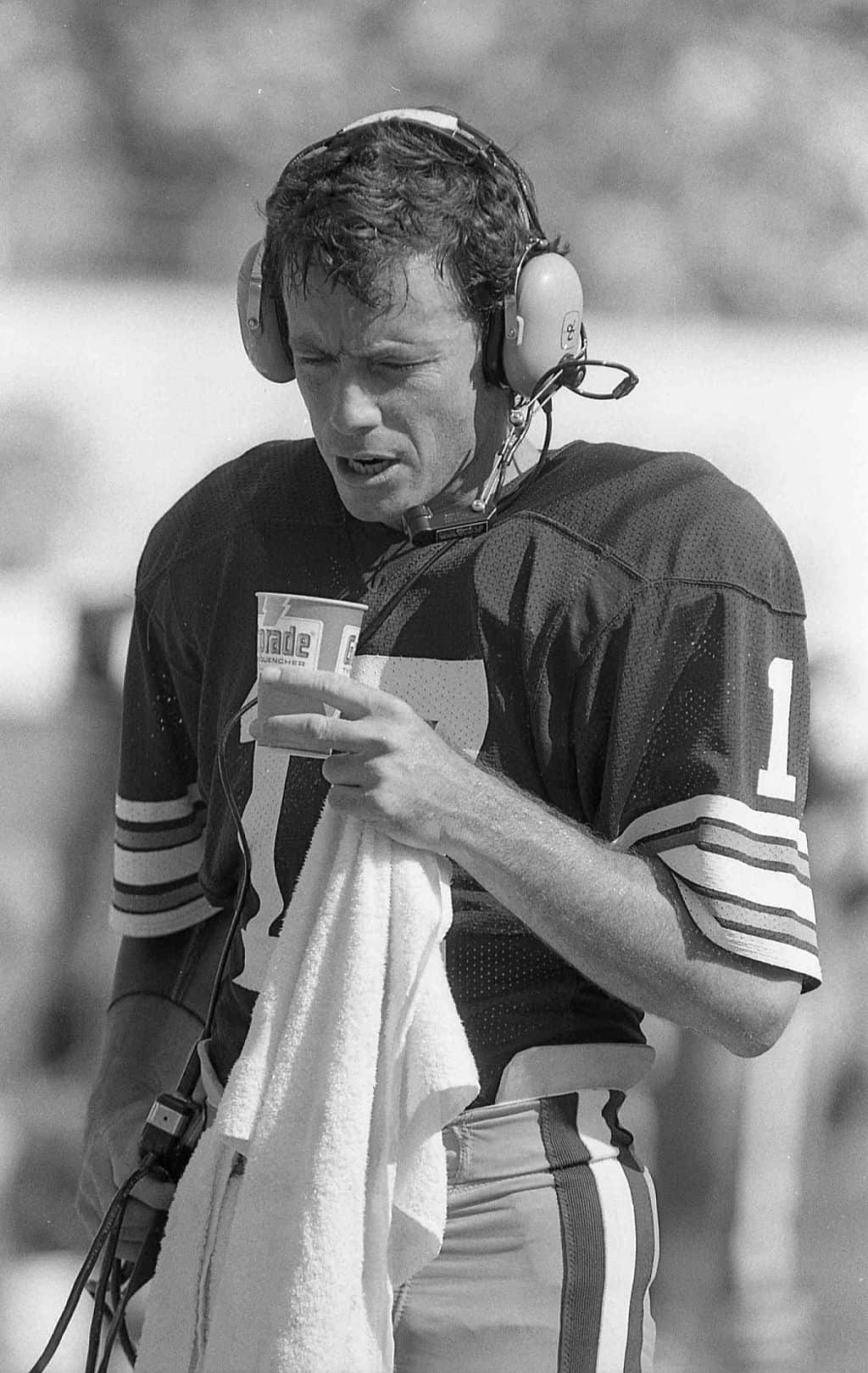 Sipe was drafted in the 13th round of the 1972 NFL Draft out of San Diego State and then wasn't heard from for a couple of years.
Even through his 3rd and 4th season he yo-yo'd between the huddle and the bench every couple of games.
Finally, in 1976 Sipe made the job his and he went on to become one of the Browns' greatest quarterbacks of all-time.
It took until about the turn of the decade for Sipe to hit his peak, being named 2nd team All-Pro in 1979 before his 1st team All-Pro and NFL MVP season in 1980.
Some Brian Sipe to help you make it through the last hour of Friday. #Browns #SiperBowl pic.twitter.com/JxS96BjAKh

— Vintage Browns (@VintageBrowns) May 29, 2020
In that incredible 1980 season, Sipe threw for over 4,000yards and 30 touchdowns.
Sipe lead the Browns to their first playoff appearance since 1972.
Of course, that 1980 playoff run was ended by the infamous "Red Right 88" interception from Sipe that sealed a divisional-round victory for the Raiders in Cleveland.
Brian Sipe #17
Vintage #Browns pic.twitter.com/AYCWHwm7JN

— Vintage Browns (@VintageBrowns) August 9, 2019
Sipe's Browns' career ended in 1984 when he moved to the USFL's New Jersey Generals.
Sipe is still the Browns all-time passing leader with 23,713 yards and second-most in touchdowns with 174.
1. Otto Graham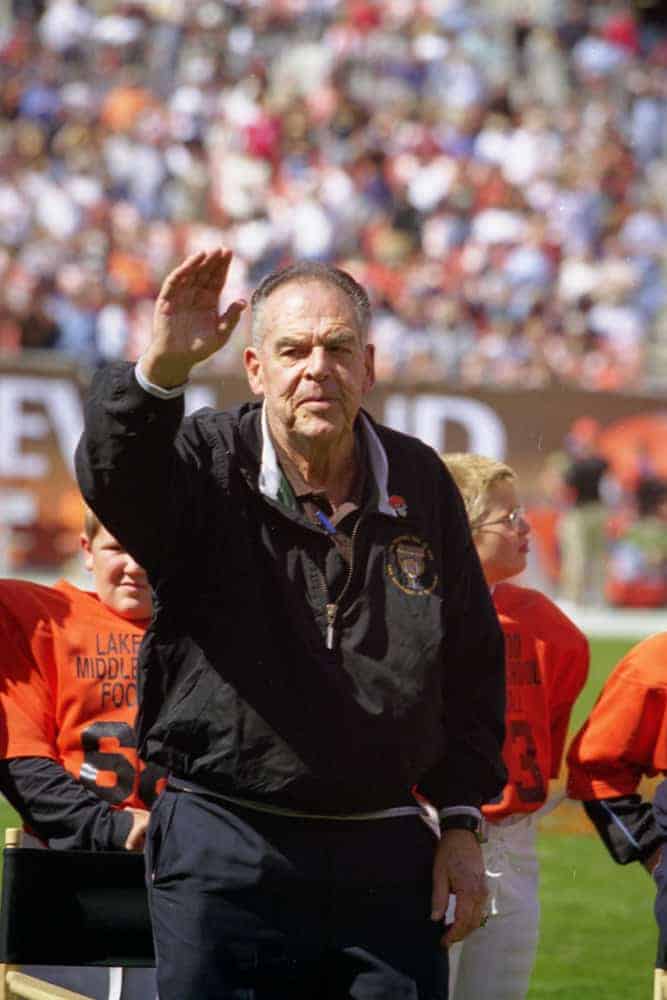 Football fans these days view Tom Brady as the greatest winner of all-time.
Otto Graham would like a word.
From 1946 to 1955, Otto Graham quarterbacked the Cleveland Browns to 9 straight league championship games and won 7 of them.
Graham and the Browns won 4 All-America Football Conference titles before dominating the National Football League, winning 3 titles.
The great Otto Graham @Browns @Super70sSports @EbbetsVintage @NFL_Journal @Ol_TimeFootball @NFL @NFLAlumni pic.twitter.com/0T9c9ukVEr

— NFL Classic! (@79_nfl) March 22, 2020
Graham was not just a great leader, but also a great individual player.
He was the NFL's passing leader and passer rating leader in 2 seasons.
He was also the NFL's MVP in 3 seasons.
Graham was a 4-time All-Pro quarterback.
Otto Graham was named to the 1950s All-Decade Team, the NFL's 75th and 100th Anniversary Teams.
Graham was inducted into the Pro Football Hall of Fame in 1965.
Graham holds NFL records for yards per pass attempt and winning percentage for a starting quarterback.
Two cool highlights from a 1952 loss to Otto Graham and the Browns. Elbie Nickel TD catch followed by HOF'er Jack Butler intercepting Graham. Back when the NFL used a white football for evening/night games. #Steelers pic.twitter.com/oxNcIb1Ps1

— Alex Kozora (@Alex_Kozora) July 9, 2019
Interestingly, Otto Graham wore number 60 for most of his career.
He was forced to switch to 14 in 1952 when the NFL began limiting the numbers that specific positions could choose to wear.
Before beginning his career with the Browns, Otto Graham was a professional basketball player with the Rochester Royals of the National Basketball League.
Graham was a member of the 1945-46 Royals championship-winning team.
This made Graham one of just 2 people to have won titles in two of the four major American professional sports.