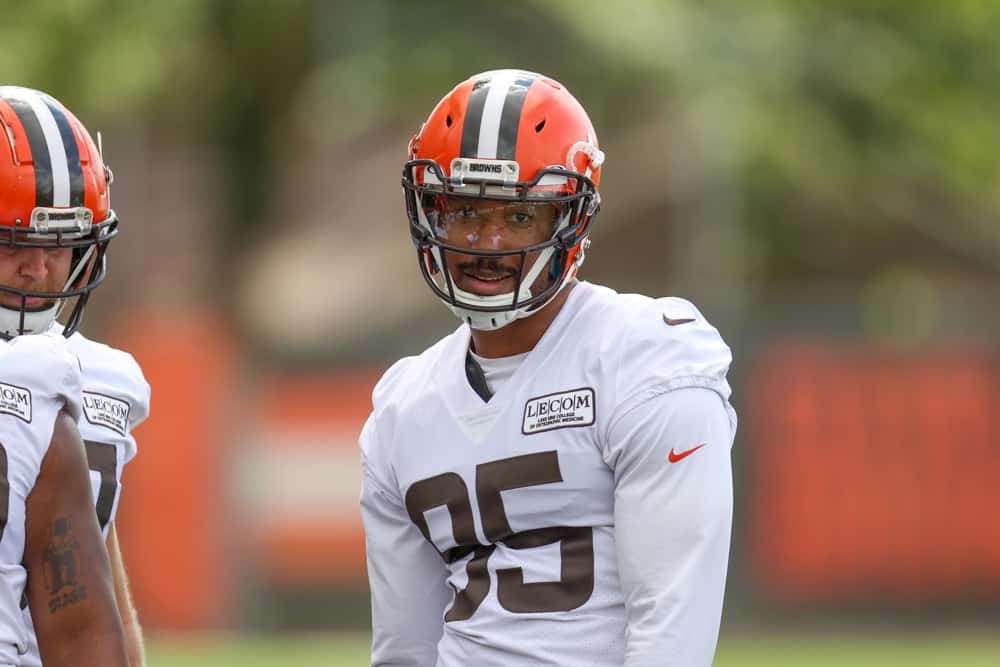 Myles Garrett had to miss Week 11 after being placed on the COVID/reserve list.
Unfortunately, this hurts Garrett's campaign for Defensive Player of the Year.
But, of course, safety comes first and in the year of uncertainty, the Browns cannot risk hurting their chances of making the playoffs.
Myles Garrett had to watch his team dominant from the couch.
With no Garrett, another Browns defensive linemen had to step up as they were facing one of the most sacked quarterbacks in the NFL.
Well, Olivier Vernon answered the bell and absolutely balled out in the Browns win.
Myles Garrett Was Very Proud Of Vernon's Performance
Prior to Week 11, Myles Garrett was tied for first in the NFL for sacks with Aaron Donald.
Garrett might have been able to gain an edge in that race if he were to play against the Eagles.
Oliver Vernon finished the game with 3 sacks, 1 pass deflection, 3.5 tackles for loss, and 3 quarterback hits.
This was by far Vernon's best game as a member of the Cleveland Browns.
🚨 SAFETY IN THE LAND 🚨

Olivier Vernon gets after Carson Wentz in his own endzone

(via @Browns) pic.twitter.com/qxeZcNjZuH

— FOX Sports: NFL (@NFLonFOX) November 22, 2020
One of his many big plays came in the 3rd quarter as he sacked Carson Wentz in the end zone, resulting in a safety.
This Cleveland Browns defense led the way in their Week 11 victory as the weather was once again, ugly and messy.
The last two weeks have played into the favor of the Browns as the sloppy weather allowed them to control the clock with their run game.
It also has allowed this defense to force more turnovers as well.
Yesterday, they forced Wentz into two interceptions and forced two fumbles.
I'm smiling and crying 😭😂I'm so proud of the DL

— Flash Garrett ⚡️ (@MylesLGarrett) November 22, 2020
Garrett praised his teammates for their dominant performance in the win against the Eagles.
In particular, he was very pleased with the way Vernon balled out.
It seems that Garrett will be out once again in Week 12, so this defensive line will need to continue the impressive play without him.
Browns Looking To Win Three In A Row
After losing to the Las Vegas Raiders, the Browns have put together impressive back-to-back performances against the Houston Texans and Philadelphia Eagles.
In fact, the defense has really stepped up in the last three weeks.
Although they lost to the Raiders, they only allowed 16 points.
Granted, the weather has played in their favor, but this Cleveland team is showing they can win a ball game in different ways.
In Week 12, they will look to improve their winning streak to three in a row as they head down to Jacksonville.
Based off how the Jaguars just performed, Browns fans should be smiling coming into this matchup.
But, this team will need to execute the game plan in order to win this one.
Missed tackles forced on runs in Week 11:
1. Nick Chubb – 10
2. Melvin Gordon III – 7
3. Dalvin Cook – 6 pic.twitter.com/PFwRYCslhm

— PFF (@PFF) November 23, 2020
The Jaguars main priority will be focused on slowing down Nick Chubb.
Chubb delivered a mean stiff arm in the win over the Eagles (clip below).
Nick Chubb tossed that man 😳

(via @thecheckdown) pic.twitter.com/4fo4r0oFKs

— SportsCenter (@SportsCenter) November 22, 2020
If the Cleveland defensive line is able to generate pressure, they should be able to force multiple turnovers just as Pittsburgh did.
Browns fans are very excited as this team is on the brink of having their first winning season in a long long time.