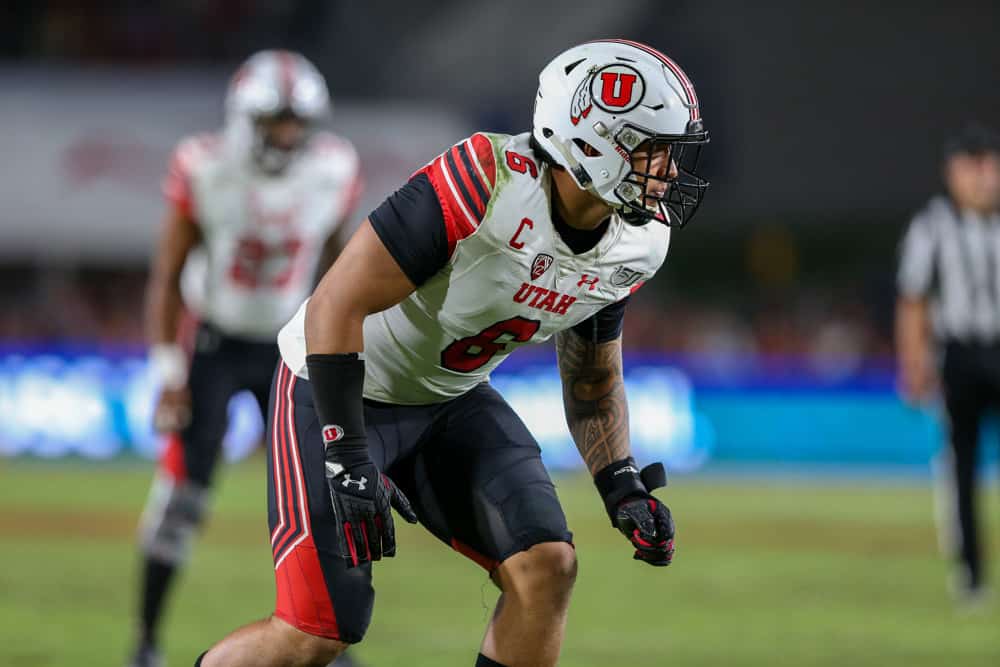 Utah edge rusher Bradlee Anae, who has had pre-draft meetings with several teams, had a mid-week teleconference with the Cleveland Browns.
The Browns, who have the 12th-ranked total draft capital according to ESPN, are looking for value in 2020.
Although Cleveland owns the No. 10 overall pick in the first round, the organization is rumored to be trading down.
If they trade down, they could be looking at more 2020 and 2021 draft picks.
Anae, who went to high school in Hawaii and is projected to be drafted in the third or fourth round, attempted to help his draft prospects by retweeting a highlight video:
@BradleeAnae || Utah DE Bradlee Anae Highlight… https://t.co/pJm9vJsHRq via @YouTube

— Hop+K1=💍⋈ (@BUTLER_szn) April 18, 2020
Anae's Ability to Get to the Quarterback
In January, Anae looked impressive at the Senior Bowl.
He had a terrific four-year career as a Utah Ute.
Although Anae played just three games in his freshman year, he played 12 contests each of the following three seasons.
During those three years, he stood out from the crowd:
Utah's Bradlee Anae: 40+ QB pressures in three straight seasons.

The only edge defender on PFF's top-200 Big Board to do so. pic.twitter.com/UrS2Dqurc8

— PFF Draft (@PFF_College) April 15, 2020
Anae forced three fumbles and had two fumble recoveries in 2017.
The three forced fumbles led the Pac-12 that season.
He also had 39 tackles and seven sacks, which was seventh best in the Pac-12.
He defended three passes in 2018 and had his most career tackles (47) that year as well.
In 2018, his 7.5 sacks topped the conference.
His consensus All-American season came in 2019 though.
The reason for his senior year being his best one was his sacks:
Love how violent Bradlee Anae is with his hands. Beats the left tackle for a sack on both plays below:

1st play – long arm softens the edge, outside hand chop to turn the corner. Beats Austin Jackson.

2nd play – cross-chop move to turn the corner #NFLDraft pic.twitter.com/Exvs4JOlj3

— Evan Lazar (@ezlazar) April 17, 2020
He had a career-high 13 sacks, which was seven-highest in the nation.
Not only did Anae have a tremendous year with sacks, but he also ranked second in the conference in tackles for loss with 14.
With 29.5 career sacks, he is Utah's leader in sacks all-time.
He has the fourth-most sacks in the Pac-12 since 2005.
Anae had nationwide recognition for his 2019 season.
Opposing players selected him as the Morris Trophy winner for the best defensive lineman in his senior year.
He became the third Ute all-time to win the Morris Trophy for defensive linemen.
What Makes the Browns Want to Draft Anae?
The 265-lb 6'3″ edge rusher, who wore No. 56 and No. 6 with Utah, can help the Browns in a number of ways.
While the media was focused on the Browns' rollercoaster offense in 2019, the defense needs work heading into 2020.
Cleveland finished 2019 allowing 145 rushing yards per game and five yards per rush attempt.
Both of those statistics ranked third worst in the NFL last season.
In 2018 and 2019, the Browns had trouble stopping the run, and Anae would be an important addition to the team to help with the rush defense.
Cleveland was also in the bottom ten in opponent offensive touchdowns per game and opponent red zone touchdown percentage.
In 2019, the Browns allowed touchdowns on more than 61 percent of opponents' red zone chances.
They allowed almost three offensive touchdowns per game to opponents as well.
With Anae in at defensive end, the Browns would be able to improve in those areas.
Anae majored in Family, Community and Human Development at Utah, and he can help develop Cleveland's defense in 2020.