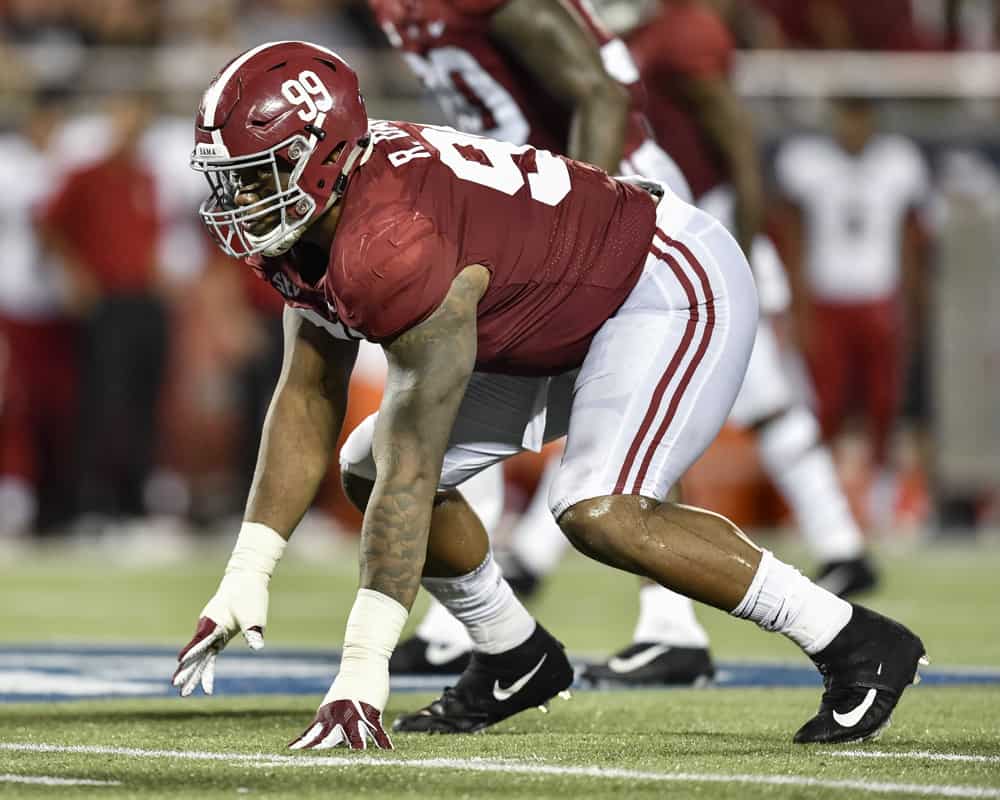 In 2019, the Cleveland Browns defense did not perform up to standards, contributing to the team's disappointing 6-10 finish.
There were injuries to some starters that were difficult to overcome, but the defense as a whole was inconsistent.
Adding to this inconsistency was the suspension of Myles Garrett for his role in the Browns/Steelers brawl last November.
Cleveland's defense, and in particular their defensive line, gave up huge plays to opponents in '19, leading to a 20th overall rank.
Needless to say, in 2020 the Browns need some serious help along the defensive line.
After Garrett was reinstated by the NFL in February, the team only has Sheldon Richardson, Larry Ogunjobi, newcomer Andrew Billings, and, maybe, Olivier Vernon.
Beyond that, there's not much depth to the position.
Cleveland is expected to select an offensive lineman with their 10th pick in the upcoming draft.
As of now, the Browns don't appear to want to move back in the first round to get more picks.
So, that leaves the defensive line as a Day 2 or Day 3 position of need.
Therefore, the team will not look at obvious first-day defensive tackles or ends as possibilities.
Here is a look at eight defensive linemen the team could select between rounds 2-7, if available.
This list includes both defensive tackles and edge rushers.
Also, the following list is for informational purposes only and not intended for actual ranking.
Oklahoma DT Neville Gallimore (@Path2Greatwork) Highlights

Gallimore is a big strong force who stuffs the run & can get after the QB consistently. Someone his size shouldn't be able to move like he does #Boomer

Full Video 🎥: https://t.co/ArsB92CmO1 pic.twitter.com/KbBOoqJxMp

— JustBombsProductions (@JBP_Official) January 21, 2020

Gallimore brings four years of college experience with him to the NFL.
He briefly fell off the radar with scouts in 2018 when he displayed poor hand placement, footwork and conditioning from his interior spot.
He rebounded nicely in 2019, however.
Scouts like his motor and ability to be disruptive in the backfield.
At 6'2". 304 pounds, he is surprisingly nimble.
Watching him on tape, it's crazy how someone that big can change directions so quickly.
Gallimore doesn't give up easily and will continue to pursue the ball with dogged determination.
He has a quick first step, anticipates the snap well, and has good hand placement.
Against opponents, he will deploy a variety of moves including a swim, bull rush, spin, and a push-pull move.
Gallimore shows fairly good leverage against opponents and does not stay locked in blocks for long.
Scouts have noticed that he has a tendency to get a little too tall on some occasions.
He can also get stymied by a good interior blocker as well.
If he doesn't immediately get through his man, he will settle for parking in his area and letting the play come to him.
Also, although he has improved from 2018, Gallimore's lateral mobility could be better.
Overall, he should be a very solid contributor at the nose position or defensive tackle in the pros.
Look for Gallimore to come off the board by Round 3.
👍 on @YouTube: TCU DT Ross Blacklock Highlight Reel – 2019 Season | Stadium https://t.co/Xx9d7vU63a

— 🇺🇸 Jack Coleman 🇺🇸 (@mrjackcoleman) March 11, 2020
Blacklock was a contributor for the Horned Frogs in 2017 and was poised to make noise as a starter in 2018.
Unfortunately, that didn't happen as he suffered an Achilles tendon tear before the season began.
He came back and played well in 2019, getting 40 total tackles and 3.5 sacks for the year.
As an athlete, Blacklock looks to make a play on every snap.
Although he is 6'4", 305 pounds, he plays with good leverage and does not get beat often.
Blacklock is powerful and will push his man into the backfield to disrupt a play.
He also displays fairly good counter moves.
If he gets stopped initially, he will keep fighting to get to the ball.
His bag of tricks includes swiping his defender away as well as using chop and crossing moves.
Although there were moments he was beat last year, there were more than a few plays in 2019 where he was found ten yards downfield in pursuit.
Blacklock has great hand placement and will use that placement to make his man do what he wants.
Also, his tackling radius is strong enough that even getting only a hand on the ball carrier can mean the play is over.
Scouts note that, for his size, Blacklock is "slippery," meaning he can turn quickly to slip blocks and change direction fast.
NFL personnel have noted that he needs to process more quickly at the next level.
He will need to read blocks better to anticipate plays.
Blacklock also has problems with strong double-teams.
Given his hand ability, he can tend to spend much too long getting defenders away from him.
However, these few deficiencies can be corrected in the pros.
Most likely, Blacklock is a Day 2 selection.
Alabama DL Raekwon Davis (@Raekwondavis_99) Highlights

At 6'7 312 lbs, Raekwon Davis is a freakish athlete who is difficult to block one on one. You rarely see someone built like him move the way he does #RollTide

Full Video 🎥: https://t.co/wU6xLCWAP6 pic.twitter.com/T0rG0xxbMl

— JustBombsProductions (@JBP_Official) January 23, 2020
Another athlete with four years of college playing experience.
Davis is a tank at 6'7", 312 pounds.
He sets the tone with his pass rush and, needless to say, at his size, he does not get pushed around.
Davis has incredible strength and will use his hands to enforce his will on blockers.
Because of his length, he has an amazing tackle radius.
If the ball carrier is anywhere near his area code, they're toast.
At the snap, he has surprisingly good leverage for a man his size.
Film from the past few years shows him frequently pushing into the backfield before anyone else.
Opponents have to play their best tackle (or combo with a guard) on him or he will dominate the line of scrimmage.
If he is held up at the point of attack, he still gobbles up double teams which allow the linebackers to freely work.
Despite his strengths, there is some concern and confusion surrounding Davis' body of work.
In 2017, he simply crushed the competition to the tune of 69 total tackles and 8.5 sacks.
Since then, he has regressed each year.
Scouts don't know what to make of this and wonder if it is how he was used at 'Bama.
Also, due to his size, he doesn't stay low for long.
Blockers can eventually hold him up and then he has to rely on his power to push forward.
It's obvious on tape that at the beginning of games he is a beast.
As the game wears on, he gets tired and his technique gets sloppy.
He will have to learn and create more pass rush techniques in the pros and work on his conditioning.
A good D-line coach will also need to work with him on staying low through the point of attack.
Based on his 2017 stats and future potential, Davis could surprise people and go in the 2nd round.
It's a safe bet that he is selected in rounds 3 or 4.
Davon Hamilton || Ohio State Buckeyes Defensive Lineman || 2019 Highlights@dmhamilton53 @OhioStateFB
📼: https://t.co/BTleHxqLr7 pic.twitter.com/fsMR21ci1K

— The Breakshot (@TheBreakshot) January 30, 2020
Hamilton came into his own in 2019 after three seasons of limited action.
Playing primarily over the center, he powered his way to six sacks in '19.
At 6'4", 320, he can hold his own and not get pushed around.
His experience shows on film as he consistently keeps his man at bay at the point of attack and keeps his eyes trained on the backfield.
Despite the chaos around him, he keeps good track of the ball and then gets after it.
Hamilton's strength allows him to force his will on opponents and his constant pressure surprised many opponents.
He doesn't have a ton of length, but he is mobile enough that he can just get a hand on the ball carrier and bring him down.
Hamilton primarily uses an effective bull rush on his man, but he can be seen chopping, ripping, and using a push/pull at times.
His ability to change direction on a dime is amazing given his size and lumbering O-linemen can't keep up.
As far as downside, Hamilton could work on his flexibility and make sure he doesn't stand straight up at the snap.
He'll have to stay lower for longer in the trenches in the pros or he'll get eaten up.
Despite his limited playing time at OSU, scouts have seen enough to warrant a "sleeper" designation for Hamilton.
He is a late Day 2 and definitely a Day 3 pick.
Boise State DE Curtis Weaver (@curtisweaver99) 2019 Highlights

Weaver has the most sacks in the history of the Mountain West Conference with 33 sacks in just 35 games. The stats speak for themselves, but so does his tape #BleedBlue

Full Video 🎥: https://t.co/F5QaQruDHO pic.twitter.com/Neu1D3HWtE

— JustBombsProductions (@JBP_Official) November 15, 2019
Weaver is a three year starter who was a terror for offenses.
From primarily a stand up EDGE position, Weaver's sack totals were almost in double digits each year at Boise State.
In 2019, he had 13.5 sacks to go along with 52 total tackles.
At 6'3", 265 pounds, Weaver is quick off the ball and in the backfield before the offense knows it.
He has plus hand placement and uses this to his advantage to disengage blocks.
His game film shows him adept at spin moves along with a rip and speed rush.
Weaver is strong and uses his strength to hold his position at the snap as well as shed blockers to get the ball.
He constantly worked his man and was persistent in finding the football and using surprising leverage to motor down the field.
His closing speed on the ball is impressive.
Boise State used Weaver in a variety of defensive alignments which showcased his versatility.
In the pros, he will have to improve his pass rush repertoire and his lateral mobility.
He could also stand to be more flexible and keep himself lower through the snap.
He had a tendency to bolt straight up after the snap, negating his leverage ability.
Based on his skill set, he will be able to tackle much better by breaking down, wrapping up, and driving through the ball carrier.
Weaver can make some noise in the NFL.
He should come off the board sometime during Day 2.
Several trait and play breakdowns on Tenn Edge Darrell Taylor 👇👇👇https://t.co/ylDt8Af2UB

— Cover 1 (@Cover_1_) April 5, 2020
Although the Vols struggled in the win-loss column, Taylor provided a consistent presence from his end/outside 'backer position.
In the past three seasons, his tackle and sack totals increased.
His 6'4", 259-pound frame allows for both speed and strength.
Taylor displayed a good burst of speed from the edge and can crash down on the ball carrier in a heartbeat.
He used a bull rush, swim and rip moves with effectiveness to combat tight ends and tackles.
Taylor has more than adequate hand use to fight off blocks and separate from his man.
In run defense, he can hold his own and defend the outside perimeter of the line.
When he spies the ball, Taylor motors to get it and demolish anything that gets in his way.
For his size, he can dip his shoulder well to maneuver around blocks and dip low enough to make plays.
However, he will need to deploy more counter moves in the NFL when working against elite talent.
His length can work against him by playing too upright and getting taken out by athletic tight ends.
He will have to work on quicker run recognition in the pros to prevent being a liability.
Taylor will also need to be taught how to anticipate the snap better to utilize his speed.
Scouts envision Taylor becoming a starter in the NFL and that career begins sometime on Day 3 of the draft.
Jabari Zuniga Career Highlights https://t.co/CnNYD4x2pX via @YouTube

— Charlie Parker (@cmparker999) March 4, 2020
Zuniga was poised to have a huge 2019 when a high ankle sprain sidelined him for most of the season.
However, he made enough highlights during his time at Florida that scouts can see his potential.
At 6'3", 253 pounds, he is not overly big for a defensive end.
He does have quickness to counter his lack of size and he displayed that numerous times in college.
Zuniga uses his hands well to off-set size deficiencies and will get push against his opponent.
If he anticipates the snap correctly, he crushes his man and harasses the ball carrier into submission.
Zuniga was used as an end and tackle in college, a plus for him at the next level.
He was also spotted dropping into coverage to contain as well.
To disengage his man, Zuniga will use a rip and club techniques with success.
Zuniga will have to work on his lower body strength in the NFL.
There were too many times where he was knocked backward by a more powerful opponent.
He will need to stay more anchored to his position area in the pros and not get pushed around.
Also, despite the fact that he can disengage and use his hands well, there were many instances where he was engaged with his man way too long.
And, if he does not anticipate the snap, he can be the last man out of his stance after a play has started.
Zuniga has much to work on in the pros, but many scouts see him as a "lump of clay" that can be molded into a terror in the NFL.
Look for him to be a Day 3 prospect.
Syracuse DE Alton Robinson
6'3" 264 lbs.
40: 4.69
Bench: 25 reps

Love Robinson's get off paired with low pad level allows him to speed rush around OT's. Causes chaos with strips sacks and blowing up OT's. Really like the Syracuse DE! pic.twitter.com/9lrUoT8yEW

— Bobby Skinner (@BobbySkinner_) April 7, 2020
Robinson spent a lot of time with his hand in the dirt as an end for Syracuse.
He was steady when rushing the passer as well as holding outside contain against the run.
A quick first step helps him diagnose plays quickly and disrupt offensive timing.
Robinson has the ability to use his hands effectively to keep his man at bay and search for the ball.
When rushing the passer, Robinson has a good rip move to go along with an effective swim to keep blockers honest.
At 6'3", 259 pounds, he is just the right size to be flexible enough to drop a shoulder and slide around a block.
In run defense, Robinson has good strength to hold his spot at the point of attack.
He is adept at disrupting tight ends and can take out pulling linemen.
Overall, Robinson is viewed as a diamond in the rough for the NFL.
He needs to develop his processing speed to quickly diagnose plays in the much faster pro game.
He will have to develop even more moves to disengage blockers as well.
Also, a frequent problem with defensive ends/edge rushers is pad height.
Robinson has a tendency to be too tall and get pushed around.
He'll have to work at staying low through the initial block in addition to seeing the ball.
Robinson does have a future in the NFL, although he could drop to rounds 6 or 7.