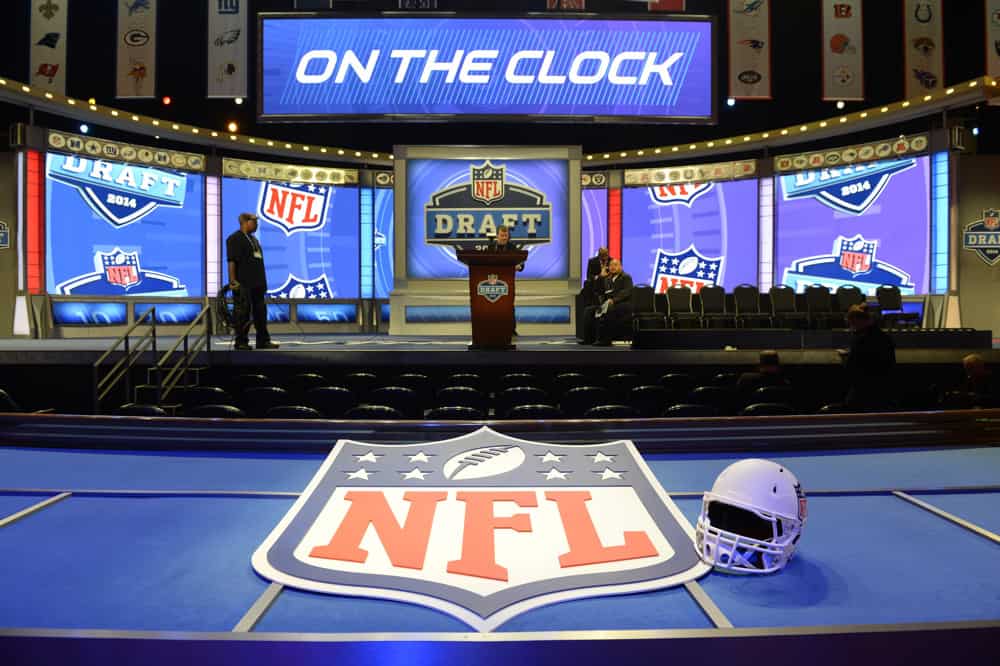 Despite owning the No. 10 overall pick, the Cleveland Browns hold a different value in terms of draft capital.
As a whole, the Browns have the 12th ranked total draft capital according to ESPN's Field Yates.
Examining the draft capital of every NFL team, from the Dolphins (1,352 points) to the Bills (190 points), using the excellent pick value chart developed by @PP_Rich_Hill. pic.twitter.com/rCK3UDNkPj

— Field Yates (@FieldYates) April 16, 2020

The main reason is that some teams have more than one first-round pick.
Teams like the Las Vegas Raiders and Minnesota Vikings have two first-round picks, while other teams have multiple picks on the second day of the draft.
The Browns have just one pick in both the first and second rounds.
Moving Up In Value
There are a few ways the Browns can move up in the ranking for total draft value.
One way is for the Browns to trade back in the draft.
More draft selections mean more chances at selecting players that can help the team improve.
General Manager Andrew Berry would probably love to turn the No. 10 pick into two picks in the top-50.
There are rumors that the Denver Broncos are in talks with the Browns about moving up.
The Broncos need help at wide receiver and likely don't want to wait until drafting at No. 15.
The New York Jets, Las Vegas Raiders, and San Francisco 49ers all pick before the Broncos and also need a top-tier receiver.
Rumor Mill: #Broncos have discussed a trade to move up to pick 10 of the #Browns to draft a wide receiver. #NFL #NFLTwitter #NFLDraft2020 pic.twitter.com/b6X499C14A

— NFL Rumors (@nflrum0rs) April 18, 2020
Fine With Sitting Pat
Then again, the Browns could care less about the rankings and go about business as usual.
According to multiple reports, the Browns are linked to taking an offensive tackle with their first-round pick.
The team has been linked to either Georgia's Andrew Thomas, Louisville's Mehki Becton, or Iowa's Tristan Wirfs.
Georgia LT Andrew Thomas felt he connected with #Browns GM Andrew Berry on their video call and 'I'm the best tackle in this draft" https://t.co/4H7ZK5H0VG

— Mary Kay Cabot (@MaryKayCabot) April 10, 2020
The Browns are also linked to taking a receiver in the second round.
With Odell Beckham Jr. and Jarvis Landry coming off surgeries, it would make sense to stock up on receiver depth.
One receiver that could fall to the second round is TCU's Jalen Reagor.
He would be a steal on Friday if that could happen.
🧀Packers Draft Prospect🧀
🔥Jalen Reagor 🔥
😈🐸 WR TCU 🐸😈

• 5'11" 206 lbs
• 43 rec 611 yds 5 tds
• 40 yd dash 4.47

• Makes big catches in any level of the defense
• Gets to top speed quick
• High vertical for shorter WR

Vid credit @BookOfEli_NFL #PoTP #Packers pic.twitter.com/fuTpy4Q8KL

— Pack on Top Podcast (@PackonTopPod) April 18, 2020