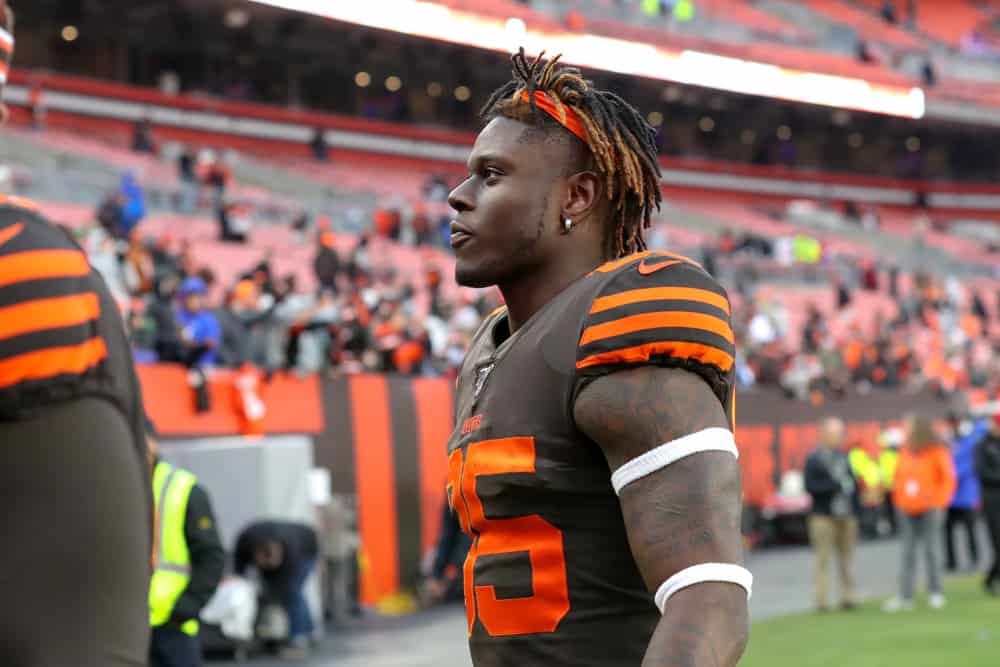 Cleveland Browns tight end David Njoku shared his first message on social media since he demanded a trade.
Njoku is shown in a picture posted Saturday to his Instagram page holding a football while standing on the bow of a boat.
"Only God knows but I don't blame you for having a different perspective," Njoku wrote in the post.
Some of Njoku's current and former Browns teammates also commented on the post, including wide receiver Rashard Higgins, linebacker Christian Kirksey and cornerback Terrance Mitchell.
"My buddy untill 6," Higgins wrote.
Njoku turns 24 on July 10.
The former first-round pick's Instagram caption is likely referring to his trade demand.
On Friday, ESPN Senior NFL Insider Adam Schefter reported that Njoku and his agent Drew Rosenhaus asked for the Browns to trade him.
Njoku and Rosenhaus want a trade before the scheduled start of training camp on July 28.
"It is in David's best interest to find a new team at this time," Rosenhaus said.
1/2 Browns' TE David Njoku and his agent Drew Rosenhaus asked today for the team to trade him. The Browns told Njoku they would like to keep him, but Rosenhaus told them he's intent on a trade. They want a trade before training camp.

— Adam Schefter (@AdamSchefter) July 3, 2020
2/2 About David Njoku's trade request today to the Browns, agent Drew Rosenhaus said: "It is in David's best interest to find a new team at this time."

— Adam Schefter (@AdamSchefter) July 3, 2020
Earlier this offseason, the Browns signed tight end Austin Hooper to a four-year deal worth $42 million, with $23 million guaranteed.
The deal makes Hooper the highest-paid tight end on a multi-year deal.
Hooper, 25, played in 13 games in 2019, posting 75 receptions for 787 yards and six touchdowns.
In 97 targets last season, Hooper had just one drop.
Initially, Njoku expressed his enthusiasm about the Browns' signing of Hooper.
Njoku has since deleted the following tweet:
Nahhhh man cmon I love competition. We'll push each other and get better together🦾 https://t.co/nmAoz5cgl5
— Chief David Njoku (@David_Njoku80) March 16, 2020
The Browns also selected Florida Atlantic University tight end Harrison Bryant with the 115th overall pick of April's NFL Draft.
Multiple media reports indicate the Browns are not interested in trading Njoku despite his trade request.
Perhaps part of the reason is that new Browns head coach Kevin Stefanski likes using multiple tight ends.
Stefanski used multiple tight ends 57% of the time while coaching the Minnesota Vikings last season, according to ESPN's Jake Trotter.
Keep in mind, Kevin Stefanski used multiple TEs 57% of the time last year, highest rate in the NFL. Should the Browns jettison Njoku, TE is going to be a position to watch, even with Austin Hooper and 4th round pick Harrison Bryant on board

— Jake Trotter (@Jake_Trotter) July 3, 2020
Plus, the Browns would need to see what kind of value Njoku would fetch if they decided to trade him.
Unnamed sources with other teams told ESPN reporter Jeremy Fowler that Njoku might be worth a fourth- or fifth-round pick.
The Browns have known for about a year that David Njoku was unhappy in Cleveland and would welcome a trade, I'm told. They were not blindsided by this. Early predictions from sources with other teams is Njoku might be worth a 4th or 5th round pick.

— Jeremy Fowler (@JFowlerESPN) July 4, 2020
Spotrac.com shows Njoku has two years left on his contract: He is due to make $1.76 million in 2020 and $6.01 million in 2021.
The Browns picked up Njoku's fifth-year option in April.
Njoku is among 18 of 32 players drafted in 2017 to have his fifth-year option picked up.
"My No. 1 goal is to stay healthy," Njoku told the Browns' team web site in June. "If I can stay healthy, the sky is the limit. It's going to be special. We have all the tools here, and we have a great coach, so we're really excited to put it all together."
In 2018, Njoku had 56 receptions for 639 yards and four touchdowns.
A wrist injury limited Njoku to four games last season, posting five receptions, 41 yards and one touchdown.
Njoku was a healthy scratch in the Week 15 loss to the Arizona Cardinals and the Week 16 loss to the Baltimore Ravens.