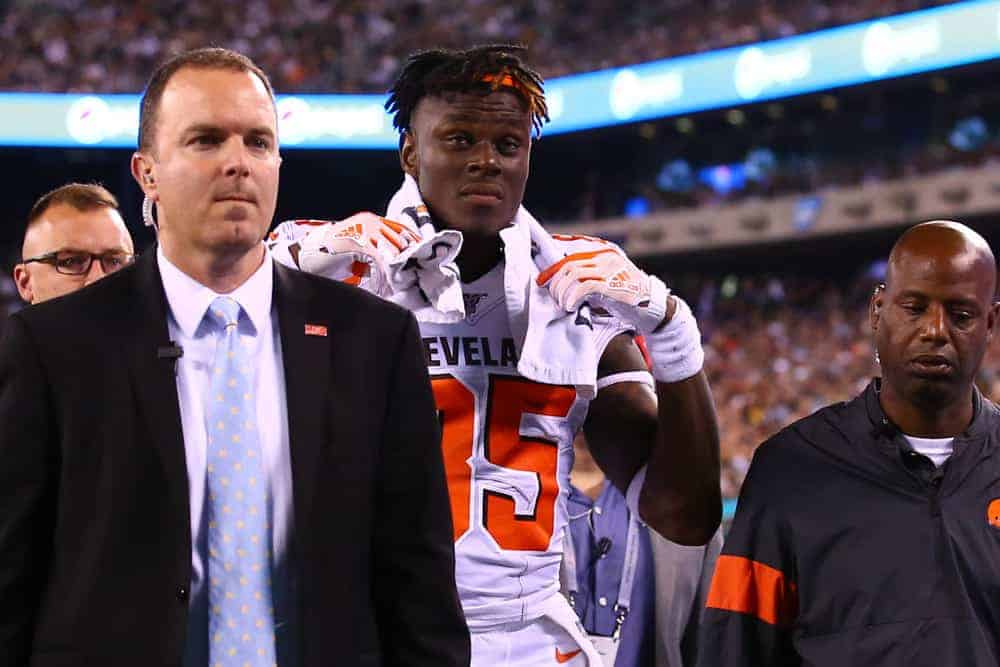 Cleveland Browns TE David Njoku is creating his own 4th of July fireworks by asking for a trade.
This is perplexing given that Coach Stefanski likes to utilize multiple TE schemes so it is likely Njoku and the Browns' free-agent acquisition Austin Hooper would be on the field a lot.
It appears Njoku does not want to potentially share the workload with 2020 draft pick Harrison Bryant either.
Since Njoku does not want to be a Cleveland Brown in 2020, what could the Browns get for him?
Let's take a look at what he brings to the table.
Njoku Stats:
David Njoku trade notes:
* Under contract through 2021 (due $1.76M in 2020, $6.013M in 2021)
* Still only 23 years old
* 93 catches, 9 TD in 36 games
* Hyper athletic: 6-4, 246 pounds, 4.64 40 time, 40" vertical leap
* Play-making upside but must become more consistent

— Field Yates (@FieldYates) July 3, 2020
Njoku was drafted in the 1st round (29th overall) of the 2017 NFL draft.
His contract is in its 4th year, but the Browns just exercised the 5th year option in April 2020.
During the 2019 season, he played 4 games because he suffered from a concussion and broken wrist.
2018 was his best season where he caught 56 passes for 639 yards.
As a result, he is young player who has yet to show his true potential.
That means the Browns should talk with teams who have situational needs at the TE position and draft picks they are willing to deal for him.
The Browns have known for about a year that David Njoku was unhappy in Cleveland and would welcome a trade, I'm told. They were not blindsided by this. Early predictions from sources with other teams is Njoku might be worth a 4th or 5th round pick.

— Jeremy Fowler (@JFowlerESPN) July 4, 2020
Here are two teams who could be in the running:
1. Green Bay Packers 
Jimmy Graham has left the building and is headed for Chicago.
His 2018 stats (55 receptions for 636 yards) were almost identical to David Njoku's.
In 2019, his receiving yards were down to 447, but he remained a steady target for Aaron Rogers.
Mercedes Lewis has been Graham's backup the past 2 seasons; however, at 36, it is unclear whether he can perform as well as Jimmy Graham.
The Packers drafted Josiah Deguara (Cincinnati) in the 3rd round of the 2020 NFL Draft so there is a young guy-in-waiting.
Head Coach Matt LeFleur has plenty of 2021 draft picks in his back pocket, specifically three 4th round picks and two 6th round picks.
2. New England Patriots
Forget that Brady is gone.
The Patriots are thin at TE; that's why they drafted 2 in the 3rd round of the 2020 NFL Draft (Devin Asiasi, UCLA and Dalton Keene, Virginia Tech).
Matt LaCosse is not a household name, and yet he is first on the New England depth chart at the position.
The Patriots already lost a 2021 draft pick this week as punishment for their television crew illegally filming the sidelines of the December 8, 2019 game between the Cleveland Browns and the Cincinnati Bengals.
While the Patriots have a lot of draft picks already spent on TEs, no one would count out Bill Belichick.
He has a notorious history of taking under-utilized, injured, or disgruntled players and reviving their careers in New England.
Consider Darrelle Revis and Josh Gordon.
And Cam Newton may fall into that classification also.
Training camp opens on July 28 so it will be interesting to see if Njoku is traded this month.
It is more likely that he could be dealt after training camp begins, and NFL teams assess their needs.
Either way, draft picks seem to be what the Browns can expect to accumulate in a trade for David Njoku.