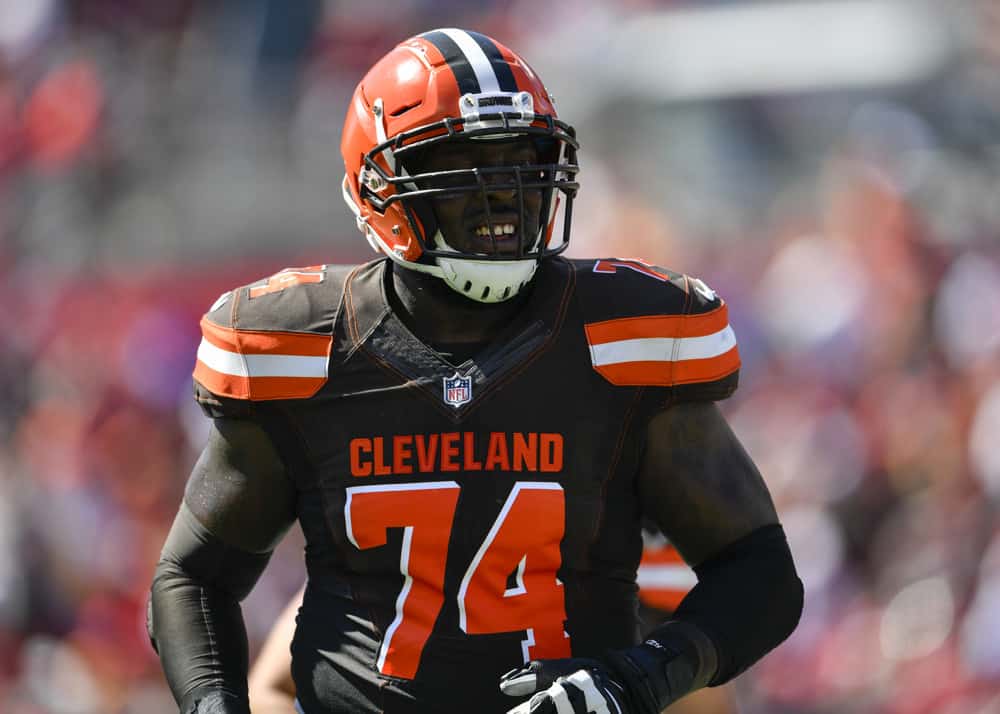 Cleveland Browns offensive tackle Chris Hubbard is expected to have season-ending surgery on his triceps, unnamed sources told the NFL Network's Ian Rapoport.
The Browns had already ruled Hubbard out for Sunday's game against the Los Angeles Chargers.
Hubbard, 30, played 42 snaps in the Browns' season-opening loss to the Kansas City Chiefs.
It included 39 offensive snaps and three special teams snaps filling in for second-year starting left tackle Jedrick Wills Jr.
It's the only game Hubbard has played in this season.
However, the Browns did not initially put Hubbard on injured reserve.
It meant there was hope Hubbard could return in a few weeks, and he wouldn't miss the minimum of three games when a player gets placed on IR.
Chris Hubbard had already been ruled out for Sunday, as his practice participation went down this week. https://t.co/4f8ZGKKVNZ

— Ian Rapoport (@RapSheet) October 8, 2021
Losing Hubbard for the remainder of the season impacts the Browns' offensive line depth.
On Friday, Browns head coach Kevin Stefanski declined to say who would fill in for Wills if he is unable to play on Sunday.
Wills is listed as questionable for Sunday as he deals with an ankle injury that has limited him since Week 1.
Rookie James Hudson III is listed as Wills' backup on the Browns' official depth chart.
In Week 4 against the Minnesota Vikings, Hudson played 21 offensive snaps filling in for Wills.
The Browns drafted Hudson out of Cincinnati with the 110th overall pick in the fourth round of the 2021 NFL Draft.
However, the Browns played Blake Hance when Wills' ankle injury forced him to leave in Weeks 2 and 3.
Hance played 18 offensive snaps against the Houston Texans and 11 offensive snaps against the Chicago Bears.
Although Wills has not participated in practice this week, Stefanski left open the possibility the second-year player could play on Sunday.
"I think he has a chance to play, but we'll continue to evaluate him and use the next 48 hours to make that determination," Stefanski said of Wills.
On Friday, Browns offensive line coach Bill Callahan said he is "hopeful" Wills can play against the Chargers.
Callahan said Wills has gone around the Browns' practice facility with an ice bucket to try to speed up the healing process in his ankle.
If Wills can't play, Callahan said he didn't think Hudson was overmatched against the Vikings.
"When you go against Myles Garrett and (Jadeveon) Clowney every day, it's a little bit different," Callahan said. "That gives you a sense of like, 'Hey, I've seen this speed, I've seen the different changes of speed, I've seen the different moves and maneuvers that a defensive lineman can give me.'

"He's still young and he's still learning. But at least he has exposure to it and he's seen it, so it doesn't freak him out in the middle of a game like, 'I haven't seen this move. I haven't seen that.' He's seen the full repertoire, trust me."
The Chargers have three-time Pro Bowl edge rusher Joey Bosa on their defensive line.
However, Bosa typically lines up over an opposing offense's right tackle.
The Chargers could look to move Bosa around to take advantage of the Browns' injuries.
"Joey Bosa is a tremendous player. He's got to be one of the top, if not one of the best defensive ends in pro football," Callahan said. "He aligns everywhere. They put him on both sides, they'll put him over the guard. His speed, his quickness is uncanny. He really has a knack for slipping the block and also the protection technique, but I mean he has everything in his tool bag."
Through four games of the 2021 season, Bosa has 2.5 sacks, 11 tackles, two forced fumbles and six quarterback hits.
Pro Football Focus has ranked Bosa as the second-best edge defender in the NFL so far this season.