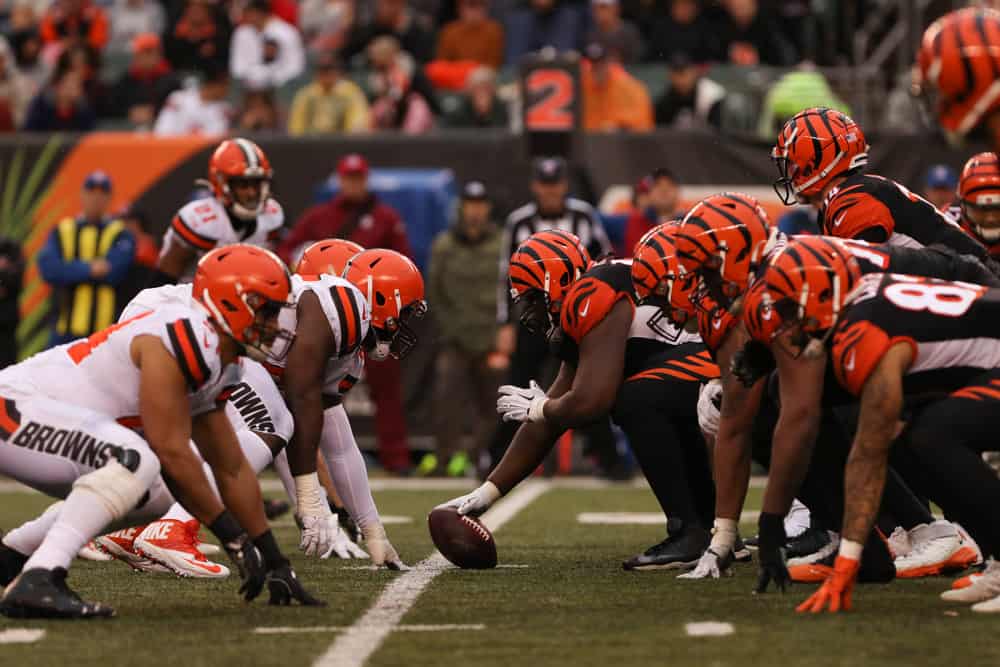 The Cleveland Browns had nothing left to play for and it showed.
The Cincinnati Bengals ended up tying their franchise record for worst single-season record by improving to 2-14 with their 33-23 win over the Browns on Sunday afternoon.
The Browns finished a season, where many thought the team could be a dark horse Super Bowl pick, with a 6-10 record.
Some may think that a "stud" is that the Browns season is finally over, but here it goes trying to find a diamond in the rough.
Week 17 Studs
Stud: Odell Beckham Jr.
Statline: 3 receptions, 81 yards, and 1 touchdown
Beckham Jr needed just 46 yards to go over 1,000 yards for the season.
He nearly doubled that margin and scored a touchdown with 7:23 left in the fourth quarter to make it a one-possession game before Reggie Bullock kicked a field goal to cap off the final score.
It was the fifth time in Beckham Jr's six-year career that the star receiver surpassed the 1,000 receiving yard mark in a season, and his touchdown kept him from tying his career-low in receiving touchdowns.
Stud: Joe Schobert
Statline: 8 tackles, 1 TFL
According to multiple sources, this could have been the last game for linebacker Joe Schobert, who co-led the NFL in tackles in 2017.
In what could have been his final game in a Browns uniform, Schobert was second on the team in tackles, including five solo tackles.
His teammate, Mack Wilson, who is an honorable "stud" tweeted this below and led the team in tackles with nine.
Appreciation post… let's do it one last time Bash Bro 💥 before we get to negotiating 😏. Love you bro! @TheSchoGoesOn53 #KeepJoeInCleveland ❤️ pic.twitter.com/LAslZMOWwT

— Mack Wilson (@5mackwilson1) December 29, 2019
Week 17 Duds 
When you lose to a team that was 1-14 before game time, you should not expect too many studs.
Dud: Freddie Kitchens
This was your chance!
The Browns head coach could have ended on a high note, a 7-9 record, and had potential wiggle room to bargain management for one more year with the team.
Nope.
Even before the game, it did not look like Kitchens had hope, but after that debacle, there is certainly no hope.
Plenty of people around the league believe the #Browns will move on from Freddie Kitchens, per @AdamSchefter.

— NFL Update (@MySportsUpdate) December 29, 2019
Dud: Nick Chubb
Statline: 41 yards rushing against the NFL's worst rush defense
Chubb should not be completely ripped on as he has a very good chance to win the NFL rushing crown, but 41 yards rushing against this team?
The Bengals entered the game allowing 153.9 rushing yards per game.
Chubb had a 92-yard lead over Christian McCaffery before the game started, but his inability to gain just six more yards nixed an opportunity that hasn't happened in years.
Chubb finished the year with 1,494 rushing yards, just six yards from the magic number 1,500.
If Chubb could have surpassed 1,500 rushing yards, and since Beckham surpassed 1,000 yards receiving, the Browns could have been the first team since the 2006 St. Louis Rams to have a 3,500 yards passer (Baker Mayfield), a 1,500-yard rusher, and two 1,000 yard receivers according to Pat McManamon of The Athletic.
Dud: The 2019 Cleveland Browns  
The Browns were a dud all season long, so in the final edition of "studs and duds" of 2019, the organization is well-deserving of "king dud."
The Browns had high hopes heading into this season, but the Browns solidified their decade of losing by losing.
Cleveland Browns' record this decade:

10: 5-11
11: 4-12
12: 5-11
13: 4-12
14: 7-9
15: 3-13
16: 1-15
17: 0-16
18: 7-8-1
19: 7-9

• only team who haven't had a single winning season this decade
• haven't tasted 2nd place in the division

Easily the worst team

— *-Mo🌊 (1st SEED) (@LamarHeisman) December 29, 2019
It was only fitting that the team closed out the decade by losing to the NFL's worst team in the league.
The new decade could see the Browns with new management, new coach, and a new start.
However, history has taught us that this is the Browns, and the franchise is used to being a dud.