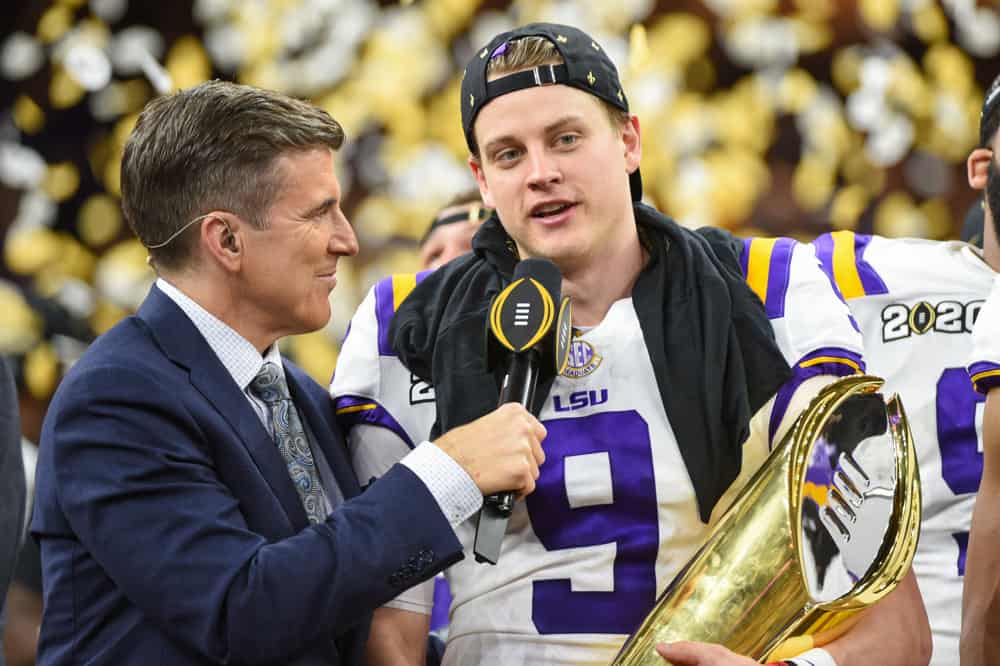 Colin Cowherd seems pre-occupied with Baker Mayfield.
His radio show ("The Herd" on FoxSports Radio) is Cowherd's main vehicle for talking about the Cleveland Browns' quarterback.
He rarely shares encouraging thoughts about the Browns' former first-round pick.
This week, Cowherd managed to turn a discussion about Joe Burrow into another negative commentary about Mayfield.
Burrow capped off an extraordinary season with a dynamic performance in Monday's NCAA National Championship game.
Cowherd's take on the event was this:
📺@ColinCowherd: "The loser of last night was @bakermayfield…

—Joe Burrow was great and now Cincinnati feels good about drafting him––

….Burrow is more athletic, has the arm, & there's no police video. Baker is now the 4th-best QB in that division." https://t.co/iyQN9cQTsI

— FOX Sports Radio (@FoxSportsRadio) January 14, 2020
Early in the segment, Cowherd admits he was as excited to watch Mayfield's "story" as anyone else.
But the controversial radio host hasn't missed many opportunities to blast Mayfield for being immature and cocky, especially in his second season.
In December, Cowherd labeled Mayfield "Not a franchise quarterback" and reminded Mayfield, " the C on that uniform stands for captain, not cocky."
Now, he calls the Browns' leader the fourth-best quarterback in a division that includes an aging veteran coming off elbow surgery and a player yet to be drafted.
Early Warnings
Mayfield's relationship with Cowherd was vexed from the start.
Soon after the 2018 draft, Cowherd wrote that someone with "marginal size and athleticism isn't a number one pick!"
Marginal size and athleticism isn't a NUMBER ONE pick. In any draft. In any sport. https://t.co/U74000ndM2

— Colin Cowherd (@ColinCowherd) June 19, 2018
Mayfield responded with, "Well, it happened, Bud. Have a nice day!"
Well it happened bud. Have a nice day!

— Baker Mayfield (@bakermayfield) June 19, 2018
There has been a steady back and forth since.
Mayfield called Cowherd a donkey and a clown.
He also labeled the host as irrational and a liar.
Of course, Mayfield's assertions were all retorts.
Cowherd called Mayfield a bad teammate, a baby, and now, the fourth-best quarterback in his division.

Any Chance Cowherd is Correct?
Of course, there is a chance Cowherd's take is correct.
There is also a chance I'll win a Pulitzer Prize for my work here with BrownsNation.com.
But there is no way to fully assess such a thing right now.
To start with, rumors of Baker Mayfield's demise are far too premature.
According to Jimmy Haslam, every interviewed head coach candidate cited Mayfield as a reason he was interested in the Cleveland job.
We can't disregard the role of Freddie Kitchens and his quarterback coach, Ryan Lindley in Mayfield's second-season regression.
Browns owner Jimmy Haslam mentions Stefanski's past maximizing the talents of Case Keenum, working with Kirk Cousins as strong evidence he can do the same with Baker Mayfield

— Nick Shook (@TheNickShook) January 14, 2020
Much has been made about Mayfield's second-worst quarterback rating and his 22:21 touchdown-to-interception rate this season.
Not many people cited the 21 turnovers Mayfield suffered in 13 games in 2018.
The difference was the won-loss record and expectations.
Kevin Stefanski turned another turnover-prone passer around in Minnesota.
If Mayfield's interceptions and lost fumbles are cut in half, the Browns will not only win more games.
Mayfield will be a candidate for Comeback Player of the Year.
Baker Mayfield's comments and antics leave him open for criticism.
But suggestions that he can not rebound with a better coaching scheme and game plan are short-sighted.

What about Burrow?
Joe Burrow's performance in the championship game cemented his standing as the consensus first draft pick.
The Ohio native appears to have a bright NFL future.
So did Akili Smith, the Bengals' third overall pick of the 1999 draft.
Then there was Tim Couch… Ryan Leaf… Jamarcus Russell…
You get the point.
Burrow seems to have most of the tools one needs to succeed.
He compensates for not-quite-elite arm strength and mobility with pocket awareness, accuracy, and intelligence.
But, players are faster in the NFL.
Defenses are smarter in the NFL.
Fox Sports' Joel Klatt made a very impressive comparison of Burrows.
"Joe Burrow just had the best season we've ever had from a QB… He's Joe Montana coming out of Notre Dame. It's eerily similar." — @JoelKlatt pic.twitter.com/UYNo2qIVm3

— FOX Sports (@FOXSports) January 14, 2020
Cincinnati fans will have something to cheer about if Burrows becomes the next Joe Montana.
But even Montana took a few seasons to become Joe Montana.
And the others?
Even Pittsburgh fans know it is no sure thing Ben Roethlisberger will bounce back after his surgery.
The Steelers are faced with several burning questions as they head into the 2020 offseason, so we decided to have fans weigh in too.

And it doesn't seem as though a lot of fans are convinced that Big Ben can bounce back.

From: @fugimaster24 ⬇️https://t.co/S1taKtWDQW

— Post-Gazette Sports (@PGSportsNow) January 10, 2020
Mike Tomlin and the Steelers' coaching staff did well with inexperienced backups in 2019.
They'll get the most out of Roethlisberger and keep the team competitive.
That doesn't mean Mayfield isn't a better quarterback in 2020.
Lamar Jackson worked hard in the offseason to improve the most-criticized parts of his game.
He enters 2020 as the AFC North's top gun.
The Ravens' coaches tailored their game plan to their quarterback's strengths.
If Cleveland's new coaching trust does the same, Mayfield could give Jackson a run for his money soon enough.
How Will Mayfield Respond?
Baker Mayfield has beaten the football odds several times in his life.
He was not good enough to be offered a college football scholarship.
So, he walked on to a Division 1 campus and became a successful starting quarterback.
Twice.
Cowherd wasn't the only person who panned the Browns selection of Mayfield with the first overall pick.
Mayfield was runner-up to Saquon Barkley for Rookie of the Year.
Cleveland's young passer and the famous radio host will likely continue their feud for as long as Mayfield plays.
Mayfield should use Cowherd's criticism as he has his whole career.
Browns' fans might have to thank Cowherd for helping Mayfield become the top passer in the division someday.