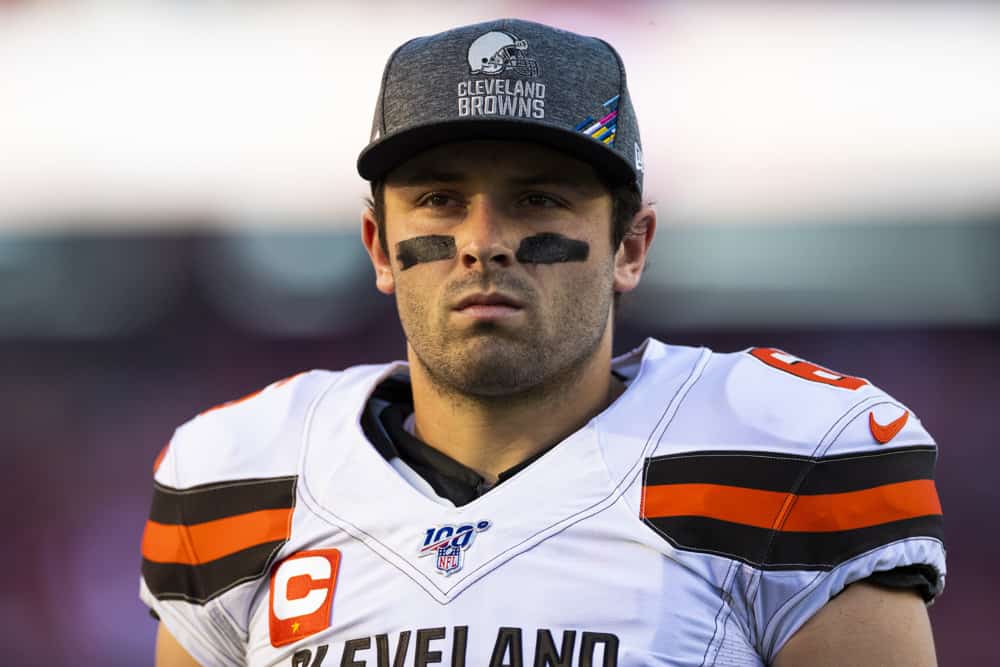 The sky is blue, the grass is green and Colin Cowherd's feud with Cleveland Browns quarterback Baker Mayfield continues.
Perhaps it's because we've gone weeks without games, but during Friday's episode of "The Herd," the Fox Sports Radio host hypothetically matched the best city for quarterbacks based on their personality traits.
"Baker Mayfield. Questionable judgement. Cocky. Good-time guy. High-risk, high-reward factor. He should quarterback the Raiders," Cowherd said. "He totally fits the Raiders and Las Vegas."
In the past, Cowherd said he believes the Browns should have taken Sam Darnold instead of Mayfield with the first pick of the 2018 NFL Draft.
It's an opinion shared by ESPN sports personality Stephen A. Smith.
The Browns are projected to win eight games in 2020, and Cowherd has previously predicted the team will underachieve.
Cowherd has repeatedly called Mayfield "undraftable" as a franchise quarterback.
"The reason I talk about this is, like, I don't think sometimes Green Bay quite gets Aaron Rodgers," Cowherd said. "I don't think they quite get him. And, Aaron, frankly has done a very good job to ingratiate himself in the state of Wisconsin. He really has. He's a [Wisconsin] Badger fan. He bought a portion of the [Milwaukee] Bucks. Aaron has done a great job to ingratiate himself, but I've never felt it's a natural fit."
The Packers selected Utah State quarterback Jordan Love with the 26th pick of the 2020 NFL Draft even though Rodgers is under contract through the 2023 season.
However, the Packers have a potential out with Rodgers in 2022.
Here is how Cowherd matched the NFL's other quarterbacks:
Aaron Rodgers: Los Angeles Rams
Patrick Mahomes: Dallas Cowboys
Tom Brady: New York Giants
Jimmy Garoppolo: Miami Dolphins
Gardner Minshew: Jacksonville Jaguars
Russell Wilson: Atlanta Falcons
Carson Wentz: Green Bay Packers
Jameis Winston: New Orleans Saints
Dak Prescott: Buffalo Bills
Philip Rivers: Arizona Cardinals
Cam Newton: New York Jets
Ben Roethlisberger: Pittsburgh Steelers
Drew Brees: New England Patriots
Cowherd did not match a current NFL quarterback that matches the personality of the city of Cleveland.
"I've always felt teams become cities. Think about this," Cowherd said. "The greatest fit in the history of pro sports is Magic Johnson in Los Angeles. Magic Johnson in Charlotte doesn't work. If you ever noticed, every great Laker team is flashy because the city is flashy. Every great Pistons team has been tough because Detroit, autoworkers, [are] tough.

"If you think of the history of sports, all of the Miami Heat teams that have won have had glamor and flash. That's what Miami is, as Joy [Taylor] well knows."