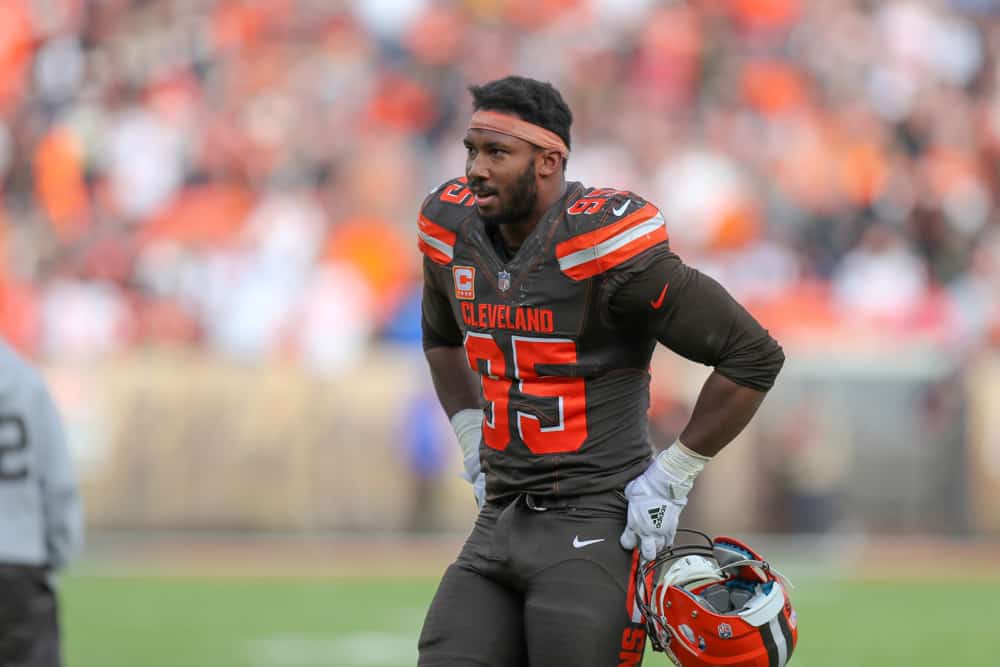 On April 27, Cleveland.com's Mary Kay Cabot reported that the Cleveland Browns exercised the fifth-year options of both Myles Garrett And David Njoku.
Garrett, one of two Pro Bowlers in the top five of the 2017 NFL Draft, is the only one of the top five to have his 2021 contract option picked up:
2017 draft class fifth-year options for top 5 picks:
1. Browns DE Myles Garrett: ✅
2. Bears QB Mitch Trubisky: ❌
3. 49ers DL Solomon Thomas: ❌
4. Jaguars RB Leonard Fournette: ❌
5. Titans WR Corey Davis: ❌

It's hard to find a sure thing in the draft.

— Field Yates (@FieldYates) May 2, 2020
The Other Top-Five Selections in the 2017 NFL Draft
Meanwhile, the other top-five selections in 2017 have not played as well during their first three years in the league.
They have a combined one Pro Bowl selection among the four of them:
2. Chicago Bears Quarterback Mitchell Trubisky (North Carolina): 1 Pro Bowl – 41 games, 48 passing touchdowns, 29 interceptions
3. San Francisco 49ers Defensive End Solomon Thomas (Stanford): 46 games, 73 tackles (one fewer than Garrett), 6.0 sacks (24.5 fewer)
4. Jacksonville Jaguars Running Back Leonard Fournette (LSU): 36 games, 19 rushing and receiving touchdowns
5. Tennessee Titans Wide Receiver Corey Davis (Western Michigan): 42 games, six receiving touchdowns
What Makes Garrett Stand Above the Rest?
The easy answer to this question is that Garrett was selected No. 1 overall.
Although most first-round selections do end up having their options picked up, Garrett deserves the fifth-year option.
Even with his past indiscretions, Garrett is an important part of this team's future.
The Texas A&M product was named to the 2017 All-Rookie Team after playing just 11 games.
He was the best player on the 2018 Browns, according to Pro-Football-Reference.
After being a Pro Bowler and Second-Team All-Pro selection in 2018, he was building on his strong performance in early 2019.
His third year in the NFL began as a very impressive one.
He had 10 sacks in his first 10 games, but then, it came crashing down with the indefinite suspension after the brawl with Pittsburgh Steelers quarterback Mason Rudolph.
Fortunately for Garrett, the NFL reinstated him from his suspension on February 12, 2020.
With 2020 upcoming, Garrett should expect to add his second Pro Bowl nomination to his resume.
He should have his first selection to the First-Team All-Pro in 2020 as well.
Garrett is projected to have a career year this upcoming season, and if so, the Browns will look even smarter for exercising his fifth-year option.
He could be seeing a record-setting contract if he has terrific 2020 and 2021 seasons.