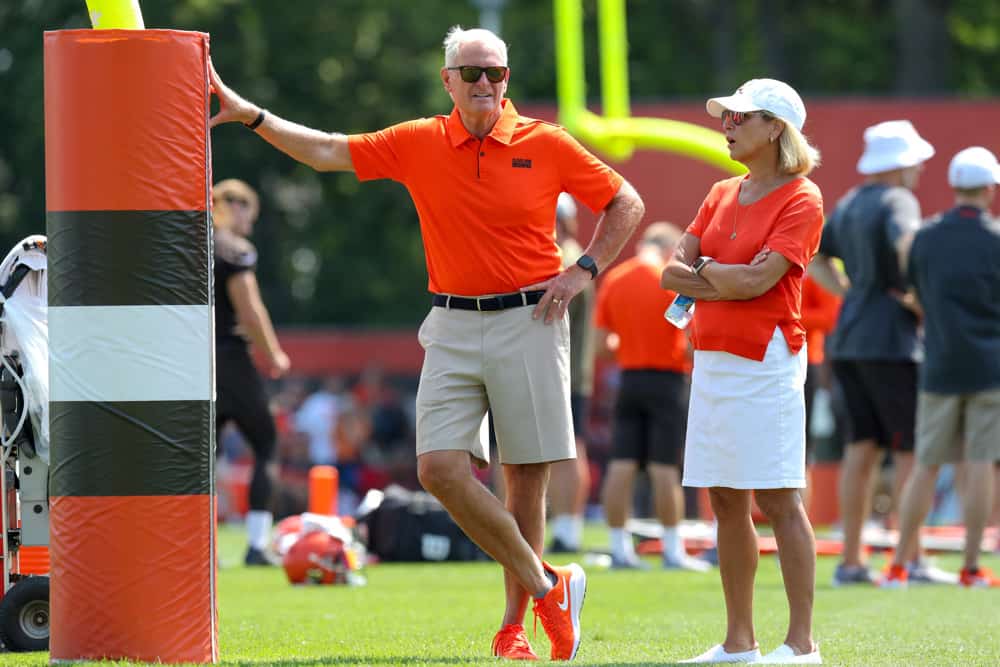 Jimmy Haslam purchased a controlling interest in the Cleveland Browns before the 2012 season.
Prior to that, he was a minority stakeholder in the Pittsburgh Steelers.
Haslam wanted to make the Browns as stable a franchise as Pittsburgh.
Of course, he knew nothing about running a football team.
But he was crazy rich and willing to spend a fortune to make Browns football respectable again.
What could go wrong?
Eight seasons later, we know everything can go wrong.
A Look Inside The Dysfunction Of Ownership
When Input Exceeds Capacity
Jimmy Haslam is the first person to admit he had no idea how to run an NFL franchise.
Heading into his ninth season, he's the first to admit he still has to learn a lot.
Not many fans disagree with him.
Kitchens & Dorsey fired.

Either Haslam is incompetent in hiring, which he is set to do again…

Or Haslam is too impetuous to allow stability & culture to gain a foothold.

Yes, both is a valid option.

— michael bode (@mgbode_WFNY) December 31, 2019
But that's not to say Haslam hasn't made a serious attempt to grow in the business.
He attends strategy sessions and draft planning meetings where he listens intently.
He has a veritable who's who of former NFL coaches and players he consults with.
When he offers an opinion, it is usually well thought out and relevant.
If his key strategists were the only people Haslam listened to, things would be better in Cleveland.
The thing is Haslam listens to everybody, including non-football folks and some with ulterior motives.
When dozens of people have the ear of the boss, there is inevitable conflict.
With so many ideas rolling around his brain, it makes sense the latest input is what he remembers first.
That is how you get the opposite of stability.
It is a recipe for constant change and upheaval.
Pittsburgh still has the same head coach they had when Haslam sold his Steelers shares.
Cleveland is about to hire its sixth head coach, along with their sixth general manager since 2012.
Don't Forget Dee
Dee Haslam is Jimmy's wife and co-owner of the Cleveland Browns.
She gets a little frustrated when people speak of Jimmy as the sole owner.
League officials appreciate what Dee brings to the table regarding social and personnel management matters.
But she agrees she knows nothing about running a football team.
Fans agree with her, too.
Dee Haslam just produced & released 2020 #Browns promo video 👇🏻👇🏻👇🏻👇🏻👇🏻 pic.twitter.com/RD4dew4xQl

— Don from CLE (@gmbuddyboy) December 31, 2019
Browns employees report Dee has said out loud how neither she nor Jimmy has any idea what they are doing.
She reportedly went as far as to say if they knew how difficult it was, they never would have purchased the team.
Officially, Dee Haslam denies ever saying such a thing.
She admits, however, to being embarrassed by the constant do-overs and rebuilding schemes.
When a coach or general manager is fired or hired, the Haslams gather Browns' staffers in a meeting room for the announcement.
When Hue Jackson was terminated, some employees left the session before it was over, having heard the same exact rationale and promises several times.
The Coaching Carousel
Jimmy and Dee's speech about the need for change and the promise of the future is well-practiced.
They spent $15 million to renovate the Berea home office and practice facility.
The addition of a wide and well-greased revolving door should have been a highlight.
Haslam retained head coach Pat Shurmur and GM Tom Heckert for a second season in 2012.
Cleveland's 5-11 season wasn't enough of an improvement to bring them back for a third.
Following that up with a 4-12 record made Rob Chudzinski and Michael Lombardi a one-and-done head coach and GM respectively.
Mike Pettine was the first Haslam hire to win 10 games, but it took him the 2014 and 2015 seasons to do it.
Pettine and GM Ray Farmer were let go after their second season at the helm.
Sashi Brown did not have the title of general manager, but he still lasted less than two years during which head coach Hue Jackson compiled a 1-31 record.
That was after Jimmy Haslam promised Brown he would get three years to turn around the franchise.
The Browns have fired Sashi Brown, who was the head of the personnel department, sources told ESPN. https://t.co/f1xDHrKFvm

— SportsCenter (@SportsCenter) December 7, 2017
John Dorsey was hired the same day Brown was fired, before the end of the 2017 season.
Jackson managed to stay employed heading into 2018.
He won two more games before internal strife accelerated his departure after Week 8.
Interim head coach Greg Williams coaxed five wins out the Browns over the second half of the season.
He is the only winning coach during the Haslams' tenure.
Freddie Kitchens became the fifth non-interim head coach in 2019.
His 6-10 record wasn't good enough to survive multiple issues on and off the field.
Dorsey agreed to part ways with the Browns instead of accepting an altered role with the Browns.
2020 will see the sixth official head coach and sixth general manager in the Haslam's ninth season.
When a Chief Became The Chief
John Dorsey was supposed to be different.
He was more than a credible football mind with a solid track record.
Dorsey unabashedly used all the draft picks and cap space left to him by Sashi Brown.
It did not appear he waited for Haslam's approval on every deal.
Dorsey managed to do something else no other general manager could under the Haslams.
He got his choice of a coach in Freddie Kitchens.
And he had Kitchens report to him, not directly to Haslam like previous head coaches.
It was seen as progress that Haslam trusted his general manager.
But as the 2020 coaching search kicked off, Jimmy Haslam proposed organizational changes.
Dorsey did not approve of the changes and decided to step away from the Browns.
Rumors say the changes involved John DePodesta's role or the power of the next head coach.
But there is a good chance Haslam also wanted to revert to the previous reporting lines.
Spending Hand Over Fist
The NFL's spending cap limits how much the Haslams can invest in players.
But they aren't afraid to pay what is allowed.
One of Dorsey's perceived faults was how much dead money he accrued paying released or traded players.
That did not seem to be a problem in his short tenure in Cleveland.
But the Haslams are fortunate coaching and executive salaries don't count in the cap.
Regardless of what you think about Jimmy/Dee Haslam you can't say they aren't trying to give us the winner we all want. They've given every resource possible , they've spent money on coaches, FO, Players that they're still paying who aren't even here. #Browns

— Champ (@Champ_Dawg9) January 1, 2020
Cleveland makes it a policy not to share information on executive staff or head coaching salaries.
However, Fox Business recently reported some numbers they uncovered.
Pat Shurmur was owed $5.6 million for the two years his contract was cut short.
Rob Chudzinski's salary could not be found out, but no coach signs on for a one-year deal.
It is reasonable to assume the one-and-done coach had at least two more years at about the same rate as Shurmur on his deal.
Mike Pettine had two more years at $3.5 million per when he was released.
Hue Jackson patrolled the sidelines for Cincinnati after Week 8 while receiving his full $4.75 million salary from the Browns.
No details of Freddie Kitchens' contract were released.
With no experience, he might have been limited to a three-year contract for at least what Jackson was paid.
Based on that, we can put the coaching dead money figure at a minimum of $30 million so far.
That doesn't include the fired general managers, presidents, and some coordinators.
Of course, Jimmy and Dee Haslam are merely following a Cleveland tradition.
Crain's Business reported the Browns paid $55 million in dead money to coaches between 1999 and 2012.
It's Not Easy Being An Owner, But…
Jimmy Haslam turned his father's successful business into a multi-billion-dollar mega-enterprise.
His responsibilities with that company have been turned over to others, allowing Haslam to devote his attention to the Browns.
But for all the effort he puts in to learn the football business, the Browns are still a mess.
Haslam is ridiculed for his continued impatience and easily swayed opinions.
Rolling Stone Magazine named him the eighth-worse owner in all of sports.
To be fair, they were more upset about his connection to the fracking industry than his lack of NFL success.
To outsiders, the Browns repeat the same mistakes and expect different results.
In Haslam's mind, each hire is different, and he tries new things.
Jimmy Haslam: Browns "more determined than ever to get it right"

📰 » https://t.co/8oRmohUkHf pic.twitter.com/PKsY86moI0

— Cleveland Browns (@Browns) January 3, 2020
The Sashi Brown experiment was an innovation that didn't work out.
He let Kitchens report to Dorsey.
Haslam can't see that his own habits kill progress before it has a chance to be realized.
It is his prerogative as the owner to be involved in the football operations.
But he has to shut out the noise from outside the football department.
It's More Than A Hard Knocks Life
Hard Knocks gave a glimpse of how chaotic the Browns locker room can be.
But by all accounts, it didn't reveal a fraction of the bedlam in Cleveland's team headquarters.
ESPN's Seth Wickersham authored a collection of stories from two dozen current and former Browns executives and coaches.
Dysfunctional is the best word to describe the miscommunications, broken promises, and distrust the stories relate.
Haslam wants to learn and enjoys the hashing out of new strategies.
He makes everyone feel he is listening to them; like they are valued.
But in short order, his ego sparks a rash decision to blow it all up.
The fact that Haslam is considering blowing up the FO is proof he's still a knee jerk moron and incapable of learning from his mistakes no matter how many times he repeats them #Browns

— Don from CLE (@gmbuddyboy) December 31, 2019
Some very fine candidates declined coaching interviews from Cleveland over the years.
Dorsey's departure and a promising roster will pique more interest this time around.
But unless Haslam can get over himself, even the best coach with the best contract is doomed to be an Ex-Browns coach sooner than later.