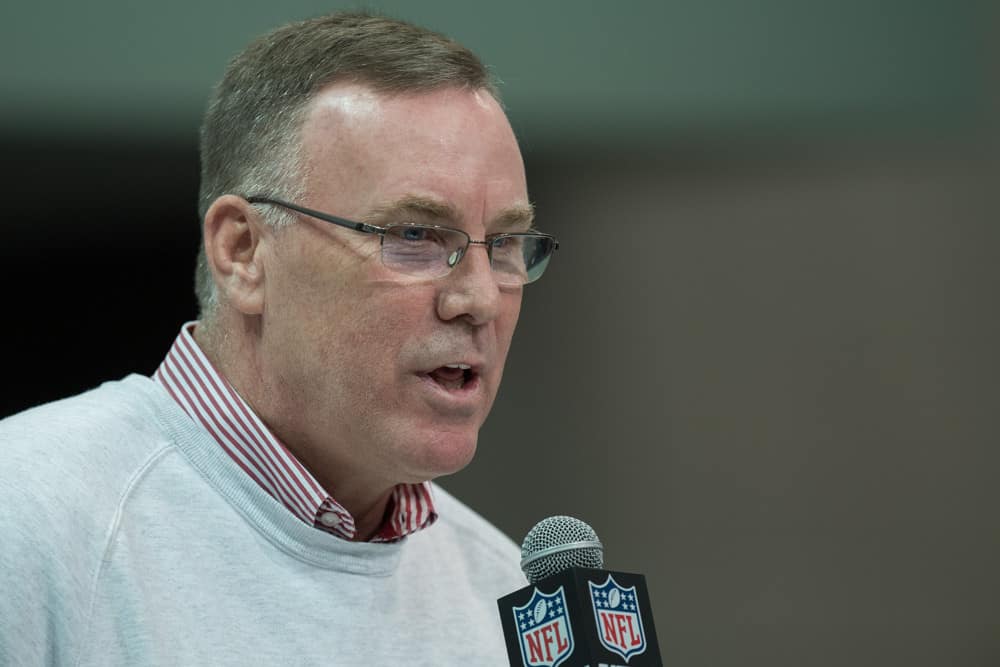 There were times this season when it seemed nobody was in control of the Browns, either on the field or off of it.
Head Coach Freddie Kitchens took the fall for the chaos and disappointment just hours after the final game was over.
But John Dorsey had a big hand in things, too.
Jimmy Haslam saw fit to change the scope of his GM's role going forward.
John Dorsey and the Browns parted ways, prompting the organization's latest search for a savior.
Fans responded with ridicule.
How could the Haslams fire the man who brought in two All-Pro wide receivers and the best tandem of rushers in the NFL?
What could prompt them to move on from the man who finally picked a franchise quarterback in Baker Mayfield?
And now John Dorsey is gone. Sure, get rid of the guy that drafted Baker, Denzel Ward, and Chubb; acquired OBJ, Damarious Randall and Landry; signed Kareem Hunt and Sheldon Richardson. Dorsey cutting off his nose in spite of his face. Just sell the Browns and leave forever.

— Mike Klauss (@thatmikeklauss) December 31, 2019
Unfortunately, the Browns play in the NFL and not some fantasy football league.
They need more than skill players to win a championship.
Let's take a look at where it went wrong for John Dorsey and the Browns
John Dorsey's 6 Worst Moves As GM Of The Cleveland Browns
1. Hiring Freddie Kitchens As Head Coach
Dorsey's official reason for hiring Freddie Kitchens was the relationship between the former offensive coordinator and his franchise quarterback.
More than a few others believe it was to avoid potential challenges from a more experienced and strong-willed coach.
Kitchens' hiring is regarded as a big mistake, even by Dorsey supporters who are angry about his firing.
But Dorsey did nothing to help his young head coach find more success.
Surrounding an inexperienced boss with successful assistant coaches can work well.
Dorsey witnessed the important roles Zampese and senior assistant Al Saunders played during the Browns' second-half resurgence under Greg Williams.
Ex-#Browns OL coach Bob Wylie rips Freddie Kitchens, saying ex-QB coach Ken Zampese 'did all the coaching' in those final 8 games in radio interview with @ZachGelb https://t.co/0utEIeOqvc

— Mary Kay Cabot (@MaryKayCabot) August 3, 2019
Both were released in the 2019 offseason.
Dorsey appeased Kitchens by letting him name Ryan Lindley as quarterbacks coach.
There was nothing in Lindley's limited playing career that made people consider him future position coach material.
Dorsey gave the appearance of a progressive hire in Todd Monken.
Monken is credited with turbo-charging the Buccaneers offense when he took over play-calling for Dirk Koetter.
But Dorsey let Kitchens call his own plays.
Even when it became obvious Kitchens was in over his head and Monken stewed over unrecognizable game plans, Dorsey supported Kitchens' play-calling.
He also backed his coach up when he was called out over discipline issues, and when he wore the infamous "Pittsburgh started it" t-shirt.
In fact, Dorsey spent all season offering Kitchens validation when redirection and guidance were warranted.
Freddie Kitchens seemed honestly shocked he was fired, apparently believing until the end he had the full support of the front office.
Just got off the phone with an emotional Freddie Kitchens. He believed he had organizational support. He did not. https://t.co/6263Mmh7c0

— Ian Rapoport (@RapSheet) December 30, 2019
Kitchens needed a stronger boss and less of an enabler and cheerleader.
Especially a cheerleader who misunderstood his own job security.
2. Trading Away Kevin Zeitler  
John Dorsey made a pair of deals with the Giants that brought Olivier Vernon and Odell Beckham Jr to Cleveland.
New York received safety Jabrill Peppers and starting right guard Kevin Zeitler.
Zeitler was arguably the Browns' best offensive lineman and among PFF's highest-rated pass blockers.
According to Pro Football Focus, he is now the best offensive player on the New York Giants.
Kevin Zeitler.

76.8 overall is the highest graded player on offense for the Giants this season and has graded above a 73 since he came into the league in 2012 https://t.co/4ITF20qppr

— PFF NY Giants (@PFF_Giants) January 1, 2020
Kevin Zeitler was Giants' highest-graded offensive player in 2019 #nyg #giants #NFL https://t.co/ZJ6nAffsNp

— Touchdown Wire (@TheNFLWire) January 2, 2020
The Browns drafted tackle Drew Forbes as a project, along with 5 defensive players and a kicker.
Dorsey also signed Chris Hubbard (5 years, $36.5 million) to play right guard.
Hubbard is among the lowest-ranked right tackles of 2019.
Austin Corbett was the presumed heir apparent to Zeitler, but he was slow to develop in the preseason.
In Week 6, Dorsey traded Austin Corbett to the Rams for a late fifth-round pick.
We've agreed to trade C Austin Corbett to the Los Angeles Rams in exchange for an undisclosed draft pick.

Details » https://t.co/dYnU5uyHIM pic.twitter.com/lyd4rtdU6p

— Cleveland Browns (@Browns) October 15, 2019
Wyatt Teller and Eric Kush had moments, but neither was up to the task of replacing Zeitler.
Dorsey released guard Andrew Wylie and center, Austin Reiter, along the way.
Both are starters for Dorsey's playoff-bound former employer in Kansas City.
Cleveland wanted Baker Mayfield to stay in the pocket more.
But Mayfield's mobility and elusiveness were all that kept him from getting sacked and hit with impunity.
Readily identified as the team's weakest unit, Dorsey managed to make the Browns' offensive line worse.
3. Drafting Austin Corbett, Poor Talent On Offensive Line
There is a good chance Austin Corbett will be a more-than-reliable guard or center in the NFL.
Before the 2018 draft, that is how most scouts saw the former Nevada tackle's future.
Cleveland already had a solid interior line with center JC Tretter flanked by Kevin Zeitler and Joel Bitonio.
John Dorsey selected Corbett as a tackle to replace Joe Thomas.
Corbett came off the board ahead of Ravens starter Orlando Brown Jr. and other players projected as NFL-ready tackles.
It was the beginning of two years of offensive line mismanagement.
Dorsey released Thomas' 2018 backup, Spencer Drango, in favor of Denver reject Donald Stephenson.
Stephenson retired before reporting and Dorsey's favorite undrafted rookie, Desmond Harrison, was injured.
Cleveland tried to move Bitonio to tackle and play Corbett at guard.
In the third preseason game, Corbett was benched and Bitonio was back inside.
Harrison lined up at left tackle, out of shape and unprepared.
That was the starting offensive line until Greg Robinson came in for an ill Harrison in Week 9.
That was just the first year.
4. Drafting Antonio Callaway, signing other players with character issues
NFL coaches and GMs spend a great deal of time vetting college players and trade targets.
On most teams, the goal is to avoid losing players to suspensions or hurting the team's reputation.
Dorsey seems bent on signing players other teams reject or downgrade based on character issues.
Baker Mayfield's detractors cited many reasons he was not worth the first overall draft pick.
The brash quarterback's on-field and off-field antics piled onto height and decision-making concerns.
Dorsey delighted in making Mayfield the first selection of his Browns' tenure.
Later in the draft, he selected Antonio Calloway, currently out of work and suspended for substance violations.
Browns WR Antonio Calloway being suspended 4 games for violating substance abuse policy. RL- This explains running with the 2nd team. An undeniable talent, off field issues led to his fall in the draft and has followed him to the pros. pic.twitter.com/4stUnsIPuT

— RotoLounge (@RotoLounge) August 9, 2019
Simeon Thomas was suspended twice in college and undrafted free agent Desmond Harrison was kicked off his first team.
Dorsey also provided a place for teams to unload disgruntled stars.
Odell Beckham Jr's reputation and subpar season magnified indiscretions he continued to make.
Jarvis Landry bad-mouthed the Dolphins coach and management before Dorsey picked him up.
Olivier Vernon was suspended by the Giants for conduct-related issues in 2018.
Dorsey picked up Jermaine Whitehead after he was cut by the Packers for fighting.
Dorsey couldn't wait to sign Kareem Hunt despite his suspension for assaulting a woman.
This continued a pattern Dorsey exhibited in his tenure with the Chiefs.
It played a role in his termination and might have contributed to the Haslams' decision.

5. Failing With Baker Mayfield's Development
Part of John Dorsey's job was to develop and manage Baker Mayfield.
But with his reputation riding on the fate of the franchise quarterback, Dorsey needed to do more for Mayfield.
Regardless of how talented Mayfield is, rookie quarterbacks shouldn't choose their coaches.
Dorsey can be forgiven for going with Mayfield's choice if it came down to Kitchens and Greg Williams.
But that wasn't the case.
Minnesota's highly-regarded offensive coordinator Kevin Stefanski was the other finalist in 2019.
Unless specifically asked about former quarterback coach Ken Zampese, Mayfield always gave Kitchens credit for his tremendous second half in 2018.
The young and immature quarterback preferred an inexperienced coach over the one that made him work to correct technique and habits.
At least until Kitchens messed with his beard.
Baker Mayfield on Freddie Kitchens: "Guy's an idiot." 🤣🤣 pic.twitter.com/Gey5NaCTHB

— Athlete Tweets 🔥➐ (@AthleteTweetts) December 31, 2019
Dorsey valued Mayfield's happiness over the quarterback's development.

6. Cutting Carl Nassib
Like many of Dorsey's worst player moves, the handling of Carl Nassib is an example of bad habits that carried over from his Kansas City days.
Dorsey has a quick ax once he decides a player is not needed.
He consistently left the Browns with a weaker bench.
Carl Nassib played in all 16 games of his second season out of college.
He only managed three sacks from his defensive end position.
But he also racked up 5 passes defended, 8 tackles for a loss, and 9 quarterback hits.
Nassib was reportedly "on the bubble" right from the start heading into 2018.
He made it through the preseason only to be cut before the season opener.
Nassib, on his affordable rookie contract, became a vital part of Bruce Arians' defense in Tampa Bay.
The Carl Nassib sack against his former team, takes down Baker Mayfield pic.twitter.com/SypNLPr7ro

— Dov Kleiman (@NFL_DovKleiman) October 21, 2018
Dorsey also traded defensive tackle Danny Shelton to New England where his stock continues to rise in the top-ranked defense.
Genard Avery started for Philadelphia days after being traded away.
When injuries and suspensions came down, the Browns scrambled to find quality players to fill the defensive front.

Dorsey Is Most Responsible For Browns Failures Of 2019 Season
Dorsey can always be credited with putting more talent on the field than Browns fans had seen in years.
The excitement he brought to Cleveland before the 2019 season was tremendous.
But he was unwilling to admit mistakes or make changes, even when problems were obvious.
Dorsey's draft hits overshadowed some big misses.
He can hang his hat on Mayfield, Ward, and Chubb for now.
But four of the other six picks from 2018 are no longer with the club.
In short, John Dorsey got Cleveland fans excited about football again.
But it wasn't all Freddie Kitchens' fault that the 2019 season was a failure.