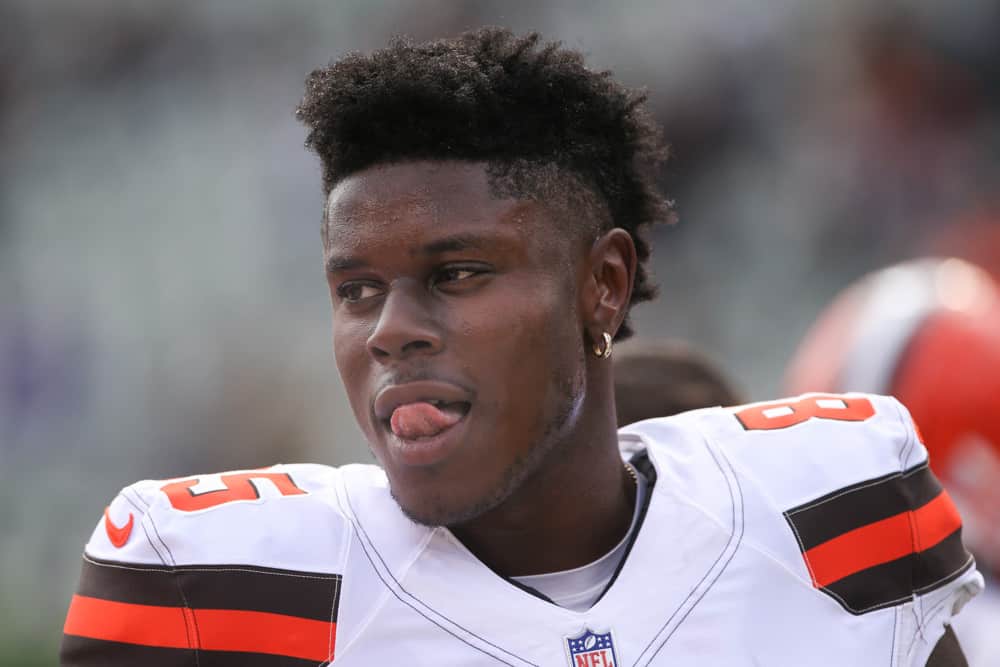 Although David Njoku and his agent demanded a trade from the Cleveland Browns in July, he has reported to the team's training camp.
On Tuesday, Njoku tweeted the following:
I'm here dog https://t.co/W9iEmB2vAR

— Chief David Njoku (@David_Njoku80) July 28, 2020

Let us take a step back and look at the timeline of Njoku's offseason:
I want to make something very clear. I love the city of Cleveland with all my heart. This game is filled with a lot of complications but don't think for a second that I don't love and appreciate Cleveland and all that it has done for me💯

— Chief David Njoku (@David_Njoku80) July 20, 2020
It is no exaggeration to call Njoku's offseason a rollercoaster.
While newly-hired agent Drew Rosenhaus helped Njoku try to get out of Cleveland, the fourth-year tight end may be here to stay.
In 2019, Njoku played just four games as a part of an injury-riddled season.
We know that Kevin Stefanski, Baker Mayfield, and the Browns would be benefitted by having another weapon like Njoku on the offense this year.
However, will Njoku stay or keep pressing for a trade?
Will Njoku Stay with the Browns?
Several NFL teams could utilize Njoku more than the Browns can, and with more targets, Njoku could have a potentially higher salary.
The New England Patriots, Dallas Cowboys, Jacksonville Jaguars, and other teams would be glad to have a pass-catcher like Njoku.
However, by attending training camp, Njoku seems ready to stay with the Browns.
The 29th overall selection in the 2017 NFL draft had a decent sophomore season: 16 games, 56 receptions, and four touchdowns.
Mayfield found him on several important plays in 2018, as Njoku was responsible for 27 first downs that year.
Unfortunately, Njoku did not have a chance to succeed in 2019, as he was unable to stay him on the field.
Then, Austin Hooper entered the fray in March 2020.
Browns fans rejoiced at having arguably the best wide receiver and tight end tandems in the NFL.
Understandably, Njoku was not ready to play the second fiddle, as he demanded a trade.
Reporting to camp is Njoku's first step in trying to get back in the good graces of the Browns front office and the Browns fans.
Njoku Could Still Have a Successful Season in Cleveland
The University of Miami tight end can be an impressive player for the Browns in 2020.
He showed strong improvement from his rookie to his sophomore season.
Njoku even brought in four receptions and a touchdown on six targets in Week 1 of the 2019 season.
Although the Browns lost the game, 43-13, his touchdown catch brought the score to just 15-13 in favor of the Tennesee Titans.
Heading into 2020, the Browns have a new head coach, and Njoku should be happier about Stefanski than he was with Freddie Kitchens.
The Browns ranked 22nd in points and offensive yardage last season, and they have a lot of room to grow and improve.
If Njoku is locked in and ready for 2020, the Browns will have a chance at having an even better offense than expected.
The upcoming season will be very interesting, and Njoku's future with the team will be as well.