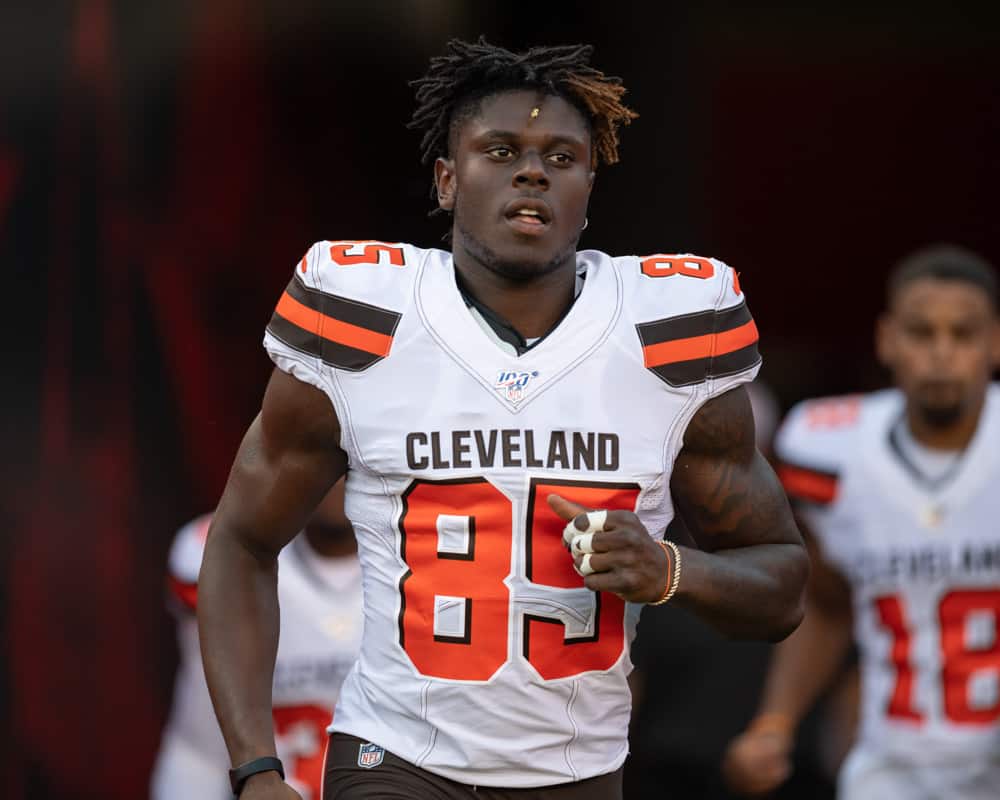 Cleveland Browns tight end David Njoku has requested a trade for the organization, according to his agent.
It's quite surprising news, but Njoku's agent mentioned that it's in the "best interest" for his client to move on from Cleveland and be dealt by the beginning of training camp.
1/2 Browns' TE David Njoku and his agent Drew Rosenhaus asked today for the team to trade him. The Browns told Njoku they would like to keep him, but Rosenhaus told them he's intent on a trade. They want a trade before training camp.

— Adam Schefter (@AdamSchefter) July 3, 2020
The Browns added depth at tight end over the offseason, so it makes sense for them to move Njoku.
However, they did accept his fifth-year player option, so the team didn't appear to have plans on trading the former first-round pick.
Regardless, it appears Njoku is ready for a change of scenery, but where will he land?
3. Jacksonville Jaguars
Earlier in the offseason, ESPN Insider Field Yates discussed the possibility of the Browns trading Njoku to Jacksonville.
Their prediction was defensive end Yannick Ngakoue to Cleveland in exchange for Njoku and a second-round pick for 2021.
On paper, that seems like a win-win scenario for both teams, but possibly not in the long term.
Ngakoue is seeking a long-term extension and Jacksonville doesn't seem too interested in handing out a massive deal right now.
A franchise tag situation to watch approaching July 15: Jaguars DE Yannick Ngakoue. I'm told nothing has changed with his stance – he still desires a trade – and doesn't have immediate plans to sign the tag. This could bleed well into training camp, absent deal with a new team.

— Jeremy Fowler (@JFowlerESPN) July 1, 2020
The Browns don't exactly need a defensive end, but Ngakoue would give Cleveland a dynamic duo of pass rushers.
Cleveland would likely cut Olivier Vernon if they do end up acquiring Ngakoue.
Vernon is set to make over $15 million next season, so Cleveland could save some money by making this trade.
The Jaguars are desperate for help at tight end with injury-prone Tyler Eifert listed as their No. 1 option right now.
This is an interesting avenue to explore, but probably not enough in it for Cleveland to pursue this heavily.
2. Dallas Cowboys
Similar to Cleveland, the Cowboys are absolutely stacked on offense for this upcoming season.
However, Dallas does not have the same type of depth at tight end like Cleveland does.
As of right now, the Cowboys top option at tight end is 25-year-old Blake Jarwin.
He hauled in 31 receptions, 365 receiving yards, and three touchdowns last season in Dallas.
Jarwin is a decent tight end, but seems to be a better fit as a No. 2 option on a team.
In 2018, Njoku hauled in 56 receptions, 639 yards, and four touchdowns through 16 games with Cleveland.
He was injured throughout most of last season, but appears to have more upside than Jarwin.
The Cowboys have been struggling to find a reliable tight end for quite some time.
Last season, 38-year-old Jason Witten was their No. 1 option at tight end.
Dallas could benefit from the addition of Njoku, but it's unclear if they could offer enough in return for Cleveland to pull the trigger.
The Cowboys are in win-now mode, so it would make sense for them to go after Njoku.
1. New England Patriots
The Patriots are still attempting to fill the hole left by superstar tight end Rob Gronkowski.
He retired prior to the 2019 season, but came back and asked to be traded to Tampa Bay in order to play alongside quarterback Tom Brady.
If the season started today, the Pats would have Matt LaCosse as their top option at tight end.
Last season, LaCosse hauled in 13 receptions for 131 yards in 11 games.
Not exactly the ideal weapon you want as your No. 1 option at tight end.
Behind LaCosse, the Pats have a boatload of rookies looking to make a splash.
#Patriots doubled down on high-ceiling TEs in Round 3.

No. 101 pick Dalton Keene is the highest SPARQ-score tight end in this year's draft. No. 91 overall pick Devin Asiasi might have been the most underrated.

— Evan Silva (@evansilva) April 25, 2020
Bringing in a player like Njoku would be ideal for New England.
He's a young player with decent upside and still young enough to develop.
The Pats are lacking talent on offense outside of wide receiver Julian Edelman.
The addition of quarterback Cam Newton means the Patriots have no intentions of tanking this upcoming season.
It wouldn't be surprising to see the Patriots go after Njoku before training camp begins.