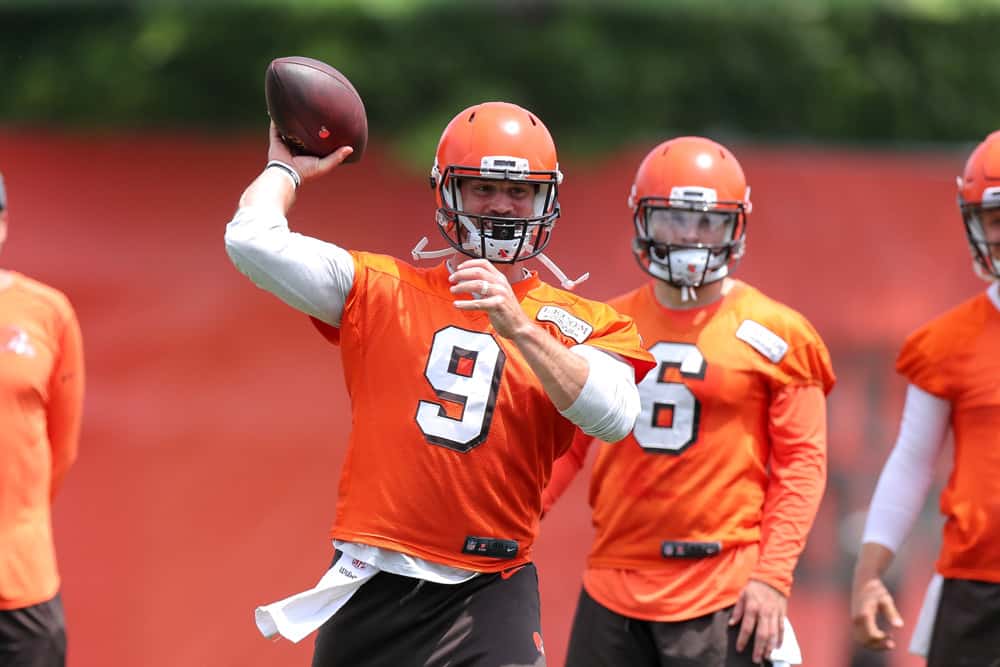 We always have to assume the worst.
Cleveland Browns starting quarterback Baker Mayfield started all 16 games last season and 13 of the 14 games he appeared in during the 2018 season.
If Mayfield were to go down with an injury in 2020, the situation behind him is pretty bleak.
In 2019, Mayfield's best friend Garrett Gilbert was the backup, while journeyman Drew Stanton was listed as third-string.
With the weapons on paper, the Browns could contend even if Mayfield was hurt, but only if the right backup was throwing.
Does that pose the question: should the Browns invest in a proven backup?
The Answer
The answer is undeniable maybe.
Gilbert has proven nothing in this league, while Stanton hasn't attempted a pass in two years.
Stanton is set to be a free agent but he was not returning either way.
Look at the New Orleans Saints when Drew Brees went down with an injury.
Teddy Bridgewater stepped in and led the Saints to five straight wins and contributed towards their playoff berth.
We really don't know what Gilbert can do in the NFL because of the lack of opportunity, which makes us wonder if he is truly the answer.
The #Browns are signing former #Apollos QB Garrett Gilbert

Stats in AAF:

157 for 259 (60.6%)
2,152 Passing Yards (269 YPG)
13 TDs – 3 INTs
102.0 QBR pic.twitter.com/yrpgAMV5hp

— NFL Stats (@NFL_Stats) April 5, 2019
Case Keenum
If we are looking at another option besides Gilbert, Washington Redskins quarterback Case Keenum is a suggestion.
Keenum produced the best year of his career in 2017 when head coach Kevin Stefanski was the offensive coordinator for the Minnesota Vikings.
Case Keenum owned the top adjusted completion percentage when pressured by 2+ defenders in 2017! pic.twitter.com/sUKg3Lijoc

— PFF (@PFF) June 24, 2018
In 2017, Keenum threw for a career-best 3,457 passing yards, 67.6% completion percentage, 22 touchdowns, and just seven interceptions.
NFL free agents 2020: Top 10 QBs include

Eli Manning, New York Giants
2019 stats: 1,042 yards, 6 TD, 5 INT
Age: 39

Case Keenum, Washington Redskins
2019 stats: 1,707 yards, 11 TD, 5 INT
Age: 31

— EBELE UMEWENI (@EUmeweni) January 13, 2020
When Keenum left for Denver, he had a touchdown-interception ratio of 18:15.
When he was traded to Washington, Keenum produced a 1-7 record last year.
Keenum is not a franchise quarterback, but he gives your team a chance to win.
With his presence as a veteran, someone who has won playoff games, and his connection to Stefanski, Keenum seems like a no-brainer as a backup candidate.
The Backup Plan
With no pun intended, there is a backup plan to the backup quarterback situation.
If Keenum doesn't pan out, a cheaper option could be Vikings backup quarterback Sean Mannion.
Why Mannion seems like a similar comparison to Gilbert, Mannion knows what Stefanski wants in his offensive scheme.
Mannion is a 6-foot-6, 230-pound quarterback and former third-round draft pick, going 89th overall to the former St. Louis Rams.
In 2016 and 2017, Mannion backed up Keenum when he was the starter in Minnesota.
After backing up Jared Goff for the Rams in 2018, Mannion returned to the Vikings last year.
In terms of his stats, he has never thrown a touchdown pass, and has three interceptions to go with 384 yards passing.
If the Browns were to move on from Gilbert, at least having a quarterback that knows the system would make the most sense.