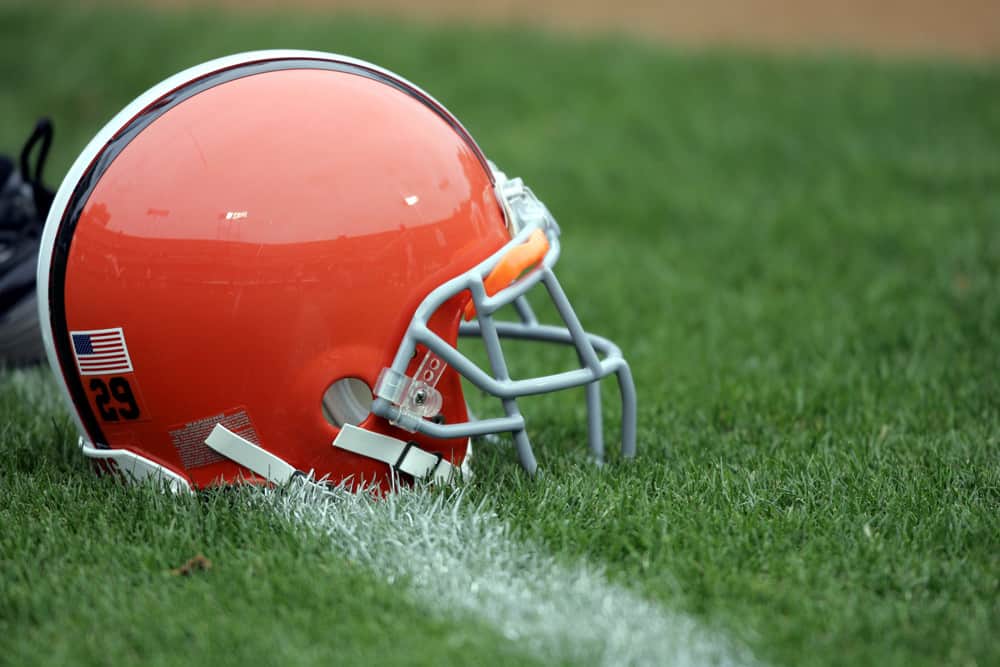 Dick Schafrath, a 6-time Pro Bowler and member of the 1964 Cleveland Browns champions, died this week.
The team announced Schafrath's passing in an article on the Browns website Monday afternoon.
Schafrath was one of the best offensive lineman of his era, opening holes for 3 Hall of Fame running backs.
Jim Brown, Bobby Mitchell, and Leroy Kelly benefitted from Schafrath's blocking prowess.
We're mourning the loss of Dick Schafrath, a Browns Legend who was one of the best offensive linemen in our franchise's history.

📰 » https://t.co/bWMk8smHZW pic.twitter.com/H0eyC07WKS

— Cleveland Browns (@Browns) August 16, 2021
Schafrath played against 29 Hall of Fame linemen and linebackers.
He was named to the Browns Legends Club in 2003.
Schafrath played his college ball for Ohio State, playing both ways for head coach Woody Hayes.
Ohio State won 2 championships  (1957-58) while Schafrath was on the team.
Schafrath Is A Browns Legend
Dick Schafrath was drafted #23 overall by Paul Brown in the 1959 NFL Draft.
But he arrived at his first training camp at just 220 pounds, a little light even in those days.
Schafrath took to the weight room, not a popular option in that era, but he also started entering eating contests.
In just one year, Schafrath added 50 pounds to his frame and cemented his left tackle position.
Dick Schafrath was such a character. He told me the story once of his first weigh-in. He hid 25 pounds of weights strapped to his waist to reach the 250 lb limit set for him by Paul Brown. Brown was so impressed he wanted to play football that badly, he put him at LT.

— Tony Grossi (@TonyGrossi) August 16, 2021
He played with the Browns for 13 years, and was the team's MVP in 1963, the last time the designation was made.
Besides playing in 6 Pro Bowls, Schafrath was voted on to a 7th Pro Bowl team.
But in 1969, he opted to go to Vietnam as part of the USO entertaining American troops.
Schafrath was named to the All-Pro Team 4 times.
Second Career For the Mule 
Schafrath was known as "the mule" by his family and teammates, partly for his strength, but also his stubbornness.
After resisting several offers, George Allen coaxed Schafrath into taking an offensive line coaching job from 1975-77.
Then, Schafrath got into politics, enlisting support (and appearances) of famous athletes for the Reagan campaign.
With the support of Woody Hayes, Schafrath ran for state senator, and ousted an incumbent state senator in 1986.
Coach Shafrath- The Epitome of A General! Class of 1955 OSU All-American Tackle, played in 7 NFL Pro-Bowls and was a State Senator. Blocked for Jim Brown, Leroy Kelly, and Bobby Mitchell. 1964 NFL Champ. Rest in Peace Coach. #ALWAYSAGENERAL #HEAROFAMULE https://t.co/ZR9vaL5rqZ

— Wooster HS Athletics (@alwaysageneral) August 16, 2021
He sat on the Ohio legislature until his retirement from politics in 2003.
That was when Schafrath returned to his alma mater and earned a bachelors degree from Ohio State.
As part of his classwork, he wrote an autobiography titled, "Heart of a Mule."
You can read more about Dick Schafrath's interesting life in this Browns Nation profile.
Dick Schafrath was 84 years old