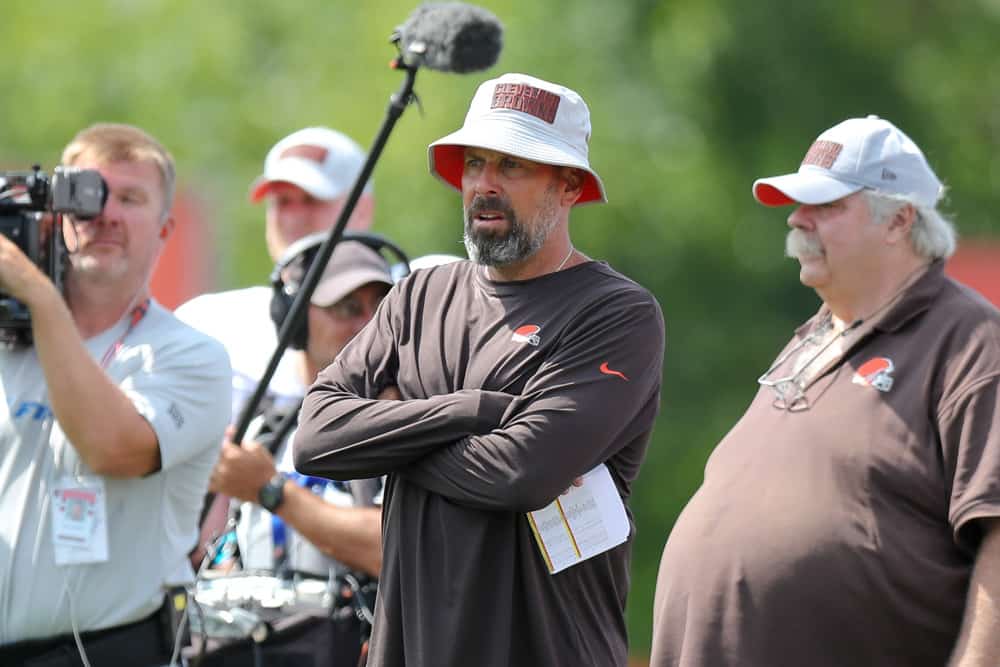 Former Cleveland Browns offensive coordinator Todd Haley has a new job.
The 52-year-old coach has been hired as the offensive coordinator for Riverview High School in Sarasota, Florida.
"We are excited to have Todd Haley join our staff as Offensive Coordinator," the Riverview Rams Football Facebook page posted on Thursday. "His NFL experience with the Bears, Cowboys, Steelers and many others is a welcomed addition to your 4x Defending District Champion Mighty Rams! #RamLife #WeBleedMaroon"
Haley served as the Kansas City Chiefs head coach from 2009-2011 and also worked for the Arizona Cardinals, Chicago Bears, Dallas Cowboys, New York Jets and Pittsburgh Steelers.
He replaces Jared Clark, who was hired as head coach at Cardinal Mooney Catholic High School in Sarasota.
Haley worked as the Browns offensive coordinator in 2018 under head coach Hue Jackson.
Both Jackson and Haley got fired after the Week 8 loss to the Steelers.
At the time, the Browns had a 2-5-1 record.
Sarasota Herald-Tribune reporter Doug Fernandes reported Haley has a home in the Sarasota area and his daughter attends Out-of-Door Academy, a private school in Sarasota.
The publication reported Haley got introduced to Riverview High School head coach Josh Smithers through former player T.J. Nutter, who played linebacker at Riverview, Tennessee Tech, and the University of South Florida.
"We were talking and he brought him up and I asked him, 'You think he'd watch some film?' " Smithers told the publication. "So he came over to Riverview late in the season and we watched some film.

"At that point we do what we do. We're not going to change anything."
The Herald-Tribune reported Haley took some time to consider the offer before deciding to take the position.
"We're obviously excited that he wanted to join the staff and hoping we can learn a lot of football from him," Smithers said.
Haley has never coached at the high school level.
"We talked about the high school game being different than the pro game," Smithers said. "And he was all fired up, just to get out there and coach football again. He understands these are high school kids who go to school all day and you get them for a couple of hours versus people who do it for a job.

"He told me he's excited just to teach quarterbacks how to read coverages and receivers how to run better routes.

"And I think that's where he's going to be able to excel. His ability to understand defensive coverages and have an answer for everything."
Riverview finished with a 9-3 record in 2019, losing to Steinbrenner in the regional semifinals of the Class 8A FHSAA playoffs.