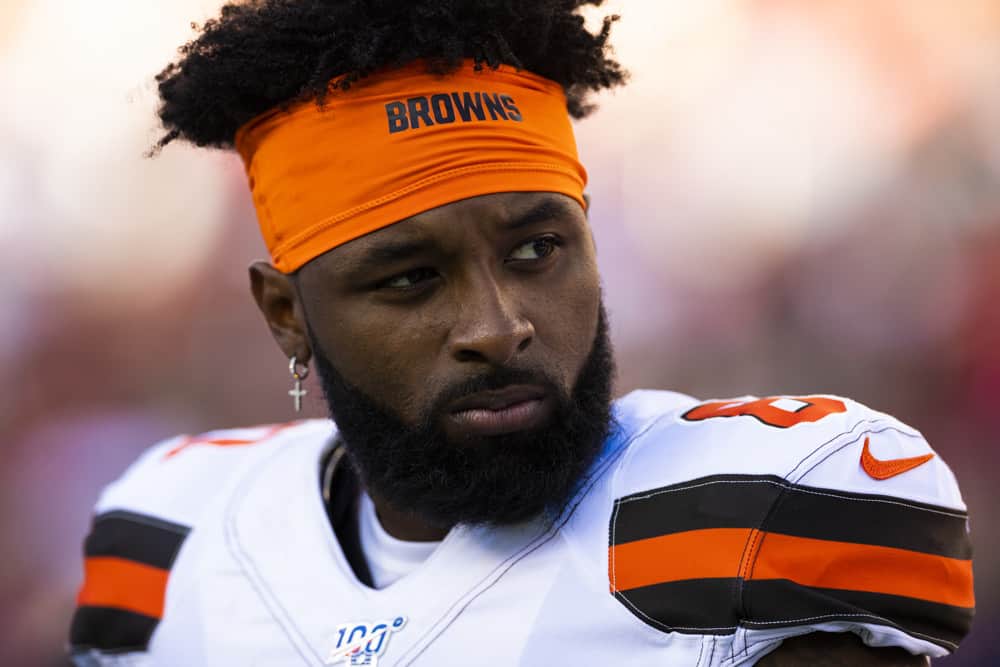 Cleveland Browns wide receiver Jarvis Landry has come to the rescue of Odell Beckham Jr.
Perhaps the two teammates are playing the "good cop/bad cop" routine.
Landry on Tuesday responded to ESPN television personality Stephen A. Smith's criticism of Beckham's commentary to the Wall Street Journal Magazine, in which OBJ told the publication he thinks NFL owners "don't see us [players] as human," and that he believes the 2020 season should not happen.
While the WSJ Magazine published its Q&A with Beckham on Monday, the interview took place before the NFL-NFLPA agreement on July 24, which includes increased COVID-19 precautions.
"No[t] one time…NOT ONE TIME did @obj say anything about color!!!" Landry wrote in reply to Smith's Instagram post. "The statement made was made before protocols were put in place to make sure the safety of the players, coaches and essential staff were protected. At that point yes it was confusing and what @obj said was correct.

"@stephenasmith you know how this works[,] story get done and ran 3-5 weeks later and you fall all over it and try to make a sense about the topic. "As a black man" if you gon say that call @obj and tell him that."
It appears Landry has since deleted his reply to Smith.
During Tuesday's edition of ESPN's "First Take," Smith discussed his belief that Beckham's comments insinuated race played a factor in the NFL's decision to go forward with the 2020 season.
"I'm a Black man. When [you're going to] bring up race, make it count please," Smith said. "That's all I ask. Make it count."

"The NFL who employs you, okay, is choosing to have a season. By the way, you're choosing to play in that season. You got a check, right? But in the same breath, you're gonna complain about the season that you've elected to participate in, knowing you're gonna get paid for it? What type of damn sense does that make? It makes no sense whatsoever."
Smith said race isn't a factor in the decision of whether to play the 2020 season amid the coronavirus pandemic.
"The protests have been about racial oppression, racial inequality, things of that nature," Smith said. "That isn't applicable to you in this sequence, Odell Beckham Jr. or any other NFL player. You have the choice to play and get paid, or don't play and don't get paid. It's a choice."
Beckham reported to training camp on July 28.
Reports indicate Beckham is planning to play the 2020 season.
In an interview conducted weeks ago, here is what Beckham told WSJ Magazine staff writer Lane Florsheim:
"That's how I feel. Obviously with everything that's going on, it doesn't make sense why we're trying to do this. I can understand basketball was already in the playoffs. Five-on-five basketball in an arena is going to be more intense than regular-season games. Hooping is different than playing an eleven-on-eleven contact sport where there's 80 people in a locker room. We're not ready for football season. So why are we trying to push forward? It's obviously for their money. And that bothers me because there's always been this—and I hate saying it like that—but the owners' [attitude is], Oh we own you guys, and just kind of that unfairness going on that they don't see us as human. I just feel like the season shouldn't happen and I'm prepared for it to not happen and I wouldn't mind not having it."
NFL players have until 4 p.m. ET Thursday to provide their team written notice should they choose to opt out of the 2020 season.
If a player chooses to opt out, the decision is irrevocable.
Players who choose to opt out for approved medical reasons receive a $350,000 stipend for 2020 and not advance against future salary.
Other players who opt out for other COVID-19 concerns receive a $150,000 for the season, which is treated as a salary advance and come out of future years' pay unless the player is an undrafted rookie.