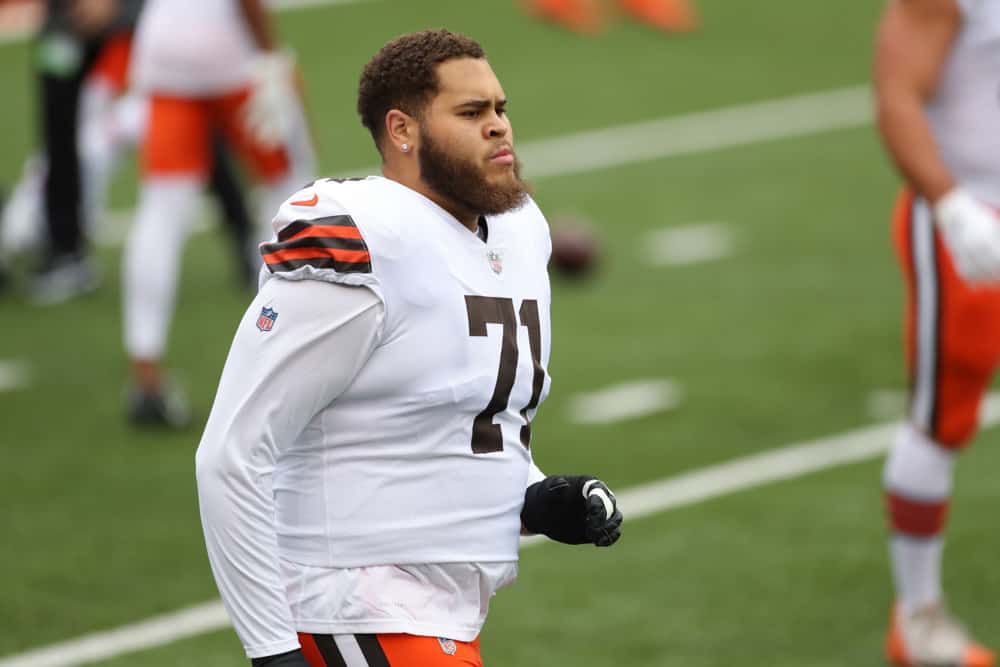 Cleveland Browns second-year left tackle Jedrick Wills Jr. is clarifying his praise of backup quarterback Case Keenum, which some people took as a slight to Baker Mayfield.
"Bro y'all are weird," Wills tweeted, along with two laughing emojis. "Case played a good game, not s**tting on Bake at all. Relax."
Bro y'all are weird 😂😂😂 Case played a good game, not shitting on Bake at all. Relax https://t.co/ZmeCsZS7r0

— Jedrick Wills Jr.®️++💕 (@JWills73) October 25, 2021
On Monday, a reporter asked Wills about his confidence level in Keenum, who started in Week 7 for an injured Mayfield.
"It's very good," Wills said. "We didn't feel any drop-off. Case is a veteran guy who has played multiple…he's probably played in more games than I have in my whole career.

"There's no drop-off. Everything felt very smooth. (He) ran the offensive smooth and everything was fine."
Mayfield's left shoulder injury forced him to break his streak of 51 consecutive starts.
"They're both leaders in their own way," Wills said of the difference between Mayfield and Keenum. "There's not really anything distinctive."
Mayfield did not practice on Monday, and it's unclear when he will return.
The Browns defeated the Denver Broncos 17-14 on Thursday Night Football, and Keenum completed 21 of 33 passes for 199 yards and a touchdown.
It marked Keenum's first start since Dec. 29, 2019, when he started the final game of the year for the Washington Football Team.
Keenum, 33, has a 28-35 career record as a starter and has played in 72 NFL games.
The Browns have had several quarterback battles in the last two decades.
Since 1999, the Browns had had 31 different starting quarterbacks.
Wills returned to practice Monday after playing in all 71 of the Browns' offensive snaps against the Broncos.
It marked the first game Wills played in 100% of the Browns' offensive snaps this season.
"I feel like after that Kansas City game I probably should have sat down for at least a couple weeks, let it get back to 100 percent, but that's the name of the game," Wills said. "Fought through it and tried to get some wins under our belt as a team."
Before Week 7, Wills said he had rolled his ankle in each of the Browns' first four games.
Wills' ankle injuries forced him to miss Weeks 5 and 6.
"It's challenging," Wills said. "It was just bad luck stacking on top of each other. I've never had any major injuries like this one that I had to play through, but I feel like everyone has dings and sprains they play through. It's just part of the game."
On Sunday, Wills and the Browns will have to stop the Pittsburgh Steelers' front seven led by edge rusher T.J. Watt and defensive tackle Cameron Heyward.
"I know that was one of our points of emphasis last year was trying to change up the cadence a little bit," Wills said of Watt. "He has a really, really good get-off, which helps him get those strip-sacks or those forced fumbles around the edge."
While Watt leads the Steelers in sacks (7.0), he typically lines up over an opposing offense's right tackle.
Browns starting right tackle Jack Conklin (knee) returned to practice on Monday.
Conklin hasn't played since Week 5.