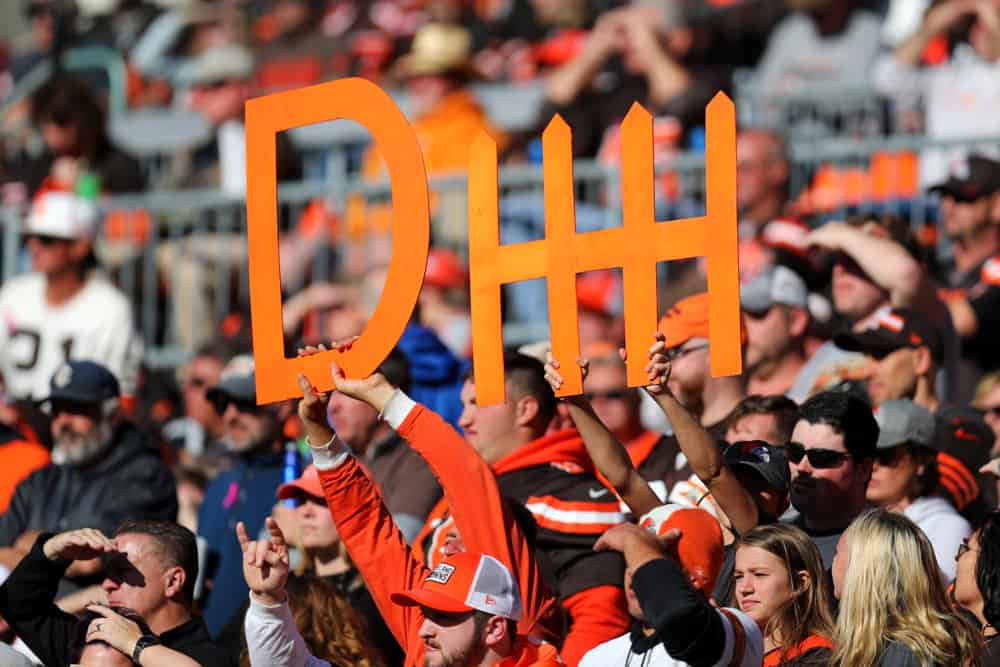 The Cleveland Browns are adding a man with Super Bowl experience to the coaching staff in new defensive coordinator Joe Woods.
He comes to Cleveland after one year in San Francisco where he oversaw a top-ranked defense as the defensive backs coach.
His defense allowed the fewest pass yards per game of any defense during the regular season.
The #Browns agreed to terms with Joe Woods to be their defensive coordinator, source said. The expected move, now official.

— Tom Pelissero (@TomPelissero) February 6, 2020
Now that the move was made official this week fans may be wondering who Woods could bring with him.
He spent 2019 with the 49ers and was with the Denver Broncos from 2015-2018.
Looking at those two teams reveals some great available talent.
San Francisco 49ers
The 49ers have three free agents in the secondary.
Corners Jason Verrett and Dontae Johnson are unrestricted free agents, as is safety Jimmie Ward.
Verrett has had injury issues and missed all of 2018 and most of 2019 and Johnson did not play much.
Ward is someone the Browns should target even though he has stated he wants to remain with the 49ers as long as they keep him at safety.
If they want to move him, the Browns could jump in and give him what he wants.
Ward finished the year with a career-high 65 tackles in what was a contract year.
He could get lost in the shuffle when the 49ers try to retain all their talent and is a name to watch.
Elsewhere, the 49ers have talent up front for the Browns to target for depth.
Weston Richburg contract restructure tells us that the 49ers have already been maneuvering to keep as much of the 2019 team together as possible. High-profile free agents:

-Arik Armstead
-Jimmie Ward
-Emmanuel Sanders

In line for extensions:

-George Kittle
-DeForest Buckner

— David Lombardi (@LombardiHimself) February 4, 2020
Arik Armstead is the best of the bunch, but guys like Anthony Zettel and Ronald Blair would also be cheap depth options.
Zettel, as some diehards may recall, spent time with the Browns in 2018.
The 49ers don't have stars hitting the market for the Browns to take.
But Woods could convince the front office to give a few guys a chance, even if it is someone cheap like Zettel or Blair.
Denver Broncos
The Denver Broncos have plenty of talent to choose from.
Von Miller is the biggest name, though there is a club option for him.
A most reasonable and realistic move would be to sign safety Justin Simmons.
He was tied for second on the team in tackles and had a team-best four interceptions.
Congrats to #Broncos safety Justin Simmons (@jsimms1119) for making @PFF's Top 101 NFL players list! 👏👏👏 https://t.co/BQZyJMLkIe

— Broncos Wire (@TheBroncosWire) February 6, 2020
He is set to earn a big contract and the Browns could bring in a veteran who also has experience playing under Woods.
Elsewhere on the roster, there aren't too many realistic and affordable options for the Browns.
Corner Chris Harris is getting up there in age and a talented defensive end like Derek Wolfe is too expensive.
Unless the front office tells Woods they want to spend big and get his input on some of his former players.
A New Regime
It is hard to predict what the new front office will want to do.
There is plenty of cap space, but the team also has to keep in mind the future extensions for Myles Garrett, Baker Mayfield, and Denzel Ward.
The defense struggled with depth in 2019 and trusting Woods' word on some 49ers and Broncos free agents would be a good step toward having true unity in the building.