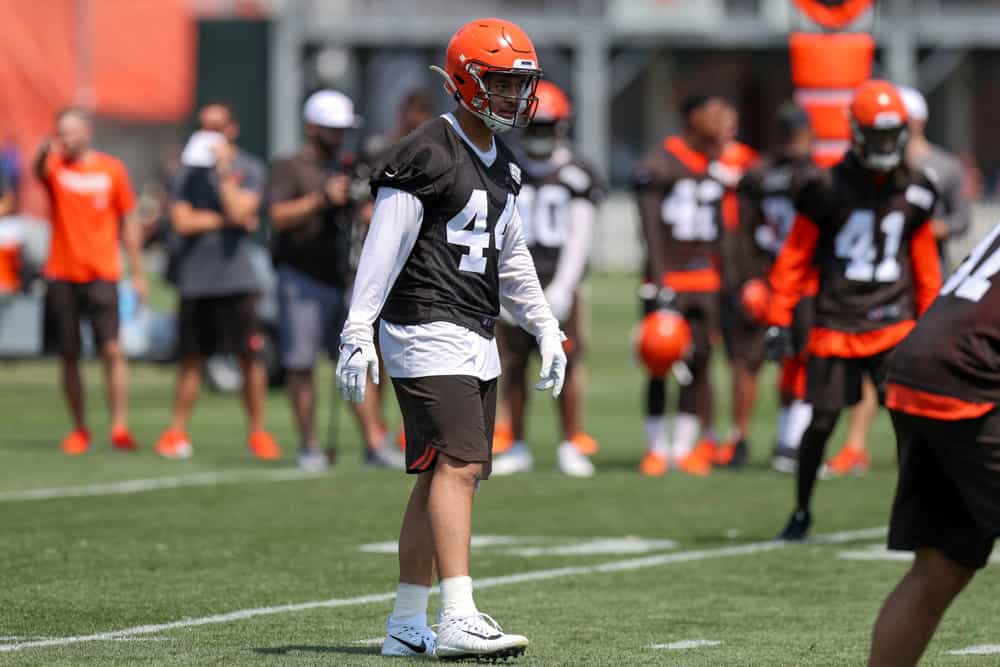 The Cleveland Browns hired Joe Woods as their new defensive coordinator this offseason.
He previously has worked with the Denver Broncos as their defensive coordinator.
However, he is going to inherit a bunch of young talented players on this Browns defense.
Cleveland has a stacked defensive line and some of the best young defensive backs in the league.
Although, the weakest link for Cleveland going into 2020 is at the linebacker spot.
Woods believes in the Browns linebackers and sees them developing quickly with Cleveland.
He has a plan to feel them out once training camp begins.
"Right now, we are giving them some primary positions to learn, but (linebackers coach) Coach (Jason) Tarver and (senior defensive assistant) Coach (Ben) Bloom are really trying to cross-train most of the linebackers," Woods said  in a video call with local reporters. "This is going to be a situation where once we get on the field and we start running our defense, it is going to be how well they fit in a specific position."
 Browns Linebackers
The linebacker position is the biggest question mark for the Browns heading into next season.
They have second-year linebacker Mack Wilson who looks like he might be the only trustworthy option at the moment.
He recorded 82 tackles, four tackles for loss, and one sack through 16 games last season.
After Wilson it gets slim in terms of reliable depth on the roster.
The Browns added four-year veteran B.J. Goodson to their roster this offseason.
OFFICIAL: Welcome to Cleveland, @B_Good_Son!

We've added depth at LB with the signing of B.J. Goodson » https://t.co/ahiGnPrqRn pic.twitter.com/zg2jRVv0aG

— Cleveland Browns (@Browns) March 20, 2020
He is projected to be a starter alongside Wilson to begin the season.
After those two, it becomes a toss-up for the other starting linebacker spot.
Currently, Sione Takitaki is projected to win the starting spot, but it'll likely depend on how he plays during camp.
How is Woods Going to Help?
Woods does not have much experience to work with at linebacker, but has plenty of young players with potential.
He believes that Wilson and Takitaki are going to be a strong pairing together.
"They are both athletic, they have cover skills, they have range," Woods said.
Both players were drafted in the same draft class, but two rounds apart.
Woods also mentioned that he plans to implement a 4-3 scheme this season.
The Browns are likely going to move players around during camp and see what works the best.
Cleveland might change their scheme though depending on their opponent, but it sounds like Woods wants to push a 4-3 scheme.
Are The Browns Linebackers Up For The Challenge?
The Browns plan to cross-train most of the linebackers once they begin camp.
Goodson is the most experienced linebacker on the roster, but is coming off a down year in 2019.
He recorded 37 tackles through 15 games (nine starts) with the Green Bay Packers last season.
Wilson is coming off a strong rookie campaign and is only 22 years old right now.
He has plenty of time to learn and grow as a player in the NFL.
The biggest problem is finding another linebacker that can step up to the plate.
Woods believes that Takitaki has the talent to make it in this league.
He doesn't have much experience as a starter, but we'll see how he progresses during camp.
It's safe to say the linebacker spot is the weakest spot on the Browns defense right now.
However, they should be able to improve with Woods helping them along in 2020.