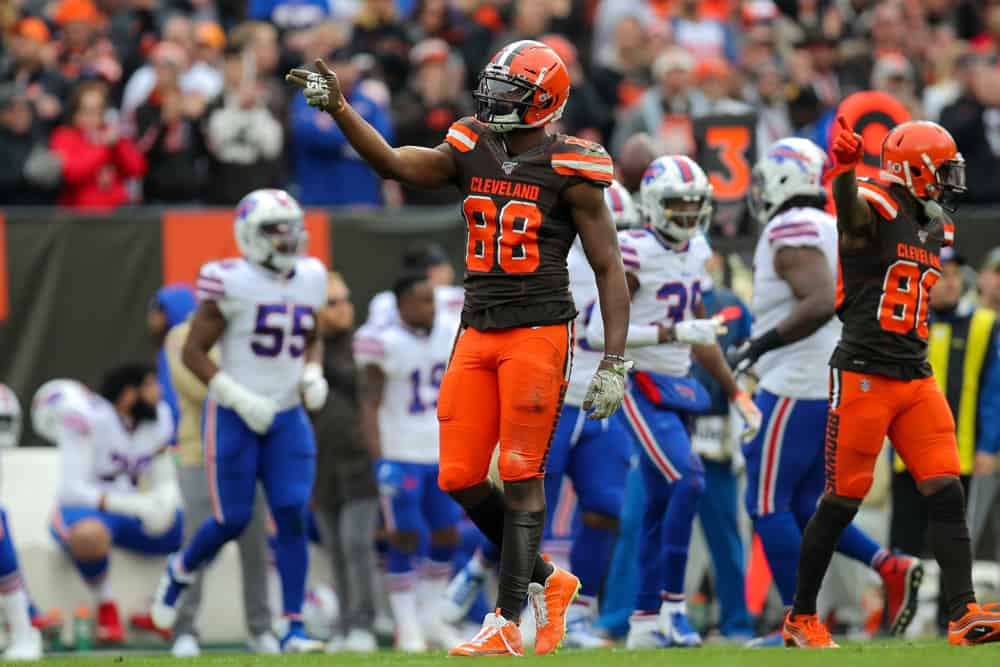 The Cleveland Browns defeated the Buffalo Bills on Sunday, moving their record to 3-6. Almost every player on the team increased their offensive productivity.
Baker Mayfield looked better in the pocket. The offensive line allowed only two sacks. Nick Chubb continued to excel as one of the league's top rushers. Jarvis Landry caught nine passes, including a touchdown. Odell Beckham Jr. picked up four first downs. Even Rashard Higgins contributed with the team's highest run-blocking grade via Pro Football Focus (80.8) and a 7-yard touchdown.
Two unexpected performances stand out among the crowd, though. Kareem Hunt, who returned from suspension this week, showed off his versatility out of the backfield, catching 7-of-9 targets for 44 receiving yards. He rushed 4 times for 30 yards, earning 7.5 yards per carry.
Most importantly, Hunt helped to protect the pocket and offer Mayfield a viable check-down option. Hunt graded out as the Browns' top running back this week (72.4), slightly ahead of Chubb (65.5). It looks like Freddie Kitchens figured out a way for Hunt to compliment Chubb rather than drain his snap share.
Kareem Hunt rolls through Bills for 19-yard gain
#Bills vs #Browns pic.twitter.com/3IftlwvLIa

— Browns Replay (@BrownsReplay) November 10, 2019
Prior to the game against the Bills, Cleveland raved about the endless possibilities of a true two-headed monster with Hunt and Chubb. That fantasy is now a reality.
One player that Cleveland never expected to significantly help the Browns win their first game since Week 4 is Demetrius Harris. Wait, who?
Harris mixes in snaps at the tight end position with Pharaoh Brown and Stephen Carlson with David Njoku currently out due to injury.
This week, he caught 2-of-2 targets for 28 receiving yards and 2 first downs. He graded out (73.3) higher than both Rashard Higgins (64.1) and Odell Beckham Jr. (60.1) in the receiving game.
More impressively, Harris graded out as the team's second-best pass blocker (73.3). He provided Mayfield with valuable time in the pocket, which could open Kitchen's eyes to the value of the 12 personnel.
Harris struggled with run-blocking, but the Browns don't need help in that area.
Both Hunt and Harris should continue to help the Browns' struggling offensive line. If Mayfield starts to get more time in the pocket, his production level will increase.
As an added bonus, both Hunt and Harris are good options in the receiving game. The Browns' wide receiver core is top-notch, but finding the right balance with all their weapons will be the key to success moving forward.
Next week, the Browns must build on this Sunday's pass-blocking success, giving Hunt and Harris more opportunities to help this team win games.