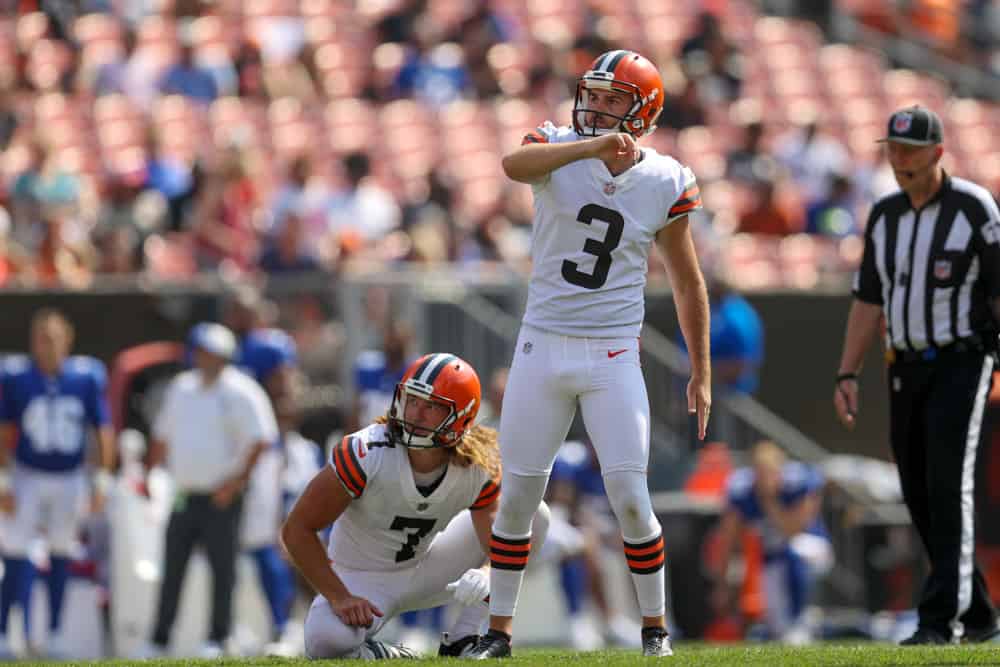 Cleveland Browns head coach Kevin Stefanski announced Monday that he is planning to start kicker Chase McLaughlin in the regular-season opener against the Kansas City Chiefs.
"We're going into game one with Chase for sure," Stefanski said. "I mean, it's a competition at every position throughout the season, but the plan was to have two kickers on the roster."
Last week, the Browns signed undrafted rookie kicker Chris Naggar to their practice squad.
McLaughlin, 25, made 4-of-5 field goals and 4-of-5 extra points in the preseason.
McLaughlin's lone field goal miss came on a 57-yard attempt.
Naggar, 23, made 1-of-2 field goals in his one preseason game while playing for the New York Jets, who waived him in mid-August.
In Naggar's lone preseason appearance, he made a 30-yard field-goal attempt, but missed a 53-yarder.
Since the Browns signed Naggar to their practice squad, video has resurfaced on social media of Naggar making a wind-aided 71-yard field goal off of a kicking tee.
If McLaughlin struggles at all during the early part of the 2021 season, the Browns could turn to Naggar, especially considering former Browns kicker Cody Parkey took over for Austin Seibert last September.
Seibert missed a 41-yard field goal attempt and an extra point in the Browns' 38-6 season-opening loss to the Baltimore Ravens on Sept. 13, 2020.
The Browns waived Seibert the next day, and signed Parkey to the active roster.
In 2020, Parkey went 19-of-22 on field goals (86.4%) and 43-of-47 on extra points (91.5%) in 15 regular-season games.
Parkey suffered a quad injury in the Aug. 22 preseason game against the New York Giants.
The Browns then put Parkey on injured reserve before waiving him.
Last season, McLaughlin went 4-of-5 on field goals (80%) and 5-of-6 on extra points (83.3%) in four regular-season games (three for the Jacksonville Jaguars and one for the New York Jets).
McLaughlin also played for the Indianapolis Colts, the Los Angeles Chargers and the San Francisco 49ers in 2019.
In 2019, McLaughlin started his professional career when the Buffalo Bills signed him as an undrafted free agent out of Illinois.
In McLaughlin's NFL career, he's made 22-of-28 field goals (78.6%) and 31-of-32 extra points (96.9%).
In Parkey's NFL career, he has gone 121-of-143 (84.6%) on field goals and 197-of-209 on his extra points (94.3%).
While Parkey's career-long field goal of 54 yards is longer than McLaughlin's best of 52 yards, Parkey did not attempt a field goal of 50 yards or longer during the 2020 season.
Parkey is known among NFL fans for his infamous "double doink" field goal attempt in the Chicago Bears' NFC Wild Card game on Jan. 6, 2019, against the Philadelphia Eagles.
However, Parkey has made 8-of-10 field goals from 50 yards or longer in his NFL career.