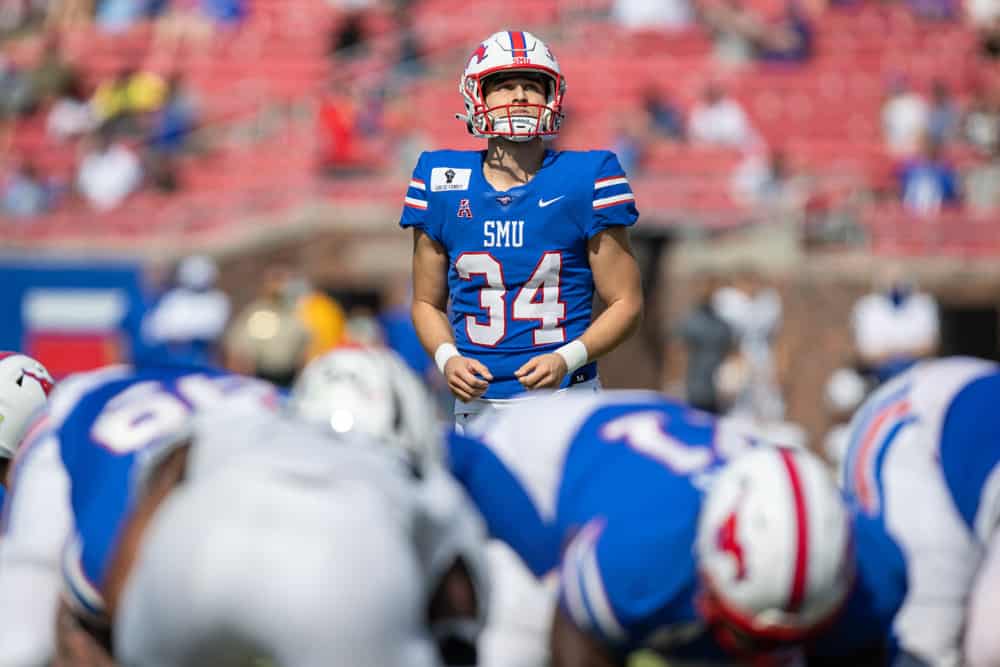 The Cleveland Browns announced Thursday they signed kicker Chris Naggar to their practice squad.
The Browns still have one opening on their practice squad out of the total of 16 spots.
Naggar, 23, is an undrafted rookie who had signed to the New York Jets out of SMU.
The Browns could turn to Naggar if they don't feel comfortable with kicker Chase McLaughlin as the Sept. 12 regular-season opener against the Kansas City Chiefs approaches.
McLaughlin has made the Browns' initial 53-man roster.
On Tuesday, Akron Beacon Journal reporter Nate Ulrich asked Browns head coach Kevin Stefanski if he had a specific message for McLaughlin.
"I don't know that I have a message for any of our players, really," Stefanski said. "It's show up and work, for all of our guys."
In the preseason, McLaughlin made 4-of-5 field goals and 4-of-5 extra points.
McLaughlin's lone field goal miss came on a 57-yard attempt.
In Naggar's lone preseason appearance, he made a 30-yard attempt, but missed a 53-yarder.
Since Naggar's signing, a 2019 video has resurfaced on social media of him making a 71-yard field goal off of a kicking tee.
Naggar acknowledged on Twitter that his field goal was wind-aided.
The video shows him wearing burnt orange Texas Longhorns shorts.
"…bUt thErE wAs WiND"

71 yards. 🎥: @BCarringtonUT pic.twitter.com/WyQSXUvqfu

— Chris Naggar (@chrisnaggar) December 29, 2019
Former Browns kicker Cody Parkey suffered a quad injury in the Aug. 22 preseason game against the New York Giants.
The Browns then put Parkey on injured reserve before waiving him.
While Parkey made went 19-of-22 (86.4%) on his field-goal attempts for the Browns in 2020, he did not attempt a field goal of 50 yards or longer.
Parkey is known among NFL fans for his infamous 43-yard "double doink" field goal attempt in the Chicago Bears' NFC Wild Card game on Jan. 6, 2019, against the Philadelphia Eagles.
However, Parkey has made 8-of-10 field goals from 50 yards or longer in his NFL career.
In the NFL regular season, Parkey's career-long is 54 yards and McLaughlin's career-long is 52 yards.
Parkey has made 84.6% of his field-goal attempts in his NFL career while McLaughlin has made 78.6% of his field-goal attempts.
In September 2020, the Browns signed Parkey to the active roster from the practice squad.
Parkey took over for Austin Seibert, who missed a 41-yard field goal attempt and an extra point in the Browns' 38-6 season-opening loss to the Baltimore Ravens on Sept. 13, 2020.
Naggar has yet to appear in a regular-season game.
In mid-August, the Jets waived Naggar after they had signed him in May.
Ahead of the start of the 2021 regular season, the Jets signed kicker Matt Ammendola and cut kicker Sam Ficken.
Naggar played from 2016-2019 for Texas before transferring to SMU for his redshirt senior season.
In 2020 for the Mustangs, Naggar made 17-of-21 field goals (80.95%) and 43-of-46 extra points (93.47%).
Last season, Naggar was the AAC Special Teams Player of the Year.
The Arlington, Texas, native also punted for both SMU and Texas.
Going camping #Year1 pic.twitter.com/VHPz6Y6bdu

— Chris Naggar (@chrisnaggar) July 26, 2021