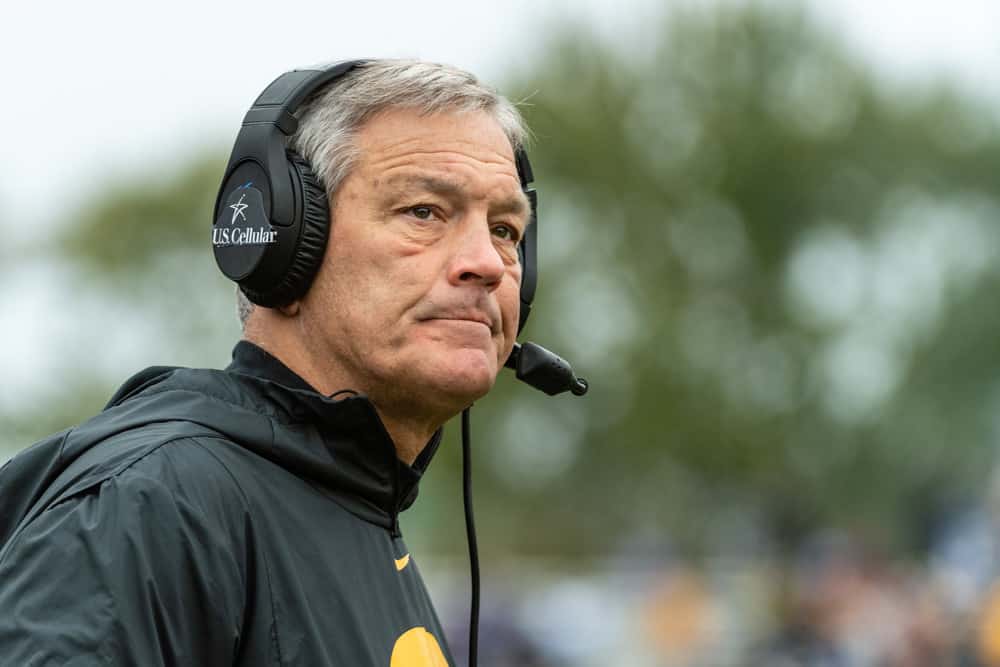 The last time Cleveland Browns fans heard the name Kirk Ferentz was when he said that the organization would be lucky if Iowa offensive tackle Tristan Wirfs fell to No. 10 overall in the 2020 NFL Draft.
Ferentz, who was the offensive line coach for the Browns from 1993 to 1995, joined the Dan Patrick Show radio show on Thursday.
The Iowa head football coach discussed his commitment to Iowa and the reason for not taking the Browns coaching job in 2008.
Ferentz, who took over the Iowa Hawkeyes coaching job in 1999, took over for the retiring Hayden Fry and has been in Iowa City, Iowa since.
Before his current coaching position, he had a long road of coaching positions.
Ferentz's Decision to Stay with the Hawkeyes Instead of Coaching the Browns
In 1999, the team struggled, but that was not for long.
He led Iowa's quick accession and brought the team to six straight bowl game appearances.
The team was No. 8 in the AP postseason poll from 2002 to 2004 and won double-digit games each of those years.
In 2007, the Hawkeyes took a step back with a 6-6 record and did not make a bowl game.
After the frustrating 2007 season for Iowa, Ferentz was in the discussion for the Browns head coaching job.
On the Dan Patrick Show, Ferentz said that he just did not have a strong enough reason to head to Cleveland:
"I always felt like I needed a compelling reason to look elsewhere."
Ferentz and his wife continue to love Iowa too much to leave:
"We've always loved living here, we loved it as a family, and the professional opportunities have been great."
His family has embraced the Hawkeye tradition as well:
"I never felt a compelling reason to leave. And the other side spot, which you can never count on this, but we've had three of our sons go through the program. So it's really hard to put a price tag on that. It's really been a valuable and very unique experience that way."
Ferentz finished his 21st head coaching season at Iowa in 2019.
The four-time Big Ten Coach of the Year has a career record of 162-104 at Iowa.
Ferentz's Career with Iowa and the Browns
Ferentz, who played for the University of Connecticut Huskies from 1974 to 1976, went on to be a graduate assistant for the college football team.
He had a couple of other positions before heading to the Midwest.
Ferentz began his Iowa football coaching career as the offensive line coach in 1981:
"I came here in 1981 from Pittsburgh. I grew up in Pittsburgh. I was working for my high school coach Joe Moore, who is my all-time mentor in sports."
He and his wife Mary soon learned to enjoy Iowa:
"I had an opportunity to come out here in 1981 thinking I'd be here one year, two years, get back to the East Coast, and we stayed here nine years. It was hard for both of us, Mary and I, to leave. Then, nine years gone and back here [for] 21."
Ferentz then was the head football coach at the University of Maine before multiple assistant coaching jobs.
He was the offensive line coach during Bill Belichick's final three seasons with the Browns.
The middle of those three years was Cleveland's last 11-win season.
After the Browns relocated to Baltimore, he rose the ranks to become the offensive coordinator in 1997 and 1998.