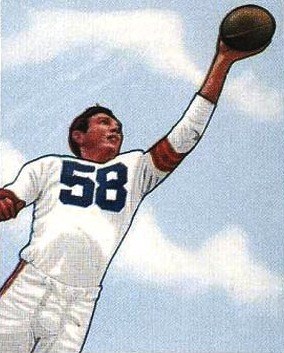 When they began play in 1946, the inaugural Cleveland Browns team was loaded.
Coach Paul Brown had already recruited many of his former players as well as former opponents shortly after he was hired the year before.
Lou "The Toe" Groza, Dante Lavelli, Otto Graham, Marion Motley, Bill Willis, and Mac Speedie were the talisman of greatness for the early Browns.
From 1946-1949, Cleveland won all four All-American Football Conference championships.
After the AAFC folded following the '49 season, the Browns joined the NFL in 1950 and promptly won the championship that year.
Cleveland's core group of players paced the team each year and gelled into an almost unstoppable unit.
During that stretch of championship football, Speedie personified who the Browns were through his playing style.
A tall, rangy receiver who had a nose for the football, Speedie brought his 'A' game every week.
Not only did Speedie set the tone for the Browns, he was also a standard bearer of receiver play in the NFL.
Four times during his pro career, Speedie was the leading receiver in the league.
His talent was undeniable and he is remembered as someone who future pass catchers modeled their game after.
This is the story of the life and career of Mac Speedie.
Today we feature 2020 Class member and @Browns legend Mac Speedie!

View Speedie's Bio: https://t.co/mE8GV4obIk#PFHOF20 pic.twitter.com/iUBN5knSP1

— Pro Football Hall of Fame (@ProFootballHOF) April 11, 2020
Growing up in Utah
If you're going to be a receiver in the National Football League, it helps if your last name matches the position.
how is mac speedie a real name pic.twitter.com/OdukC6xy5C

— Mac McCann (@MacMcCannTX) December 29, 2019
Mac Curtis Speedie was born on January 12, 1920 in Odell, Illinois.
As a child, Speedie had to overcome Perthes Disease.
Perthes is a condition where growth, or loss, of bone mass in the hip joint affects blood supply to that area.
Because of the condition, Speedie had to wear a brace for four years to attempt to correct the problem.
Ultimately, one of his legs was shorter than the other.
From The Armchair Quarterback, collected by Thorn and this quote is by Pulitzer winner Dave Anderson who notes the incredible journey of Hall of Famer Mac Speedie on his road to become an incredible athlete: pic.twitter.com/Yg87yPkEa4

— Football Stories (@OldNFLStories) July 18, 2020
This didn't prevent Speedie from excelling in sports, however.
By the time he was in high school, the Speedie family had moved to Salt Lake City.
Attending South High School in Salt Lake, Speedie played basketball, football, and track.
He did especially well in track where he ran hurdles.
Years later, he attributed running hurdles to his success on the gridiron.
"Hurdling is all speed, balance, and perfect timing," said Speedie.  "I think that helped me more than anything else in becoming successful in football."
In addition to his track prowess, Speedie was a center for South's basketball team and garnered recognition as one of Salt Lake's best halfbacks in football.
Of course, his athletic exploits only happened because Speedie no longer wore braces.
For Speedie, when he was finally cleared from having to wear the braces it "was like turning a frisky colt out to pasture after a year in a box stall," he once said. "I had such a backlog of athletic ambition that I wanted to play football, basketball, and track all at one time."

University of Utah
Speedie's athletic skills brought him attention from a number of nearby colleges.
He chose to stay close to home by attending the University of Utah in Salt Lake.
Picking up where he left off in high school, Speedie played all three sports for the Redskins (their name has since been changed to the "Utes").
As a receiver for the football team, Speedie was a star.  From 1939-1941, he was an All-Conference selection each season.
In his final season at Utah, Speedie was named as an All-American honorable mention.
After graduating from Utah in 1942 with a degree in geology, Speedie was selected with the 135th pick in the 15th round of the NFL Draft by the Lions.
@Utah_Football has their 2nd member of the Pro Football HOF, WR Mac Speedie. Speedie was All-Conference for Utah 3X. After college, he served 4 years in the Army and then started his pro career w/ Cleveland. He was a 6x All Pro, 4x led in receptions & won 5 titles with the Browns pic.twitter.com/B2GH4SbdBC

— The 27 Inch, 12 lb @JoeWheat27 Burner (@UtahMan1850) January 15, 2020
Military Service
Despite being drafted to play pro ball, WWII had brought the U.S. into the war when the Japanese attacked Pearl Harbor in December of 1941.
Instead of reporting to Detroit, Speedie enlisted in the military and was stationed at Fort Warren in Wyoming.
While at Fort Warren, Speedie played for the base's football team, who were called the Broncos.
Shortly after arriving at Fort Warren, Lions owner Fred Mandel traveled to the base and offered Speedie a contract for $2,800.
Speedie accepted the offer, but Mandel wanted to wait until the war ended before Speedie signed his contract.
By the time the war finally ended though, Speedie was considering going to the Chicago Rockets of the newly formed AAFC.
Destiny arrived in 1944 and led Speedie in a different direction.
In a game played against Great Lakes Naval Academy in 1944, Speedie and his Broncos team were spanked by the Bluejacket team 28-7.
However, his play that day was enough to get the attention of Great Lakes football coach, Paul Brown.
There used to be, especially in night games. Yes that's 6-time All-Pro Mac Speedie, [great name]. Paul Brown spotted him in an armed forces game while he was the coach of the powerhouse Great Lakes squad. pic.twitter.com/X3TrsyOUwI

— Bill Carroll (@elevenbravo138) December 5, 2019

Little did Speedie know that Brown was helping to start his own team in the AAFC.
Businessman Arthur "Mickey" McBride had bought the rights for a Cleveland franchise in the new league.
He tapped Brown as his man since the coach had ties to the area.
Once hired, Brown immediately began assembling his new team.
In a bid to gain Speedie's service, Brown offered him a $7,000 contract.
Speedie happily accepted.

Speedie Hits the Ground Running in 1946 and 1947  
With such a stacked team, the Browns blew through the regular season with a 12-2 record.
Speedie had 24 catches for 564 yards and seven touchdowns.
During the inaugural 1946 season, Speedie caught the first touchdown in the AAFC's existence.
His score led to a 44-0 win over the Miami Seahawks.
Because of his history of Perthes Disease, Speedie had an unusual running style.
However, his unorthodox movement helped him become an elusive pro receiver.
He later commented that his unusual route running "gave him an odd gait in which he could fake plays without even trying."
With a 12-2 record in hand, the Browns faced the New York (football) Yankees in the AAFC Championship.
In the week leading up to the game, however, Speedie and a few of his teammates found themselves in a little hot water.
While waiting at the airport for his wife to arrive on a flight, Speedie and two teammates, Jim Daniell and Lou Rymkus got into an argument with some Cleveland police officers.
The trio were arrested and Coach Brown kicked Daniell (the team's captain) off the team.
After being held for several hours and charged with disturbing the peace, Speedie and Rymkus rejoined the team.
During the championship game against the Yankees, Speedie collected six catches for 71 yards.
The Browns held on for their first championship, 14-9.
For the season, Speedie was recognized as a First-team All-Pro.
He also led the AAFC that year with 23.5 yards per catch as well as with his seven touchdowns.
In 1947, Speedie dramatically improved his number of catches by hauling in 67 receptions for 1,146 yards and six scores.
In a game against Buffalo that season, Speedie took a pass from Graham and weaved his way to a 99 yard touchdown.
Both his receptions and yardage that season led the AAFC.
Mac Speedie pic.twitter.com/CI0F87XISg

— Mathew Hubbard (@mathubbs) September 20, 2019

The Browns had another strong year in '47.
After a 12-1-1 season, the team found itself in their second championship game and again played the Yankees.
Though he had only four catches for 25 yards during the game, Cleveland prevailed 14-3.
After two years together, it was clear that Graham, Speedie, and Lavelli were building a rapport with one another.
The three worked well together and studied copious hours of film.
They also gave feedback to one another when studying the tendencies of defenses, specifically defensive backs.
The results of this study and planning became a well-oiled Browns offense.

1948 & 1949
Speedie led the AAFC in receptions again in 1948 with 58 to go along with 816 receiving yards and four scores.
He was once again voted as a First-team All-Pro.
Cleveland crushed their opponents that year on their way to a perfect 14-0 record.
The embarrassment of riches continued during the AAFC Championship game when the Browns waxed Buffalo 49-7.
Speedie was actually held in check during the game and had only two receptions for 22 yards.
In 1949, the fun continued for Speedie and the team.
That season, Speedie led the league in receptions for the third year in a row with 62.
He cemented his fourth straight First-team All-Pro nod when he racked up over 1,000 receiving yards and 85.7 yards per game average.
Part of his yardage total came during a game against the Yankees that season.
After the smoke cleared, Speedie ended the game with 228 yards receiving, which is still a Browns record.
The great Tom Landry, who was covering Speedie that day, called his performance, "the most embarrassing athletic performance of my entire life."
After a 9-1-2 regular season, the Browns went to their fourth straight postseason.
Cleveland first played against Buffalo in the AAFC playoffs and took down the Bills 31-21.
The Browns then played in their fourth straight championship game, this time dismantling the 49ers 21-7.
During the postseason, Speedie was nearly unstoppable, totaling eight receptions for 150 yards.

The Browns Move to the NFL in 1950
Eight years after being drafted by the Lions, Speedie finally had the opportunity to play in the NFL.
After the '49 season, the AAFC dissolved and Cleveland was brought aboard the NFL mothership.
As it turned out, Speedie finished his AAFC career as the league's all-time leader in receptions and receiving yards.
Despite the tougher competition, Cleveland continued to play well in 1950.
Speedie had 42 catches for 548 yards and a touchdown.
Those numbers were good enough to get him selected to his first Pro Bowl as well as another First-team All-Pro recognition.
The Browns rolled to a 10-2 record and defeated the Giants 8-3 in the first round of the playoffs.
The following week Cleveland won their first NFL Championship 30-28 over the Rams.
Despite a great regular season, Speedie only had one catch for 17 yards during the postseason.

1951 & 1952

In 1951, Speedie led the NFL in receiving again with 34 catches for 589 yards and three scores.
Although Cleveland made the playoffs with an 11-1 record, Speedie did not play in the postseason due to an injury.
Mac Speedie in action vs. the College All-Stars, 1951. #Browns pic.twitter.com/JpKCymnbY8

— Ken Gelman (@kengfunk) February 26, 2017
During the 1952 season, Speedie led the league with 62 receptions for 911 yards and five touchdowns.
He was selected to his second Pro Bowl and given a sixth First-team All-Pro nod.
The Browns made it to their third straight NFL title game, but lost to the Lions (the team that originally drafted Speedie) 17-16.
During the game, Speedie did his part by grabbing seven receptions for 81 yards.

Speedie Heads North
Although he was a consistent contributor for the Browns, Speedie's relationship with Brown was tenuous.
It is noted now that Speedie had an independent personality and that independence did not sit well with the no-nonsense coach.
"He (Speedie) was one of the ones that Paul Brown picked on quite a bit", recalled former teammate Ken Carpenter. "He'd get on Speedie's case for no particular reason."
Tension was so bad between the two that Speedie brought a skunk with him to training camp in 1952 and named it "Paul."
When Brown found out, he wasn't happy.
Speedie tried to downplay the incident by telling Brown his skunk was actually named after Paul Revere.
By the end of the '52 season, the writing was on the wall.
Looking for other opportunities, Speedie sought out a new home.
The Saskatchewan Roughriders of the Western Provincial Football Union (since, thankfully, re-named the Canadian Football League) offered him a deal.
The Roughriders were willing to pay Speedie double his Browns salary of $11,000.
Brown had absolutely no desire to match the offer and Speedie headed north.
Mac Speedie, a 2020 Pro Football Hall of Fame inductee, played for the Roughriders in 1953 and 1954. Here's the @leaderpost story from July 2, 1953. (No, I did not write it.) pic.twitter.com/rLah0Wmr1q

— Rob Vanstone (@robvanstone) January 17, 2020
Brown was disgusted by the deal and let the Cleveland media know it.
As it turned out, Brown believed Speedie was signed with Cleveland for the 1953 season.
"This was a case of jumping a contract, pure and simple, as this young man morally and ethically had a contract with us," Brown said at the time.
To say that Speedie did not part on good terms with Brown is an understatement.
According to Speedie, Brown "told me when I jumped leagues that he was going to get even with me."

Career in Canada
With his feud with Brown behind him, Speedie played well for Saskatchewan in 1953.
He grabbed 57 passes for 817 yards and seven touchdowns that year.
His touchdown total led the league that year.
Rob Vanstone: Ex-Saskatchewan Roughrider Mac Speedie to be enshrined in Pro Football Hall of Fame – Montreal Gazette https://t.co/kcV1aP7TKB pic.twitter.com/AhAQ7WBpfc

— CFLFan.com (@CFLFancom) January 20, 2020
In 1954, Speedie posted strong numbers again with 36 catches, 576 yards and five scores.
Before the 1955 season, Speedie was dealt to the British Columbia Lions.
Unfortunately, he was injured during his first game and only totaled one reception for 11 yards that year.
Shortly after his injury, Speedie was cut from the Lions and never played football again.

Speedie Becomes a Coach
Although he retired as a player, Speedie was not finished with football.
In 1960 he returned to the NFL, this time as a receivers coach with the Houston Oilers.
At the time, the Oilers were coached by Speedie's former teammate, Rymkus.
Two years later, Speedie was hired by the Denver Broncos to coach their receivers.
In 1964, Speedie took over as head coach after Denver's former coach, Jack Faulkner, was fired after a slow start.
After finishing with a 2-7-1 record in '64, the Broncos gave Speedie a two-year contract.
Former @Broncos head coach & scout Mac Speedie can join the @ProFootballHOF this year in #Canton. Rooting for him as a senior finalist in the Centennial Slate #PFHOF20! pic.twitter.com/QstHx95YTf

— Ty Speedie Walker (@TyWalks) January 4, 2020
In 1965, Denver went 4-10 in Speedie's first full season as head coach.
He surprised the organization the following year when, after two losses to begin the season, Speedie stepped down as coach.
His explanation to Denver and the media was that he believed he was doing what was best for the team.
During his time as Denver's coach, Speedie had a 6-19-1 record.
The Broncos kept him on staff as a scout where he remained until his retirement in 1982.

Life after Football
While he was still scouting for Denver, Speedie ran into Brown at the East-West Shrine game in 1977.
The encounter was not overly warm.
When Speedie reminded Brown who he was, Brown reportedly said, "Yes, I know. You're the one who went to Canada."
For years, numerous former NFL coaches, players, and teammates believed Speedie should have been elected into the Pro Football Hall of Fame.
After being passed over countless times, Speedie (and others) were certain that his strained relationship with Brown was the reason.
"Quite honestly, I think Paul Brown is the reason" (for Speedie's exclusion), Graham said in 1991. "Paul wasn't the type of guy you crossed. He would never forget it."
Eventually, however, Speedie was inducted into the Hall of Fame.
Earlier this year, he was voted in as one of the members of the class of 2020.
It was hard to overlook his stats.
#Browns Legend Mac Speedie selected for Pro Football Hall of Fame's Centennial Class

📰 » https://t.co/yQLfBVh44r pic.twitter.com/iMf3WP3LKa

— Cleveland Browns (@Browns) January 15, 2020
In his short seven-year NFL career, Speedie set a number of impressive marks.
His average of 800+ receiving yards per season was finally broken two decades after his retirement.
Speedie's career average of 49.9 catches per year remained a record for a quarter-century.
He was also named to the NFL's 1940s All-Decade team and was listed by the official NFL encyclopedia as one of the top 300 players greatest ever to play the game.
By the time Speedie passed away in 1993, he had become a model for future receivers in how to play the game.
In many ways, he was one of the first in a long line of pro receivers with a personality to match their game.
His legacy will remain as a player who gave everything he had and never looked back.